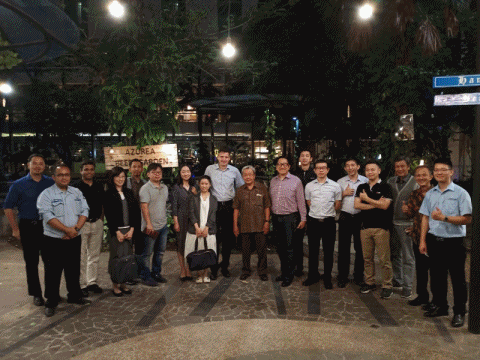 The summit was organized by Ringier Trade Media Ltd and supported by Association of Supporting Industries, Metal and Machining Association (ASPEP), Indonesian Motor Association (IMI) and Indonesian Society for Quality (ISQ).
Focused on the theme of "Lower Emissions, Higher Efficiency," the 21 conference sessions explored how automation secures a company's success in a technologically fast-paced world where press intelligent forming, flexible laser tools, advanced materials, surface treatments, smart manufacturing technologies, and other innovations are rapidly shifting the dynamic of today's automotive & motorcycle parts manufacturing. In addition, industry professionals earned their metalworking and plastics vision and know-how by participating in the two tracks devoted to these two industries.
This year's summit once again generated fresh momentum for innovations from Chin Fong Machine Industrial Co., Ltd, PT. Henkel Indonesia, TRUMPF, Guangdong Metal Forming Machine Works Co., Ltd, Dongguan Jingheng Machine Co., Ltd, Dongguan Alfa Automation Technology Limited, Guangdong Saba Intelligent Technology Co., Ltd, Oest Trading Shanghai Co., Ltd and Dongguan Chyan Best Sigma Co., Ltd. These all served to highlight just how much has changed since the most recent event a year ago.
Majority of the delegates were satisfied with the run of the summit. In the words of Mrs. Bella, Astra Otoparts, Sales Executive, said, "Based on my experience on the second day, the topics were good. They were all related to the current issue in the global market, especially in Indonesia (Industry 4.0 & EV). I gained a lot of insights from your conference. It helps us measure our readiness level in facing EV & Industry 4.0 and become competitive to other companies, especially in ASEAN."
Whether in the conference sessions or on the mini exhibit floor, the summit brings together the people, players and technologies that are critical to advancing the automotive & motorcycle parts manufacturing, including integrators tasked with helping manufacturers navigate ASEAN business market.
Smart manufacturing, E-mobility
This year's summit also featured for the first time lectures on Smart Manufacturing that includes: cloud computing, automotive smart manufacturing, artificial intelligence of things (AIoT), and digitalization, as well as E-Mobility that tackles: electric motorcycle market in Thailand and redefining transportation with e-mobility.
Against all expectations, the summit ended on a positive note. The summit is attractive for the entire production technology community in ASEAN and has confirmed there is still demand for capital investment in the marketplace. In spite of all the turmoil in the automotive manufacturing, the summit has revealed that automotive & parts manufacturing is actively addressing the challenges of the future and is determined to make its contribution as a problem solver.
Ringier Trade Media is committed to providing a valuable platform for the global industry to come and do business, and strives to deliver excellence year on year. We will continue to work closely with the industry and key players within, to create the definitive meeting and marketplace for ASEAN Automotive & Motorcycle Parts Manufacturing. Thank you for your continuing support and we hope you enjoyed this year's event. We look forward to welcoming you back next year!
NIKE