AAK, a leading provider of value-adding vegetable oils and fats, successfully connected with major food and beverage companies from the Philippines during the AAK Co-Development Day held at the Hilton Manila on 25 September 2019.
The conference was aimed at knowledge-sharing and dialogue with local F&B manufacturers especially in the Chocolate & Confectionery, Bakery, Dairy and Special Nutrition sectors.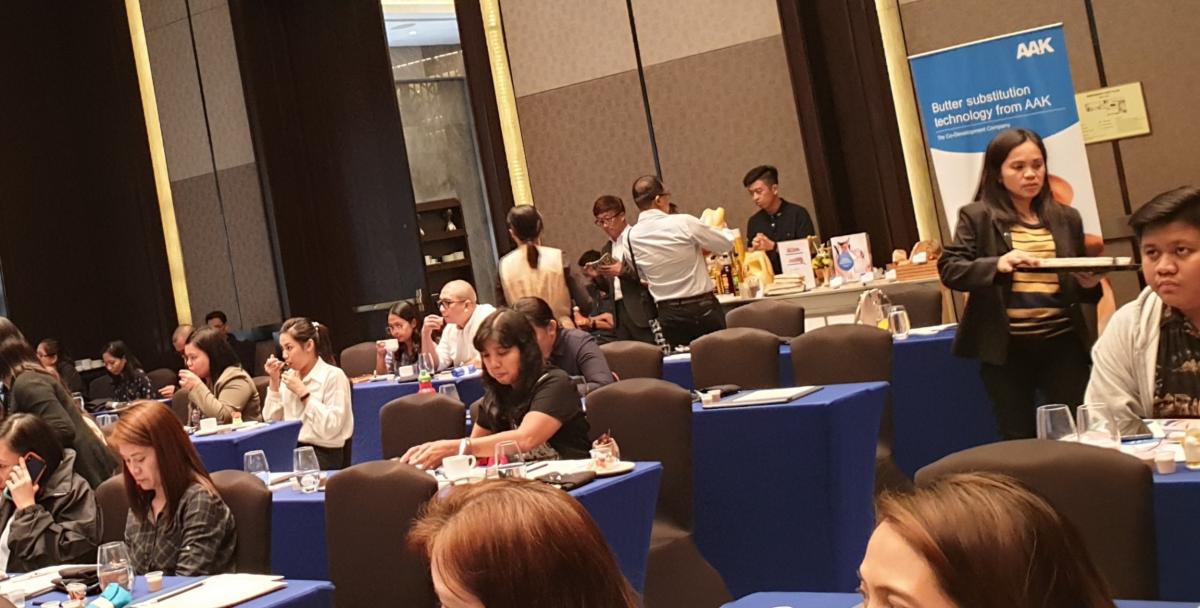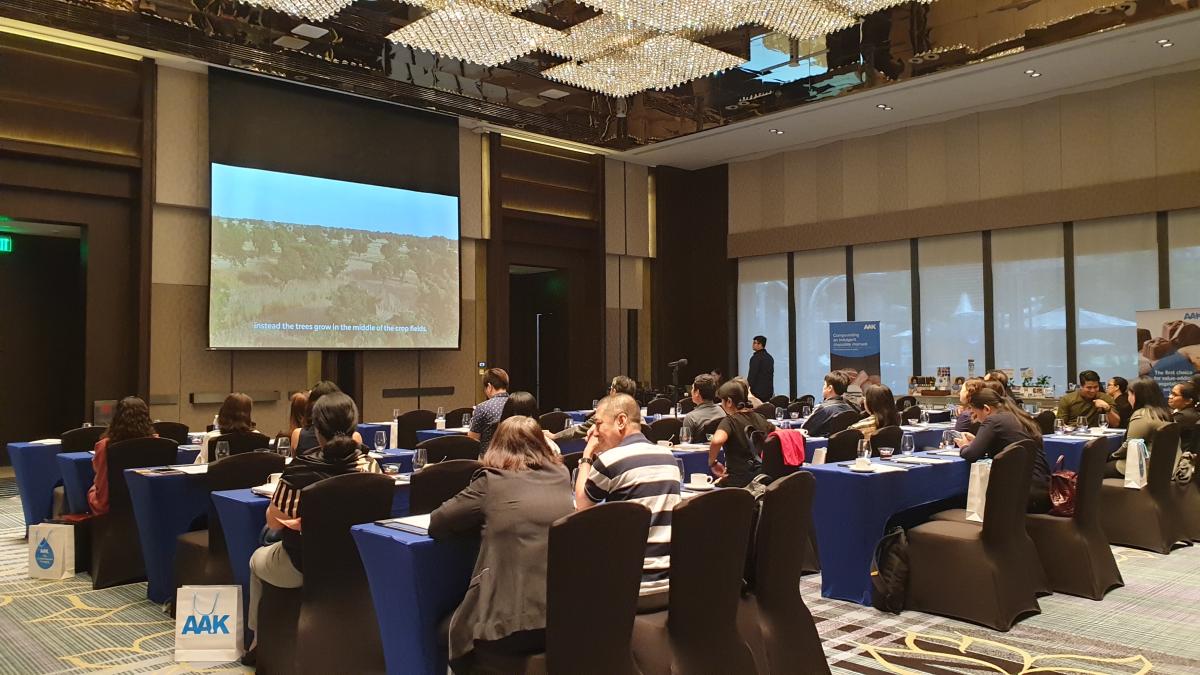 Major food and beverage manufacturers attend AAK's co-development day in Manila
Michael Skriver, Chief Commercial Officer for AAK Asia and President AAK Philippines, summed up the essence of AAK co-development as a collaboration to produce higher-value end products incorporating AAK's vegetable oils and fats solutions in various product applications.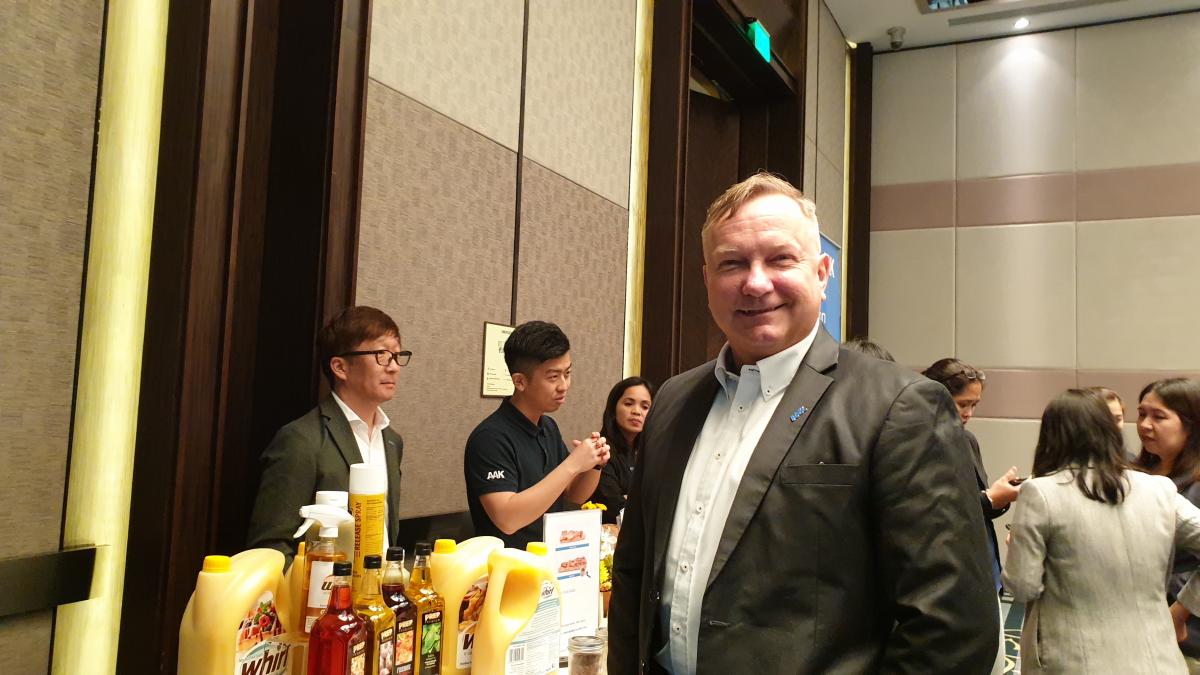 Michael Skriver, Chief Commercial Officer AAK Asia and President AAK Philippines
The full-day agenda included a presentation from Mintel Insights Analyst Suddhaya Gisbert Vazquez who discussed major trends unfolding in the chocolate, bakery, and nutrition space. She said developments in plant-based food and beverage strongly impact the industry, with plant-based now filtering down through indulgent categories and giving rise to such products as vegan chocolate. To cater to young consumers who seek 'newness', companies innovate on flavours by mixing the old with new, an example of which is adding spice to chocolate or floral flavours to caramel. According Vazquez, consumers seek healthy indulgence, which is a trend opening up opportunities for companies to introduce like functional confectionery and chocolate, and other heathier snacks.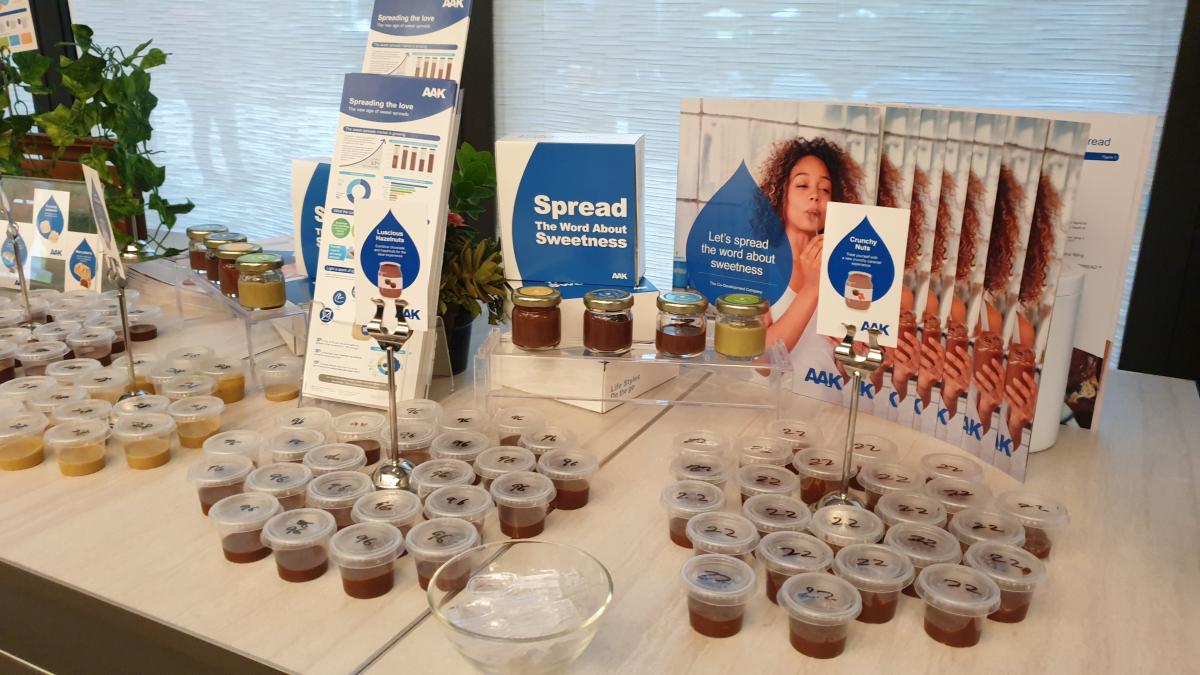 Learning from the Japanese
The presentation delivered by Chiaki Obata, Country Director at AAK Miyoshi Japan, substantiated Mintel's forecast when he talked about the changing trends in the Japanese chocolate and confectionery market. Consumers in Japan now favour more functional and healthier sweets, he said. Health-conscious consumers, especially women, desire guilt-free foods that offer satiety at the same time. This is an opportunity for manufacturers to create better snacks like biscuit fillings with probiotics and prebiotics or dough with added soluble fibres, and ingredients like AAK's good filling fats.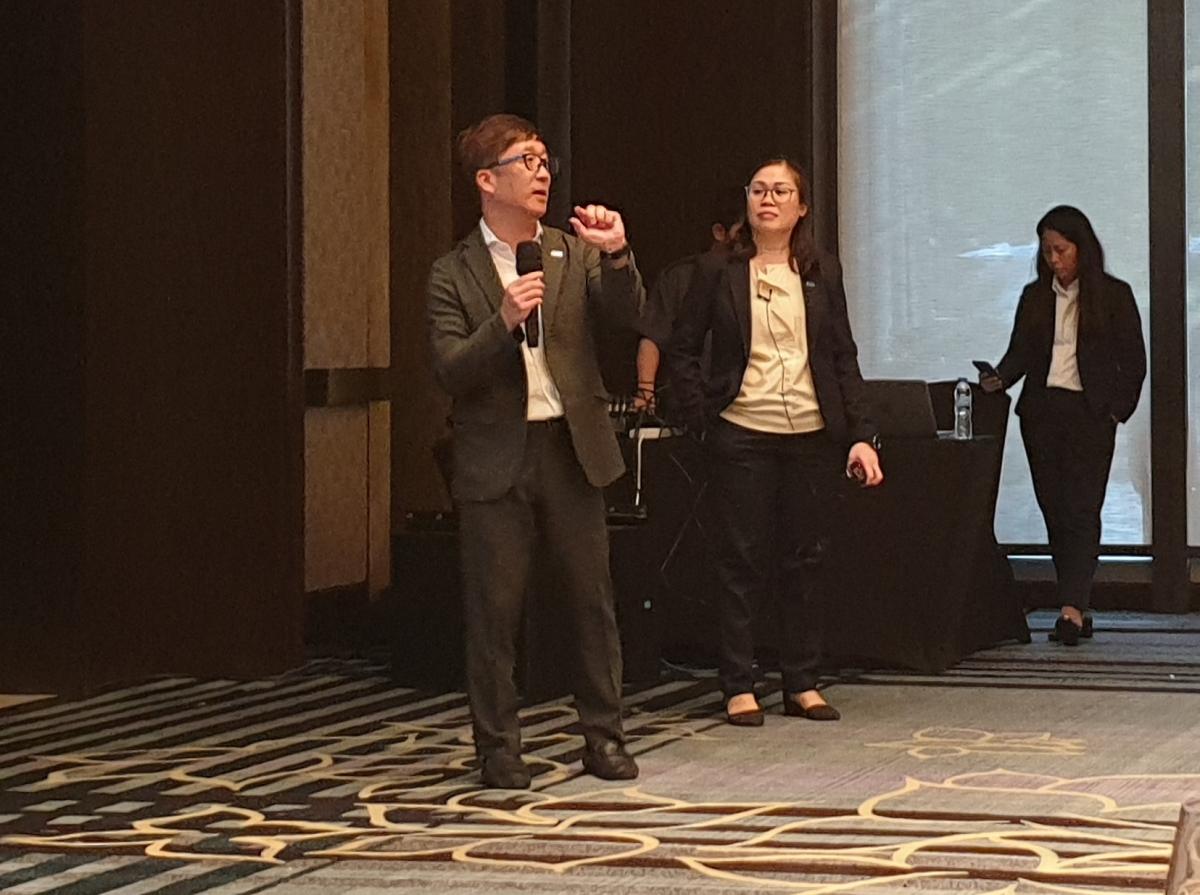 Chiaki Obata, Country Director at AAK Miyoshi Japan
With demand for convenience foods on the rise, consumers now prefer "pocketable" and "mobile friendly" confectionery, shared Obata. An example is confectionery in handy packages that one can eat on the go without creating mess on clothes or fingers.
To stay relevant, manufacturers have to consider premiumising their products by using high quality ingredients such as enriched flavours, fruits, and nuts, Obata said. They can functionalise products to attract health-conscious consumers. Some innovative products in this league are stress-reducing chocolate, probiotic chocolate, and caffeine-fortified chocolate.
Keeping in mind such considerations as small packaging, texture varieties, and ease of consumption, are other ways to maintain market interest, according to Obata. Manufacturers should constantly develop new concepts and focus on sustainable production, he added.
Obata also discussed pressure points in confectionery production, as well as solutions available to manufacturers. One of the major concerns is the formation of fat bloom, or the white coating that appears on the surface of chocolate as fat separates from the chocolate and recrystalises on the surface when it is exposed to changing temperatures. He said TROPICAOTM, one of AAK's solutions to heat-related bloom will improve the stability of confectionery.
High temperatures during processing candy, biscuit, and other snacks can also destroy healthy ingredients, he said. For example, good bacteria could be neutralised during the process.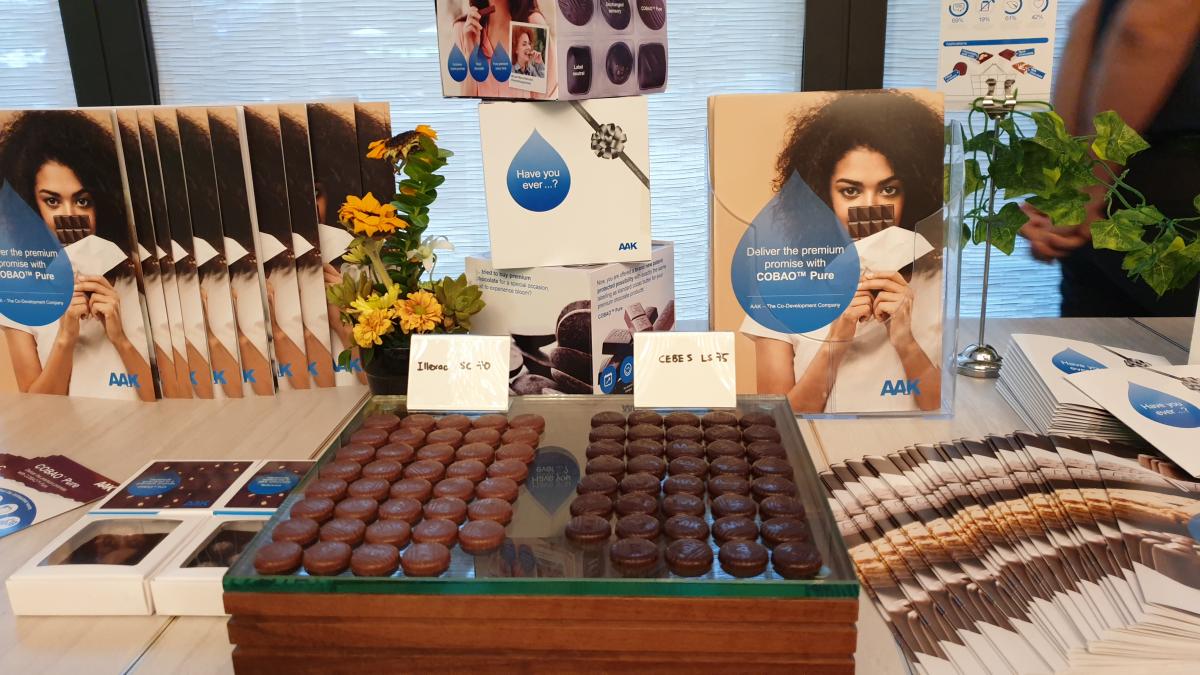 Solutions to bloom
Paulo Pedro, Head of Customer Innovation, AAK SEA, gave a technical presentation on bloom minimisation in chocolate and confectionery. He explained the different kinds of bloom and the factors influencing its appearance on products, as well as the applications of AAK's bloom-retarding solutions.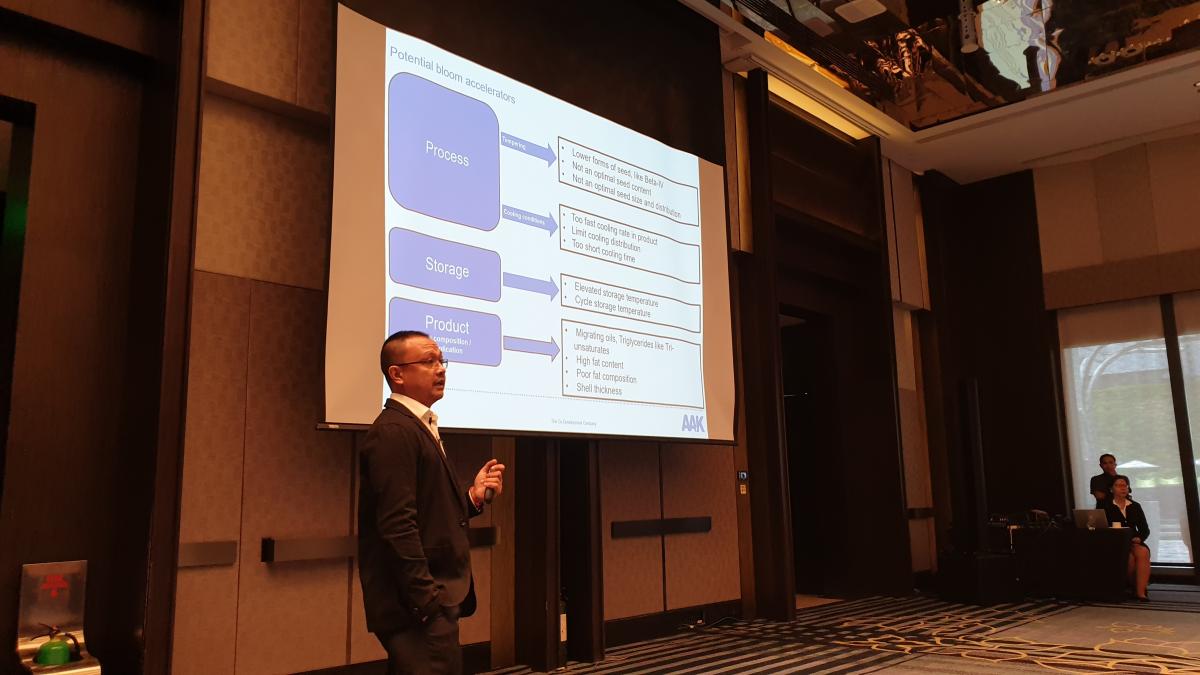 Paulo Pedro, Head of Customer Innovation, AAK SEA
Bloom, a dulling and whitening of the chocolate surface, occurs through the uncontrolled polymorphic transformation to a more stable crystal form. While the coating is the most visible characteristic that leads to loss of gloss, other structural changes are simultaneously taking place within the chocolate, affecting its texture, flavour delivery, and other characteristics. Pedro said that using the right fats in recipes can address blooming in products made and consumed especially in warmer climates. He also said that manufacturers minimised bloom by taking a look how the chocolate is processed, considering particle size, the formulation, controlling the fat content, degree of tempering, among others.
Some solutions from AAK not only minimise bloom but maintain product quality during its shelf life.
The cocoa butter improver ILLEXAOTM HS for example enhances stability in formulations with high milk fat content by increasing the melting point of chocolate to withstand higher temperatures.
CHOCOFILLTM BR bloom retarding solution not only prevents bloom in soft fillings, but has the ability to extend shelf life and deliver good flavour release. This product has a high nut tolerance as well. Working in the same way, BARRIER FATTM is a bloom retarding product applied as a layer in filling fat to stop migration into chocolate coatings. It is idea for bars and nut-filled confectionery.
The new COBAOTM PURE is a fully deodorised cocoa butter-based solution that not only minimises bloom, but increases shelf life by 50%-400%. It can be used to replace cocoa butter on a one to one ratio without sensory impact. Furthermore, it is not subject to regulations that limit the use of vegetable fats in chocolate.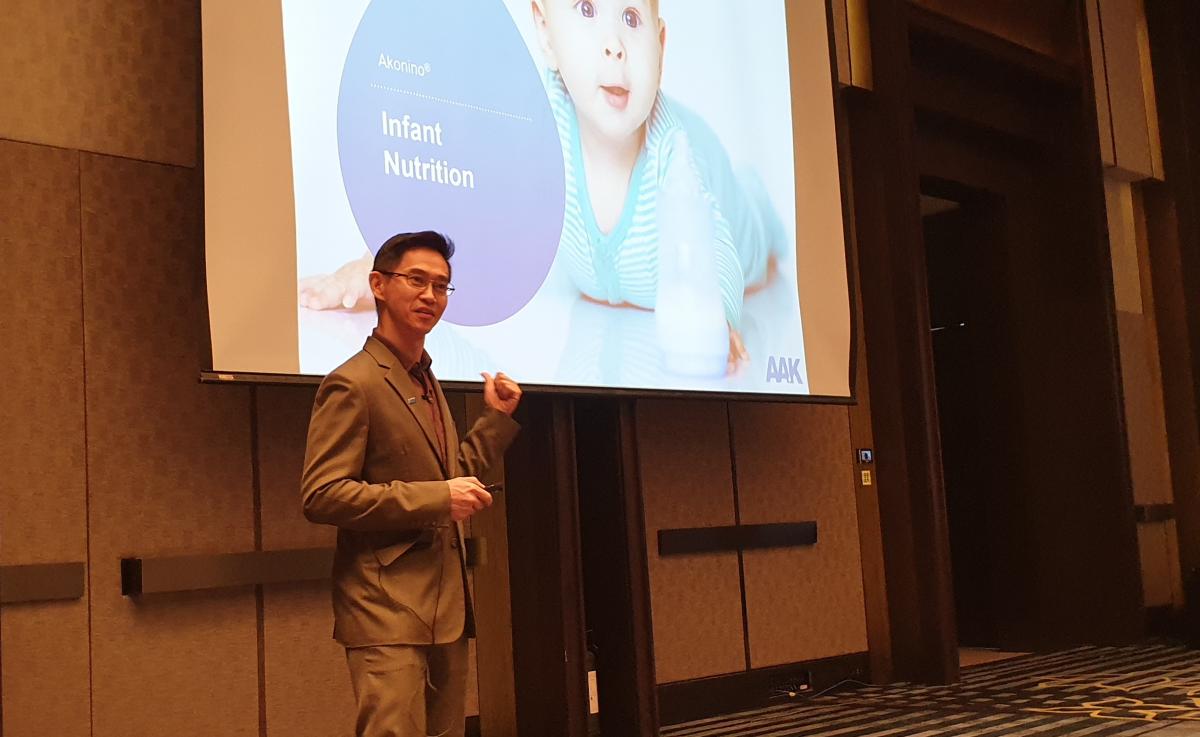 Peter Liu, Business Development Manager, Special Nutrition, AAK SEA
Special nutrition: The advantage of DHA derived from egg yolk
Aside from improving the appearance, texture and taste of confectionery, manufacturers can take their products several notches higher by adding a health component. At Co-development Day, Peter Liu, Business Development Manager, Special Nutrition, AAK SEA, introduced one of the company's innovations that could help manufacturers add health claims to their products.
Leveraging its expertise in vegetable oils and fats, AAK offers dietary products for all stages of life. Among these is infant-grade oils that meet the strict quality standards and regulations set by the EU. Another innovation is AkovitaTM ELIP, AAK's Omega-3 rich active lipid mixture of phospholipids from egg lecithin and vegetable oils.
In his presentation, Liu focused on the advantages of this product which is basically phospholipid-bound DHA extracted from egg yolks. In such form, studies have shown that 200% more DHA is delivered directly to the brain compared to other common sources of DHA. In contrast, DHA from fish oil and algae are not bound by phospholipids so it has to undergo processing prior to absorption, taking time to reach the brain cells. Furthermore, DHA from such sources has the tendency to get burnt off as energy instead of reaching the brain.
ELIP also contains the essential nutrient choline which is needed by the body throughout its stages of growth, from brain development in infants to heart health in seniors. Phospholipid-bound choline is absorbed 300% better by the body compared to water-soluble choline salt. It also has a synergistic effect when combined with DHA intake as it can boost phospholipid bound DHA level in the blood from 35% to 63%, according to a published study.
Besides nutritional value, ELIP will provide improved stability and shelf life to products like biscuits, yogurt, and chocolate, he said.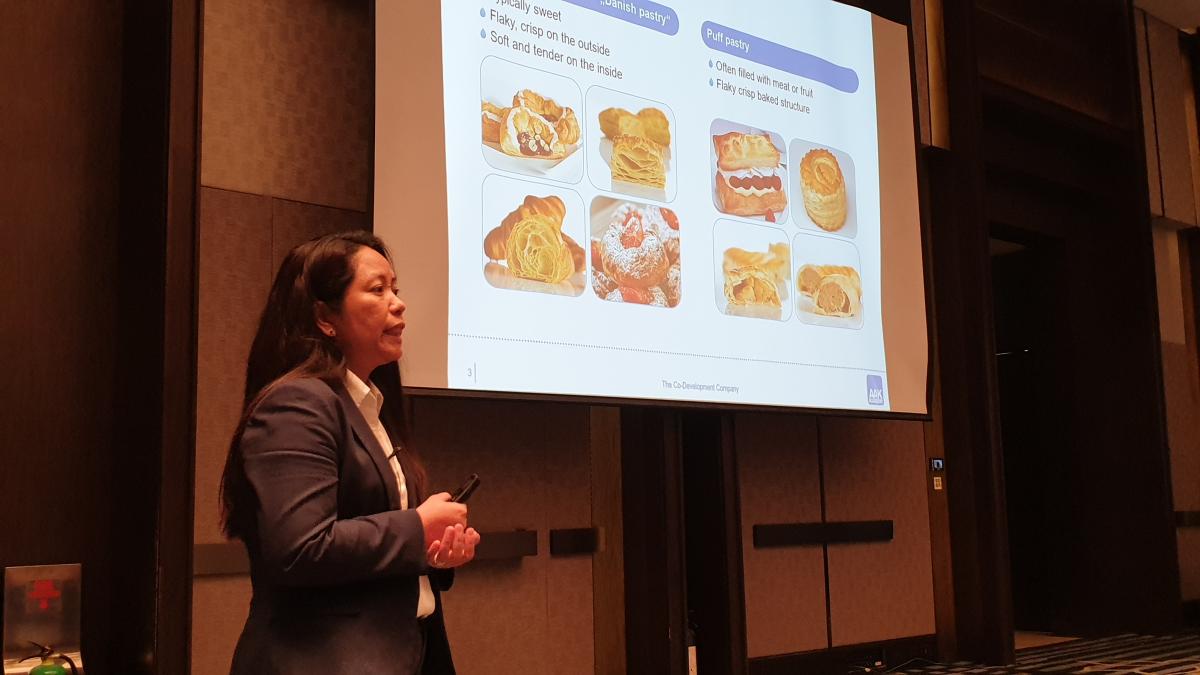 Lulu Pedrajeta, Senior Customer Innovation Manager, AAK SEA
Baking process simplified
By understanding the function of laminating fats and flaked fats, manufacturers of pastries, pizza, and other bakery goods can enhance the quality of their products, and even simplify the baking process, according to Lulu Pedrajeta, Senior Customer Innovation Manager, AAK SEA. Her presentation on the baking process focused on laminating applications and methods, the techniques in creating puff pastry dough with the right consistency, and achieving the ideal puff height using the appropriate process parameters.
She explained the function of different ingredients such as flour, fat, water, yeast, salt and using the right type of laminating fat can create the right products. Laminating margarine separates dough into layers, while dough fat lubricates gluten as well as stabilises gas cells on the dough for final product consistency. Aside from these, fat counteracts the loss of moisture in starch while baked products are in storage.
Pedrajeta added that good laminating fats ensure the plasticity of the dough to prevent breakage during sheeting and folding. However, puff is not achieved when bad laminating fats (too soft or too hard) are used because these tend to create discontinuous dough/fat layers affecting volume of end product.
Butter alternatives or margarine have the advantage of providing better plasticity for the final product, she said. They contain about 80% fat and 20% moisture which can provide better plasticity for final products. Within this range, AAK's Akopastry HP is a highly functional margarine that was developed to improve the height, texture, layering, and mouthfeel of puff pastries.
Flaked fats – solid structured shortening – are another product from AAK, designed primarily to enhance pizza, but they can be used in other baked goods as well. During baking, they create air pockets that give thick-crust pizza a better eating experience due to a softer crumb; in thin-crust pizza, they create a frying effect giving a more artisan appearance.
Flaked fats can improve the flakiness of English biscuits. They can even adjust the melting point of donut coatings. When used in baked goods with water based filling, to form a layer between sweet or savoury filling and the crust base to prevent the pie from going soggy. Pedrajeta also stressed that the free-flowing flakes are much easier to handle than traditional blocks of hard fat.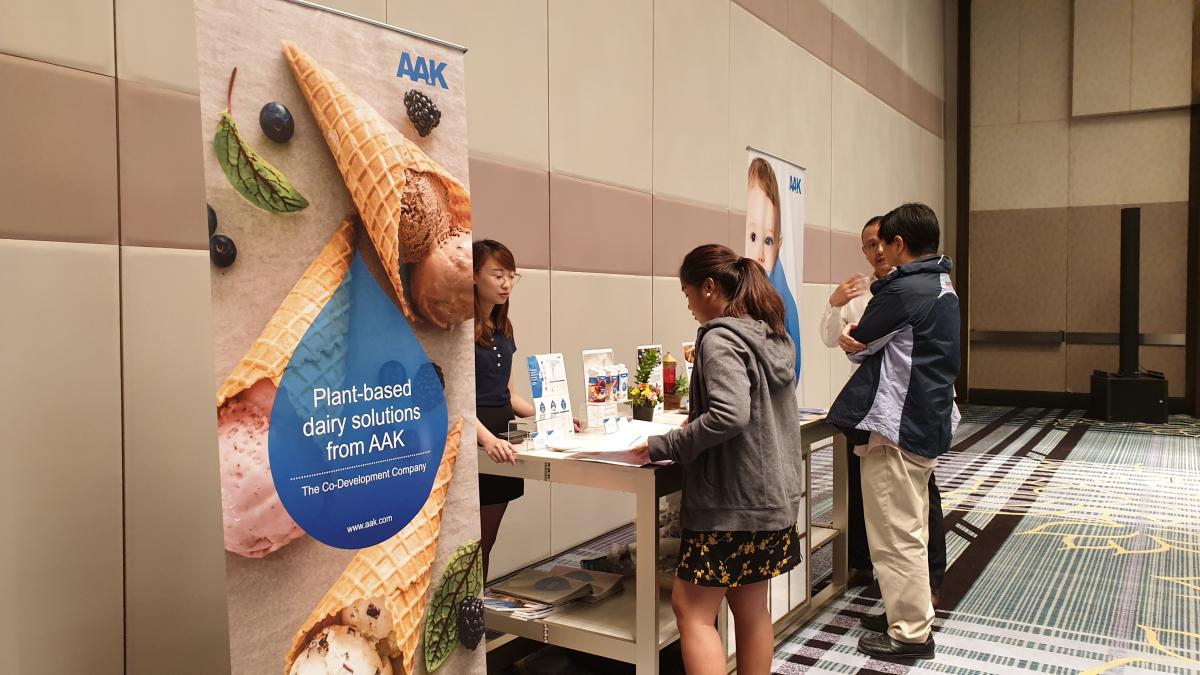 The trend toward plant-based
Speaking more extensively on the trend in plant-based foods, Stacy Ong, Dairy Segment Lead, AAK SEA outlined the reasons diets are changing and the forces driving the growth of plant-based food production.
The plant-based trend is expected to go mainstream as consumers perceive the health benefits. The number of flexitarian and vegan consumers is increasing, while concern over animal rights, the environment, as well as demand for sustainable production favour the trend even more.
Advocates and companies continue to pique the interest of consumers via social media, vegan tourism, and activities such as meat-free day.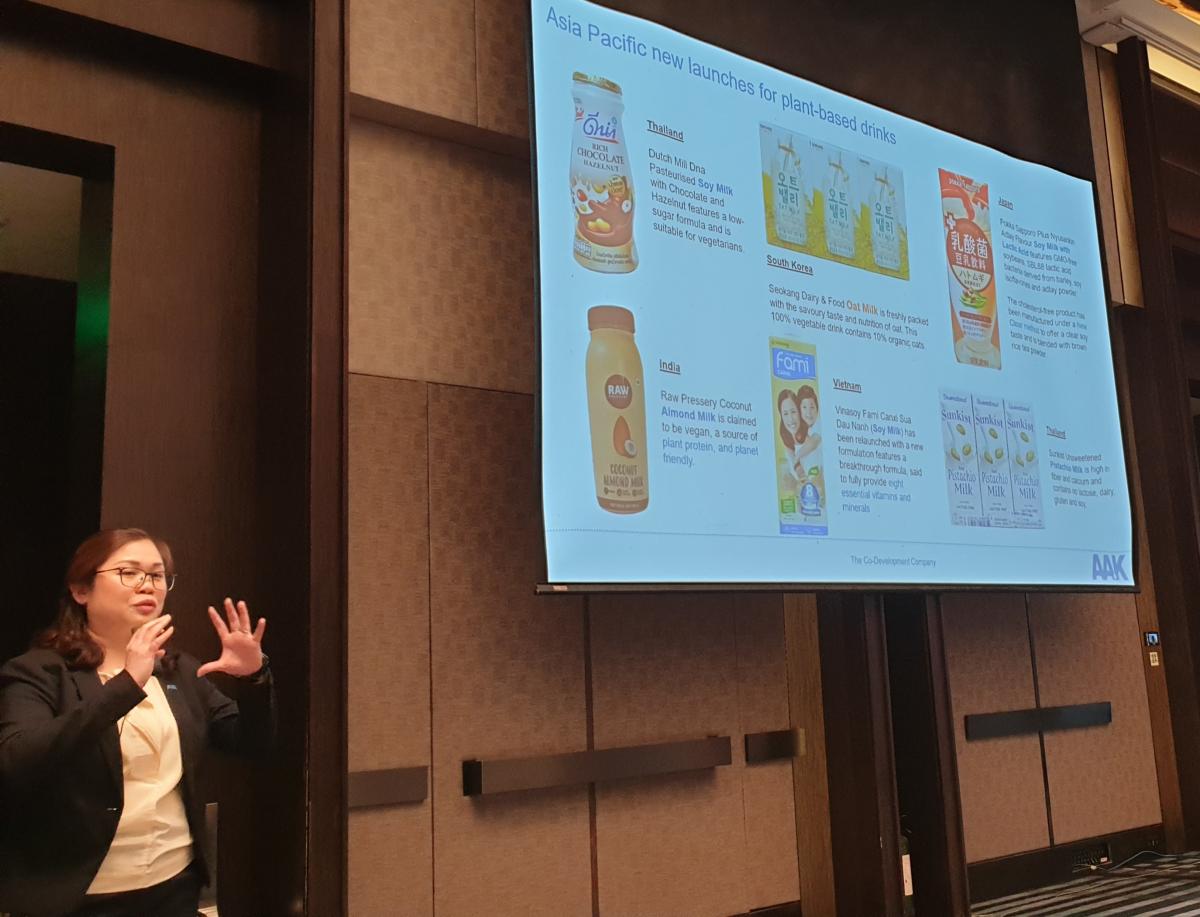 Stacy Ong, Dairy Segment Lead, AAK SEA
Big companies are responding to consumer behaviour changes by developing products like plant-based ice cream and yogurt, plant-based drinks, and foods that are non-GMO, 100% gluten-free, and organic.
While the opportunities in the plant-based sector are many, F&B manufacturers have to consider the challenges of production, one of which is how to maintain the creaminess of plant-based products like milk or yogurt in the absence of milk fat. Ong introduced AAK Akomilk which can stand in as the milk fat to give products their creaminess. Demonstrating the abilities of Akomilk STF to provide the characteristics of milk fat, she also provided prototypes of plant-based soy milk, yogurt and milk tea for participants to evaluate.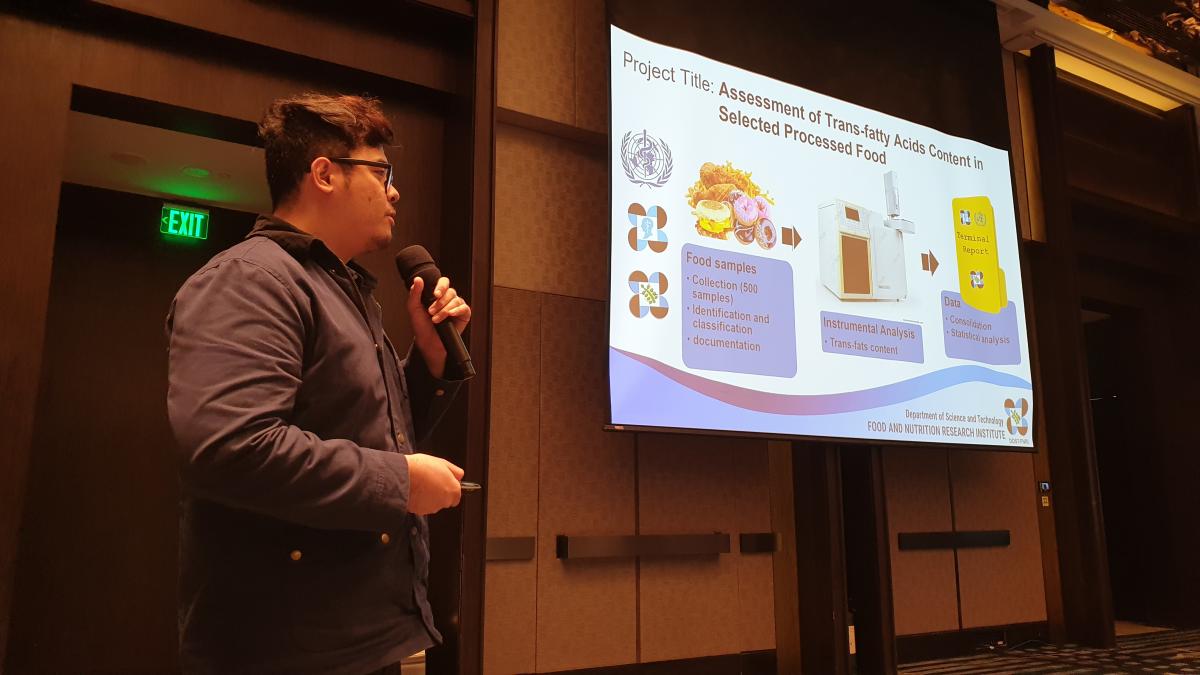 Michael C. Pelagio, a Science and Research Specialist II from the Food and Nutrition Research Institute
Guide to dietary fats
As healthy fats and oils constitute AAK's portfolio, the agenda also included a technical presentation on healthy dietary fats consumption as discussed by Michael C. Pelagio, a Science and Research Specialist II from the Food and Nutrition Research Institute (FNRI), the arm of the Department of Science and Technology tasked to provide accurate information and innovations and technology for ensuring optimum health for Filipinos.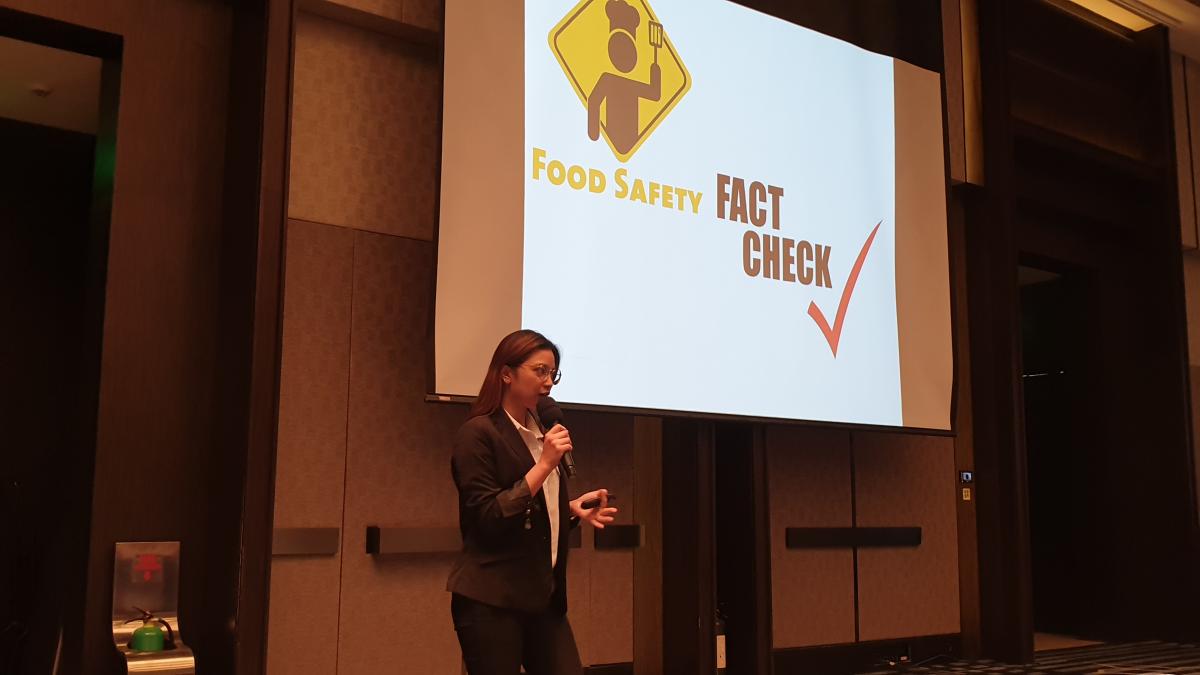 Food Drug Regulation Officer Paula Rhein Opulencia, Food and Drug Administration of the Philippines
Food safety
On the topic of safe food, Food Drug Regulation Officer Paula Rhein Opulencia of the Food and Drug Administration of the Philippines underscored prevention of foodborne illnesses through implementation of proper safety and hygiene procedures in food preparation and production.
Opulencia cited statistics indicating one in ten falls ill as a result of ingesting contaminated food, and leads to 420,000 deaths annually. She therefore reiterated the importance of using clean water and non-contaminated raw materials and kitchen implements, of cooking and storing foods at the appropriate temperatures, among other practices.
Gladdys Pascual, a Registered Nutritionist Dietitian from the Food and Drug Administration of the Philippines
Labelling guidelines for pre-packaged foods
Gladdys Pascual, a Registered Nutritionist Dietitian from the Food and Drug Administration of the Philippines, explained the different labelling requirements necessary before marketing prepackaged foods in the country, and reminded the importance of reviewing such rules and regulations to ensure smooth processing of licenses and product certificates.
Poised for the Philippines market
AAK's new customisation plant located on a land owned by oils and fats refinery, San Pablo Manufacturing Company in Batangas, about 100km south of Manila, will be operational in 2020. This new facility is located close to many of the key customers and offers very good inbound and outbound logistics for the Philippine market. - BY Marijo Gonzalez, Editor, FoodPacific Manufacturing Journal and Food Manufacturing Journal-Middle East
Air Jordan