Shockproof polystyrene provides a lower cost choice for beverages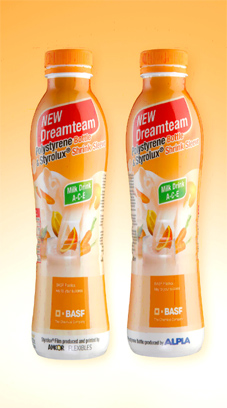 PRODUCT and packaging design are crucial factors in differentiating a product from rivals, with colors and effects coming to play an increasingly important role. In collaboration with ALPLA, one of the world's largest manufacturers of plastic beverage bottles, BASF has now developed the first bottle made of shockproof polystyrene (PS-I) especially for dairy products. With an approximately 25% lower density, it is a lower cost alternative to conventional PET containers and can be processed using conventional PET equipment. The transparent plastic Styrolux HS 70, meanwhile, has a high maximum shrinkage and good processing features making it ideal for the manufacture of shrink wrap for packaging beverage bottles. The new SBS polymer's appealing haptics and easy printability also make this material the perfect choice for attractive film wrapping for unusually shaped containers.
Suitable for milk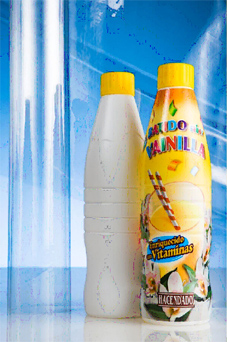 By coming up with a bottle for milk and yogurt beverages using impact resistant polystyrene, BASF and ALPLA have demonstrated that polystyrene is an inexpensive alternative when it comes to packaging for this sector. BASF's Polystyrene type BX 3580 ?specially optimized for this application ?can be processed by injection blow molding and injection stretch blow molding on the same machines used for PET. The advantage for packaging manufac瑃urers is that the lower density of polystyrene in comparison to PET can slash material costs by up to 25%. Even more energy and money are saved because injection stretch blow molding uses less compressed air and, unlike PET, the polystyrene does not have to be pre-dried. The first polystyrene milk bottle along with Styrolux HS 70, the new plastic used for the production of shrink films was shown at the interpack. This very transparent SB polymer has a high maximum shrinkage as well as excel琹ent processing properties, so that films made of this material can easily wrap even odd-shaped articles.
Adidas