When the yeast consumes the sugar to produce alcohol: That's when the flavour is developed. It's when beer becomes beer. Australian craft brewers are passionate about brewing, not industrial operational technology, yet Leonie Wong and Rex Chen from the MindSphere team still managed to make the data work for them; they want to always land the perfect brew and waste not a single drop.
In this market, Deacam, an Australian original equipment manufacturer (OEM), which provides automated brewing equipment and solutions to microbreweries, was looking to differentiate itself. Leonie Wong, responsible for Vertical Sales for Food & Beverage for Siemens Australia, and Solution Architect Rex Chen met with Deacam and their customers, the microbreweries themselves.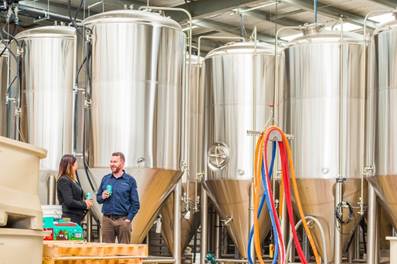 Warren Bradford, Director of Deacam, and Leonie Wong, responsible for Vertical Sales for Food & Beverage for Siemens, at KAIJU! Beer (Photo courtesy: Siemens)
Brewing beer with consistent flavor
"The beer must go through a temperature behavior over several weeks. For a brewery, it is critical to ensure that they can replicate that temperature behavior time and time again, because that is what creates a consistent flavor," explains Leonie Wong. Variations could lead to an entire brew of several thousand liters to go to waste. "To craft beer brewers, that would be a crime!" Leonie Wong says.
Once it was understood that data around fermentation is a priority, MindSphere was the perfect fit to start creating a solution tailored to the requirements and budged of craft brewers.
Capturing the perfect brewing temperature
In the previous systems of temperature capture that the brewers were using, the drift in the temperature range was too large. With MindSphere, the temperature data is digitized at the point of capture and added to application. What the team found was that this allows the brewers to more precisely track and control the fermentation vessel temperature.
The solution also provides historical data, so brewers can identify a temperature profile across historical batches, allowing them to locate and replicate their perfect batch in the future. The application contextualizes the data, to allow brewers to know exactly what is going on and make better decisions. This also means that when new equipment and tanks are added, it is pretty much a plug-and-play process, making it easier to expand operations.
"Deacam placed a lot of trust in us, giving us open access to their customers, KAIJU! Beer and others," says Leonie Wong. "To have that triangular conversation – with Siemens, the OEM, as well as the end-user, the brewery itself – that is a valuable thing."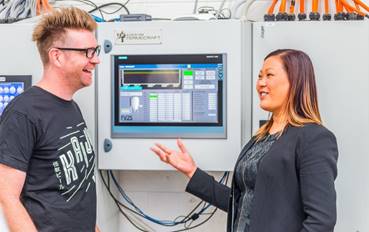 Callum Reeves, Co-Founder and Co-Owner of KAIJU! Beer, with Leonie Wong of Siemens looking at the screen with the data allowing the brewers to more precisely track and control the fermentation (Photo courtesy: Siemens)
Complete MindSphere app for the fermentation
With the feedback Deacam received from their customers the team was able to make a complete MindSphere application for the fermentation process called Fermecraft. Deacam now standardized their full control cabinet design using Siemens. Meanwhile, the application is still evolving and expanding to include features beyond fermentation.
"Over the last nine or ten years, we have seen the Australian craft brewing sector grow from about 12 breweries to approximately 600, and there are a number of OEMs that supply this market," says Leonie Wong. "We are seeing this kind of tailor-made approach to new business and innovation as a new opportunity."
For Leonie Wong, asking the right questions is what made the project successful. At times, both Deacam as well as the breweries themselves were not sure what they wanted and trying to define an accurate user requirement specification came down to the team's ability to just sit down face-to-face with all the stakeholders and ask good quality questions.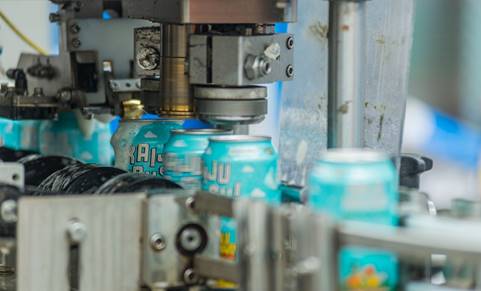 Craft beer like the ones made by KAIJU! Beer can also come in cans (Photo courtesy: Siemens)
Agile project to be quick, affordable, and painless
"We are moving towards an agile based project execution, where the idea is really about trying something quickly, something that is affordable and painless, to make sure that there is value and the customer is getting what they want, and then scaling from there," adds Rex Chen. "Even for larger customers, we need to think in a way that is nimble."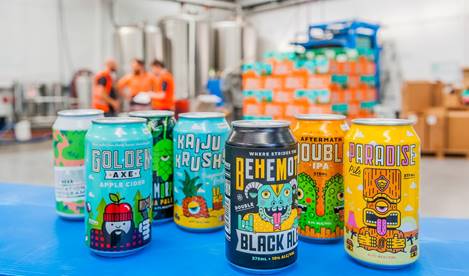 Kaiju means "strange creature" in Japanese. The tribe of kaijus of the brewery include the Diatamatic Hopzilla, Cthulhu, Behemoth, Betelgeuse and Hopped Out Red. (Photo courtesy: Siemens)