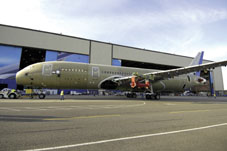 In response to the overwhelming demand from airlines around the world, Boeing has launched the Boeing 787 Dreamliner. An international team of top aerospace companies is developing the airplane, led by Boeing at its Everett facility near Seattle, Washington. As the name would prove, the Dreamliner is truly a dream come true for those in the airline business. The 787-8 Dreamliner is designed to carry 210-250 passengers on routes of 7,650 to 8,200 nautical miles (14,200 to 15,200 kilometers), while the 787-9 Dreamliner will carry 250-290 passengers on routes of 8,000 to 8,500 nautical miles (14,800 to 15,750 kilometers). A third 787 family member, the 787-3 Dreamliner, will accommodate 290 - 330 passengers and be optimized for routes of 2,500 to 3,050 nautical miles (4,600 to 5,650 kilometers).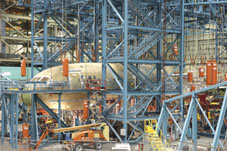 In addition to bringing big-jet ranges to mid-size airplanes, the 787 will provide airlines with unmatched fuel efficiency, resulting in exceptional environmental performance. The airplane is designed to use 20% less fuel for comparable missions than today's airplanes of similar size. It will also travel at speeds similar to today's fastest wide bodies, Mach 0.85. Passengers will also see vast improvements with the new airplane, from an interior environment with higher humidity to increased comfort and convenience, while airlines will enjoy more cargo revenue capacity.
CFRP adds to exceptional design
The key to this exceptional performance is a suite of new technologies being developed by Boeing and its international technology development team. Boeing has announced that as much as 50% of the primary structure - including the fuselage and wing - on the 787 will be made of composite materials. In this model, Boeing makes extensive use of lightweight, cost-effective structural materials that lessen the overall weight of the airplane and contribute to the fuel efficiency of the 777. Composite materials have been known to offer numerous advantages to airplane manufacturers. Compared to aluminum, these lighter-weight materials use less fuel, resist fatigue and prevent corrosion. In the past 20 years, military aircraft have spearheaded the development of more advanced materials and extended applications, but today the development of new commercial airplane models have started to focus on using composites.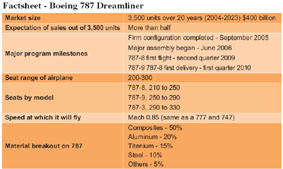 The composite material to be used for the Dreamliner's wing boxes is carbon fiber reinforced plastic (CFRP), and this will be the first time this material is used in 30-meter long wing boxes. CFRP is superior in strength and rigidity compared with conventional aluminum or titanium alloys. Carbon fibers embedded in recently available toughened resins are found in the vertical and horizontal tails. The floor beams of the passenger cabin also are made of these advanced composite materials. Other composite applications include those on secondary structures such as aerodynamic fairings. Composites, including resins and adhesives, account for 9% of the Boeing 777's structural weight. This is the same type of composite material used on the 787 Dreamliner. For the rest of the structure, improved aluminum alloy is used in the upper wing skin and stringers. Known as 7055, this alloy offers greater compression strength than previous alloys, enabling designers to save weight and also improve corrosion and fatigue resistance. Progress in the development and fabrication of weight-saving advanced composite materials is evident in the 777. In the Dreamliner, the adoption of composite materials in combination with newly developed engines will minimize drag based on most advanced aerodynamics and others, to provide a 20% improvement in fuel efficiency and a reduction in maintenance costs, compared with conventional aircraft. An open architect
Nike