The success of the first edition of the "Plastics and Rubber Vietnam" drew bigger number of participants in the second international exhibition and conference for Vietnam's plastic and rubber processing industry in 2008. Spanning 7,000 sq. m. of space at the Ho Chi Minh Exhibition and Convention Centre, the show took place from 21-23 October 2008 and was jointly organized by Bangkok Exhibition Services and Messe D焥seldorf, along with local partner VCCI Exhibition Service. The presence of Mr. Le Duong Quang, Vice Minister of the Ministry of Industry and Trade (MIT), gave credence to the support the show is getting from the government. It also reinforces Vietnam's strategic importance as one of the largest producers and exporters of rubber in the world. With 206 exhibitors from 21 countries, 80% from outside Vietnam (of these 33% belonging to Europe) including Austria, Germany, Italy, Singapore, Thailand, Taiwan and the United Kingdom, the show attracted over 6,500 buyers. On exhibit were cutting edge technologies, products, and innovations in sectors such as aerospace, automotive, precision engineering, electrical and electronics, furniture, medical & healthcare, household goods, packaging, leisure goods, building and construction. Covering all those necessary for the entire production process, the event has been an effective platform for buyers and local exhibitors in Vietnam to access the latest plastics, rubber and precision engineering technologies available in the global market. It also facilitated industry networking and knowledge sharing through a series of seminars, workshops, and round table discussions. An insightful conference program provided an ideal venue for the exchange of ideas, technology update and business networking between stakeholders in manufacturing sectors.
Vietnam's plastics processing industry is projected to grow by 16-20% annually up to 2010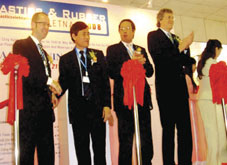 Prominent speakers from the Vietnam Plastics Association as well as global experts shared their insights on topics such as new trends in the plastics industry in the region, orientation of the plastics industry in Vietnam and industry's requirements for plastics technology in Vietnam. They also addressed global trends in PP and PE, development in bioplastics and plastic modification processes. Vietnam is an attractive market for some of the global players with projected investment required in plastic processing equipment in Vietnam to reach $3 billion from 2005-2010. This is assuming that targeted export revenues during this period hit $1 billion. Europe has been in the forefront of the development and manufacture of machinery, raw material and R&D in rubber and plastics processing in Vietnam as indicated by the large number of European exhibitors and visitors at the show.
Major industries push demand for plastics
Vietnam's position as a promising leading importer of processing machinery and raw materials was affirmed during the first edition of the show which gathered 115 exhibitors and was attended by 5,785 visitors from 35 countries, of which 87% came from the Southern region of Vietnam where 80% of the plastics process industry is located.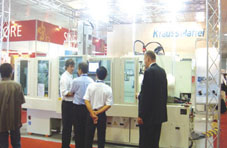 The second edition of premier plastics and rubber processing machinery and manufacturing technologies is timely, according to industry insiders, considering Vietnam's accession to the World Trade Organization combined with its membership to the Association of Southeast Asian Nations (ASEAN). The market comprises 560 million people giving Vietnam full exposure to global and regional opportunities.
Vietnam is the world's third largest rubber producer
Various industries are also fuelling demand for plastics mater
Zapatillas Running Baratas