Solid Edge University this year was conducted in Indianapolis, Indiana in the United States from 25 Oct to 27 Oct. The venue was at the JW Marriott Indianapolis in the downtown area. Several active users including Siemens employees, developers, channel partners, and members of the press attended the three day gala event. INTERNATIONAL METALWORKING NEWS FOR ASIA was fortunate to be invited again for the second time.
This year's theme was "Expanding Horizons." For one it is indeed Expanding Horizons for automotive technology. Excellence and innovation in automotive technology was on display in the keynote presentations. From a young engineer who earned a placement at the Red Bull Formula 1 team, to a garage start up that now designs and manufacturers race winning off-road vehicles, to a company disrupting the traditional way that cars are designed and manufactured. And all using Solid Edge as a key tool in their success.
Prodrive
David Cullimore is a 23 year old engineer who now works for Prodrive, a UK company that has been behind some very successful racing teams including the Subaru World Rally Team and now Aston Martin Racing. David has not had a smooth path to his current position, he did not get the required mathematics grade for a traditional mechanical engineering university course, so chose to study industrial design where he could still follow his passion for automotive design and CAD technology. He also formed his own team to compete in the Greenpower challenge, a competition to design, build and race and electric powered vehicle using a standard motor and battery. David has been incredibly successful in Greenpower, his first car won 24 out of 30 races entered, and he recently won the Greenpower international challenge in his latest Jet II design. David uses Solid Edge to design his vehicles, recently focusing on improving the packaging compared with his previous design, reducing the frontal area and reducing drag.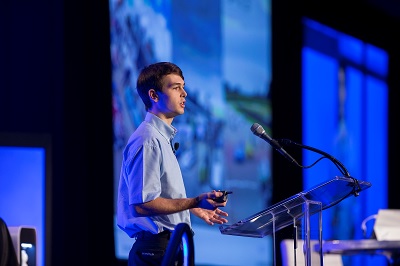 David Cullimore
Camburg Engineering
Next is Jerry Zaiden from Camburg Engineering recounted his journey starting in a garage in 1997, adopting an old Toyota truck to compete in local off-road events. Today Camburg Engineering employs 26 people and is a leader in the design and manufacture of trophy trucks that compete in some of the toughest, long distance off-road races. A focus for Camburg Engineering is the design of suspension systems - they measure the travel of their suspensions in feet (2 feet for the front and 3 feet for the back). And this is not for show, it is a necessity for traveling at high speed over rugged terrain. Jerry uses Solid Edge for his design work and showed a great progression in his designs from adapting standard trucks to developing complete "unlimited" vehicles. Jerry left the audience with three key takeaways, firstly dare to innovate - think ahead and constantly challenge what you are doing. Secondly, don't always go it alone, partner up where appropriate. And thirdly, keep the passion and enjoy the ride!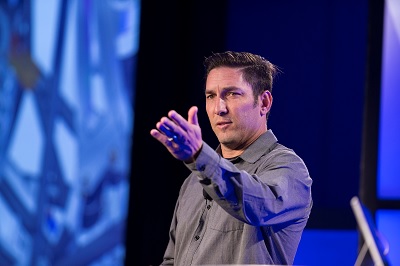 Jerry Zaiden
Local Motors
The third presenter on the automotive theme was Justin Fishkin, Chief Strategy Officer at Local Motors. Justin started with a video "The End" with the message that Local Motor's mission is "we exist to shape the future". Local Motors is certainly deploying a ground breaking business model for example using "co-creation", crowd sourcing design ideas from a large number of enthusiastic participants, from young designers with radical design ideas to retired professionals with deep experience combined with their own design ideas. Some of Local Motors recent products include the first 3D printed car that has only 50 components, to Olli, a new driverless vehicle aimed at moving people efficiently for the "last mile". Local Motors have been using Solid Edge for their own design projects and it has been fascinating to follow their rapid progress in disrupting traditional automotive design and manufacturing practices.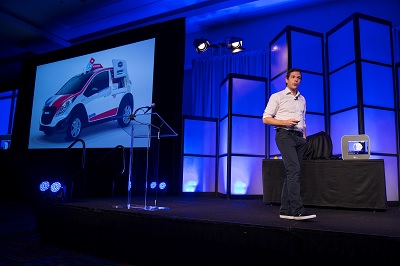 Justin Fishkin
FloEFD for Solid Edge
A new computational fluid dynamics (CFD) solution for Solid Edge was announced today at SEU16. FloEFD for Solid Edge from Mentor Graphics is embedded within Solid Edge and provides comprehensive but easy-to-use capabilities to analyse many different fluid flow problems; this solution helps users optimise their designs at an earlier stage in the product development process.
There have been several CFD solutions available to Solid Edge users but these typically require the users to export their geometry from Solid Edge to a separate application to perform the analysis. This is itself a tedious process but also makes it hard to incorporate changes in the design into the analysis.
Mentor Graphics describes FloEFD for Solid Edge as the only frontloading computational fluid dynamics (CFD) analysis tool that is fully embedded in Solid Edge. Frontloading CFD refers to the practice of moving CFD simulation early into the design process where it can help design engineers examine trends and eliminate less desirable design options. FloEFD can be used to analyse heat transfer and aerodynamic issues across many industries (process plant, industrial equipment, HVAC and refrigeration, consumer products, automotive, aerospace and electronics for example) and covers many analysis types (stationary or transient flows, heat transfer, forced and natural convection, radiation heat transfer, rotation, fans and heat sinks, thermal and electrical contact resistance for example).
Air Jordan IV 4 Shoes