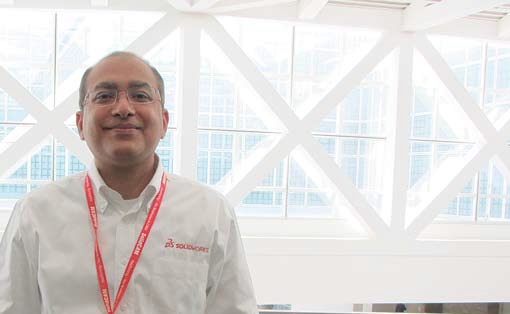 One of them is Kishore Boyalakuntla, Senior Director, Product Portfolio Management and Brand User Experience Leader, Dassault Systemes Solid Works.
He started of by discussing SOLIDWORKS Make, which enables users to offer personalised products online in millions of variations, anywhere around the world. Here's how ClearVision uses SOLIDWORKS Make to enable its customers to customise their own eyewear.
He also mentioned the four ecosystems driving SolidWorks: design to manufacturing, data management, simulation and IoT.
Design to Manufacturing
The design-to-manufacturing (DTM) ecosystem, Boyalakuntla pointed out, has been under creation for several years, beginning with the launch of SolidWorks MBD, followed by Costing and Inspection, and now, SOLIDWORKS CAM. "With this combination, you can do smart manufacturing inside your company, and everything is managed by PDM Professional, which is exactly the way it should be," said Boyalakuntla.
Data Management
The SOLIDWORKS data management ecosystem products have broad multi-discipline appeal within organisations because of their ease of use and familiar Windows explorer interface, which provide fast access to relevant data not achievable with generic network shares. New for SolidWorks 2018 is SolidWorks Manage, which adds new capabilities including: Project timelines and resources, Complex business processes, Advanced Item Management, and Dashboard and reports for critical data.
SolidWorks Manage is a new product for 2018 that will leverage the ease of use and file management capabilities of PDM Professional, but add some advanced features to manage project timelines and resources, more complex business processes, a higher level of item management, and it also has some nice dashboards and reports that give you access to that critical information.
Simulation
Simulation is the next ecosystem; now adding Simulation Engineer, a validation tool for solving complex structural analysis problems, such as large deformations, component contact and complex materials. Simulation Engineer is part of the 3DEXPERIENCE Platform and leverages ABAQUS technology from SIMULIA. The product can be access in one click from SolidWorks.
SolidWorks simulation has greatly benefited from the advances in mathematical techniques and computing power of the last decades. So things have changed from asking, 'Will my part fail?' to, 'How can I optimise my design?' We are allowing people to understand the processes and functions of their design, and to understand the performance very early on in the design process.
Internet of Things
The fourth ecosystem is the Internet of Things (IoT). Here, Kishore said how Freight Farms is using the SOLIDWORKS IoT ecosystem to plant sustainable farms inside of shipping containers. Essentially Freight Farms wants to be a platform to empower growers as SolidWorks is a platform for designers and engineers.
Freight Farms' Leafy Green Machine is a 40-ft shipping container that uses a hydroponic system to grow produce. The system is connected to regulate the atmosphere so the food grows the same in Indiana as it would in India. The yield for the Leafy Green Machine is the equivalent of 1,000 heads of lettuce per week with only 20 hours of labour required for optimal growth.
Adidas Fotballsko