For 40 years, Chi Chang has been designing and manufacturing fully computerised lines for sheet and film extrusion and co-extrusion. The company's highly qualified team of engineers, operators and technicians has always been searching for advanced extrusion technology to meet customers' requirements.
After years researching since its first PP hollow profiles sheet extrusion line in 1987, the new generation of extrusion lines from Chi Chang will be capable of producing PP hollow profile sheet with width from 1200mm to 2500mm, thickness from 2mm to 10mm, and output up to 500 kg/hr. In the mean time, Chi Chang has introduced its new PC hollow profile sheet extrusion line that is able to produce two-layer and three-layer PC hollow profile sheets with width of 1200mm and 2100mm, and thickness of 5mm-10mm (two-layer) and 16mm (three-layer), with output of up to 500 kg/hr.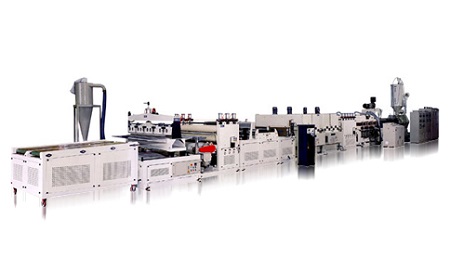 Adhering to the motto of Integrity, Innovative technology and Sustainable services, Chi Chang is dedicated to the design and fabrication of plastic extrusion machinery. Its product range includes air bubble film extrusion, foam extrusion, film extrusion, and sheet extrusion line.
CHI CHANG MACHINERY ENTERPRISE CO., LTD.
No.43, Sinle Road, Tainan City, 702, Taiwan
Tel: +886-6 2612121-5
Fax: +886-6-2645953
E-mail: chichang2018@extrusion.com.tw
Website: http://www.extrusion.com.tw
Highsnobiety Sneakers