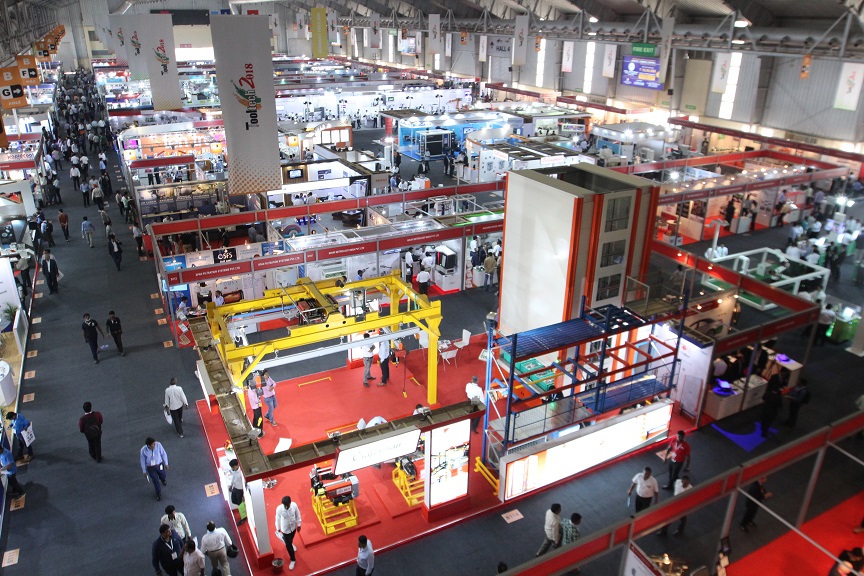 IMTEX FORMING 2020 and Tooltech 2020 will once again display state-of-the-art technologies and solutions in metal forming along with smart technologies for intelligent manufacturing in dedicated arenas at BIEC's 33,000 square metres exhibition space.
Metal Forming Space
Metal forming machines constitute around 25% of total consumption of machine tools in India. The consumption of metal forming machinery in India during FY 2018-2019 was around US$ 800 mn. Around 69% of metal forming machines consumed in India are imported. India's metal forming sector is still evolving and IMTEX FORMING 2020 will bolster this segment further. Metal forming will play a pivotal role in battery enclosures and with Government of India keen on deploying electric vehicles on the roads, IMTEX FORMING assumes significance.
Live Displays
Over 600 exhibitors from 26 countries will exhibit innovations in metal forming. Technologies in metal forming such as high speed laser cutting machine, sheet metal working, welding and joining, presses, metrology, and CAD / CAM essential for manufacturing growth will be exhibited. This provides visitors from user industries such as aerospace, defence, railways, power, white and brown goods, capital goods, and many more an opportunity to interact with machine tool manufacturers and take informed decision to procure the technologies. Tooltech will showcase a whole range of peripherals and tools for metalworking machine tools, measuring machines and instruments, CAD/CAM, among others.
The exhibition is an ecosystem for the growth of manufacturing industries, especially SMEs, as they get an opportunity to increase their market space. Special focus will be on additive manufacturing and Industry 4.0 and it is encouraging to see that even the small manufacturers are recognizing the application areas and usefulness and migrating to these in phases.
Parallel Events
Events held concurrently during IMTEX have always been a crowd puller. IMTMA will hold the International Seminar on Forming Technology 2020 on January 22 at BIEC, Bengaluru. Experts from Austria, Belgium, Germany, Sweden, Holland, UK, USA, Switzerland, Italy and India will facilitate sessions at this International Seminar and present latest developments in metal forming technologies. More than 50 institutions will showcase their research in metalworking fields for commercial use at i2 Academia Pavilion. Seventeen companies from 10 countries will participate in the International Buyer-Seller Meet on January 24 and 25 to explore mutual business opportunities. Eco Design Award introduced during IMTEX 2019 to promote sustainable lifecycle practices in exhibitions that balance quality, environment and economics with compliance to health and safety obligations will be continued as part of our endeavour to make Indian exhibitions 'Green'.
IMTMA expects a footfall of over 40,000 business visitors at the exhibition which shows that IMTEX is a market leader to propel business growth for manufacturing even in tough market situations and general slowdown of the economy.
Air Jordan VI Low