WACKER is set to unveil a newly developed version of its pioneering ACEO® 3D printing technology with silicone rubber – and is thereby setting new benchmarks – at K 2019 International Trade Fair for Plastics and Rubber.
The new ACEO® Imagine Series K2 printer features numerous technical improvements and new software, allowing three-dimensional objects to be reproduced even more precisely and with extremely high dimensional accuracy. It can print up to four different silicone materials simultaneously, allowing objects to be printed in colour and with silicones of different hardness.
The Munich-based chemicals group already caused a sensation at the previous K show with its first 3D printer for silicone elastomers. Since then, the company has continued advancing this technology. Today, WACKER is a leading service provider in additive printing with silicone technologies. The name ACEO® stands for WACKER's 3D printing service that offers 3D printing with real silicone rubber for a variety of purposes and applications. Developers, prototyping specialists, scientists and numerous customers from the aerospace, rail, automotive and medical sectors now take advantage of the ACEO® services.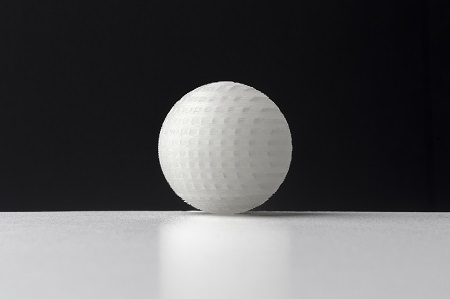 ACEO®'s unique drop-on-demand method enables unprecedented product designs and complex geometries to be produced, while completely retaining the outstanding properties of silicone, such as heat and UV resistance or biocompatibility. The print head deposits single silicone voxels on a building platform. These voxels merge smoothly into a homogeneous surface. After each layer, the curing process is activated by UV light. A three-dimensional object is printed layer by layer with the use of support material to create complex structures, overhangs or cavities. Once the object is 3D-printed and removed from the building platform, the support material is washed off with water. The object is subsequently post-cured to remove volatiles and achieve the final mechanical properties. 3D silicone components are used in a wide range of applications and in several key industries, such as the automotive, aerospace, healthcare and supply sectors, as well as in mechanical engineering.
Multi-material printing made possible
At this year's K show, WACKER will present the latest innovation in the field of 3D printing with silicone: the ACEO® Imagine Series K2. With its multiple printing nozzles, the new printer can process up to four different silicone materials simultaneously, allowing entirely novel designs to be realised.
For example, 3D objects can now be printed in different colours or with different degrees of hardness. The new technology also benefits the printing of hollow objects, which require support material. For such cases, up to three different materials and colours are available.
Such multimaterial printed objects are increasingly finding use in healthcare applications. For example, tumors or diseased blood vessels that have been scanned using imaging methods can now be distinguished in colour and copied extremely realistically in different hardnesses. This allows surgeons to practice for the operation in advance and so anticipate any possible complications.
Another highlight of the new generation of printers is its auto control technology. The printer measures the silicone layer applied after each printed layer and subsequently compares it with the target value specified in the CAD model. If the program detects any discrepancies, they are automatically corrected with the next layers. Since this target-actual comparison does not use a virtual model, but the actual printed result, this form of in-line checking and correction is clearly superior to a check using the "digital twin" technology. In this way, the new generation of printers produces extremely precise and detailed 3D prints, which are even suitable for difficult industrial applications. ACEO®'s auto-control technology, thus sets new benchmarks in the additive processing of viscous materials such as silicone.
ACEO® has also significantly improved the printing mechanism and control software. The new features allow mesh structures and other complex designs to be manufactured. They also facilitate the production of small series.
The ACEO® package not only includes 3D printing of silicone parts, but also advising and training designers and a webshop for online ordering and for the secure uploading of design files.
Pychaya Suksrinuch