Plasco Engineering Inc., Taiwan's premier supplier of innovative plastic extrusion solutions since 1986, offers a comprehensive lineup of monofilament extrusion machinery. Plasco designs and manufactures (in full conformity with the current CE and ISO 9001 regulations) these machines to its signature standards of excellence by using components from the world's leading suppliers and incorporating their proprietary, user-friendly Human-Machine Interface (HMI). The final product represents the industry's ultimate monofilament production solution, existing at the intersection of quality and value.
The design process begins with a detailed consultation to determine the ideal chemical and physical properties of the extruded filament, based on its end-use. Plasco can produce monofilament extrusion lines to process a range of resins (Nylon, Polyester, Polyolefins, TPU, and more, including Bi-Component), into filaments of various diameters (0.08 mm - 4.00 mm), at the capacity (35 kg - 300 kg per hour) to suit operations of any size. Plasco also offers configurations and winding styles (Pirn, Flange, Bobbin, Hank, or Bristle) for producing highly-specialized, technical products, such as High-Tenacity, Heavy-Gauge, Flagged, Crimped, and Bristle monofilaments.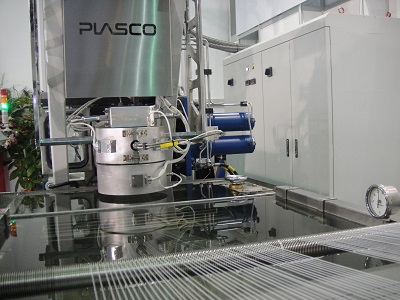 The scope of industries around the world utilizing monofilament produced by Plasco-made machines is massive, including Agriculture, Fishing, Medical, Automotive, and Consumer Products. More impressive, the range of end-use applications for these products are near limitless; Fishing Line, Sewing Thread, Ropes, Nets, Mesh, Electric Fencing, Medical Sutures, Toothbrush Bristles, Broom Bristles, Racket Strings, String Trimmers, Musical Instrument Strings, Artificial Grass, Synthetic Hair, and Textiles -- to name a few.
The impeccable quality and customizable nature of Plasco's monofilament extrusion lines, combined with the ever-increasing prevalence of monofilament-based products around the world, allows these machines to serve as the cornerstone of efficient, high-quality production for nearly any plastic manufacturing facility, regardless of scale or industry.
To request further information or schedule a consultation, please visit: www.plasco.com.tw
Visit also: http://image.industrysourcing.com/drupal_ringier/supplier/21317