CAMBODIA has its share of challenges with single-use plastic. Among the reasons: huge demand for coffee and food delivery; households that prefer to daily buy perishables from the local wet market; and a buffet of street food.
Today, a community of green individuals, organisations, and establishments are stepping forward to stop the ill-effects of single-use plastic on the environment and people's health in the Kingdom. They are raising awareness, educating the public and helping provide alternatives that empower individuals, groups and the country as a whole to take action and say no to plastic use. Although they concede these are baby steps, they are one in saying that small acts done collectively are bringing about needed change.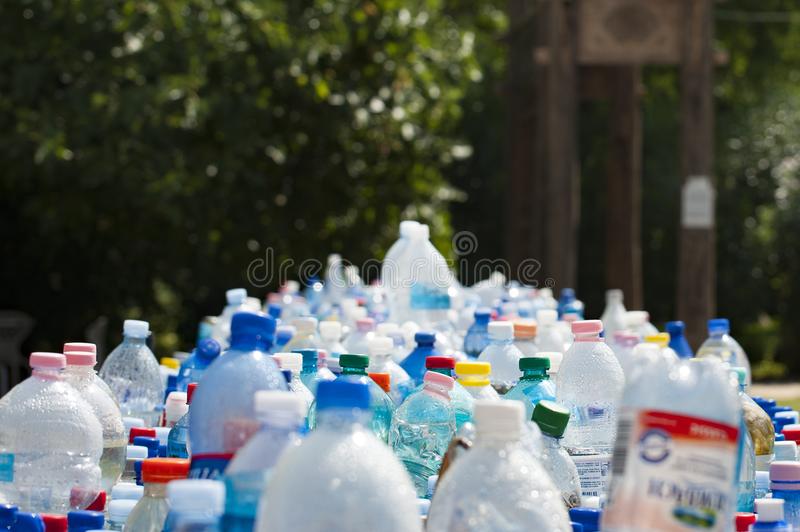 Organisations are coming together to put a stop to mounting plastic waste in Cambodia (Photo: Dreamstime.com)
Space for dialogue
Farm to Table aims to provide a community space for fresh, healthy and sustainable dishes. It plays hosts to numerous activities ranging from a farmers market, composting, home gardening, etc. Over the years it has increasingly become a venue for discussing social issues.
Early in the year, the Green Drinks it hosted turned the spotlight on Education. It brought together individuals, schools, companies, and organisations to discuss plastic pollution and what can be done about it. The highlight of the event was seeing children as young as pre-school sharing about their schools' and their own commitment and effort to lessen plastic use at home, school and elsewhere. Some schools have even banned the use of single-use plastics altogether.
Another event it hosted tackled the little-known recycling system in Cambodia and encouraged participants to think through what they can do to help improve waste management in Phnom Penh.
Civic mindedness is critical
It is through platforms and networking opportunities like these that help give the fight for plastic alternatives the needed push in the capital. It is in events like these, too, that one would find GoGreen Cambodia actively taking part in, if not serving as resource speaker or playing host.
GoGreen is a volunteer organisation advocating for better waste collection via its innovative app that records problem areas, as well as gives a happy face for areas that are in good shape. It also co-hosts the country's annual World Clean-Up Day.
In its more than two years of existence, the organisation has seen a growing awareness about the pollution problems and single-use plastic in Cambodia.
"This is apparent especially in urban areas among the educated youth, which is a driving force behind the behaviour change," says co-founder Natalja Rodionova. She cites that Cambodians are taking more ownership of the problems and writing about them in blogs, posts, and articles. Doing so in the local language, Khmer, helps disseminate the message to the masses. She adds that increasing support from the Ministry of Environment and the law charging 10 cents in supermarkets for single-use plastic bags are helping turn the tide.
In the F&B, Ms. Rodionova notes that "some restaurants have started delivering in tiffin boxes, and taking back empty ones. A lot more restaurants also deliver in biodegradable packaging. I definitely think the F&B industry is a sector that could help in reducing plastic consumption, but it comes down to what's the most cost-effective. Until now the price of biodegradable options remains too pricey. At the same time, we should admit a lot more should be done in educating, raising awareness, making alternatives become more accessible, giving incentives for sustainable businesses and general behaviour, and stronger law enforcement. The problem is complex, indeed and especially in a developing country like Cambodia."
The cost of change
Sandy Kotan of Only One Planet agrees. Her company sells biodegradable items such as food packaging and plates, reusable bottles and cups, as well as silicon straws.
"In Cambodia, and across Asia we can all see the result of Styrofoam usage. It clogs our waterways, pollutes our streets and the countryside, eventually ending up in the oceans. Why this product is even legal to use in the food service industry is a mystery to me. In contrast, the bagasse is made from a rapidly-renewable resource—sugarcane—and is 100% natural. It uses no chemicals, and will biodegrade in an industrial facility within two to three months. In a natural environment, it is harder to gauge but in Cambodia, I think six months would be a safe time frame, depending on the season, heat, moisture etc."
The boxes have been certified to be compostable by OK Compost, are FDA approved and have passed tests showing they contain no heavy metals or pentachlorophenol (PCP). But they aren't cheap, and cost is clearly a determinant of use.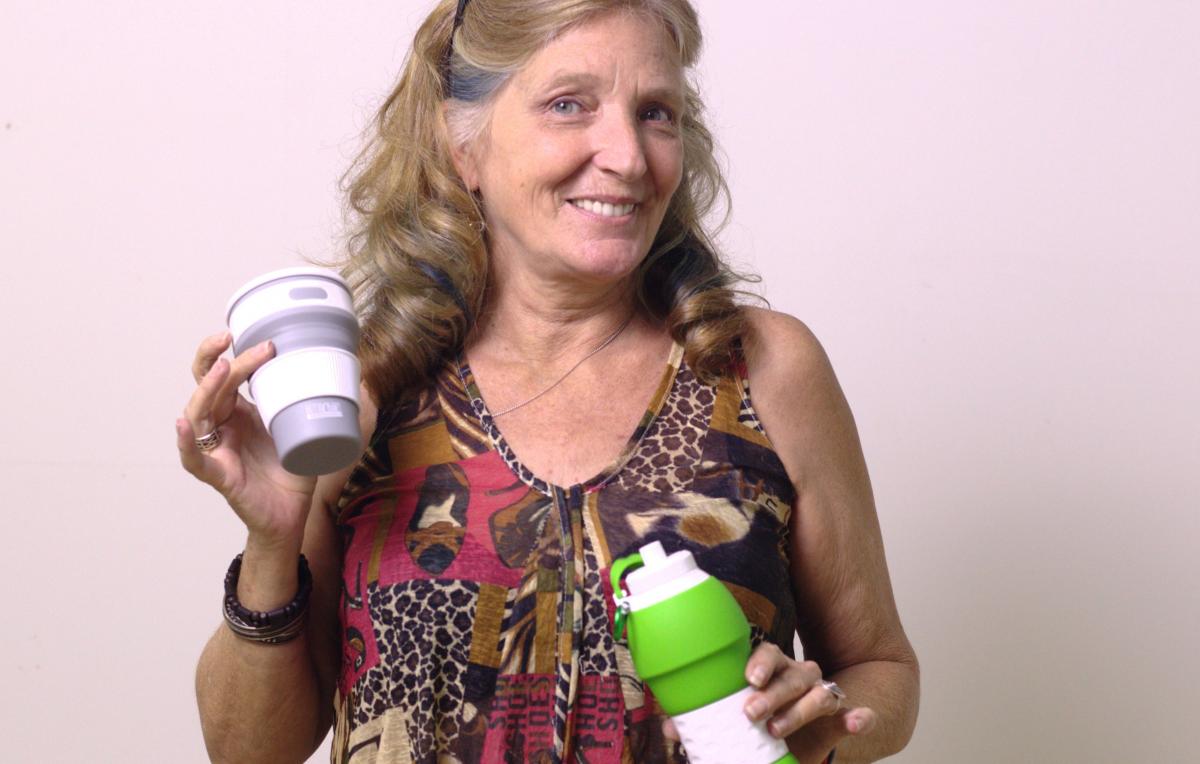 Sandy Kotan, owner of Only One Planet, a company that sells biodegradable and reusable packaging.
"It is a challenge for sure," admits Ms. Kotan. "My bagasse boxes are about five times more expensive than Styrofoam. I speak to anyone who will listen about the opportunities of producing them in Cambodia. I do not have the resources to do it myself but would fully support anyone interested in doing so. If I can double my sales this year, I can achieve lower prices via volume purchasing to a small extent, and this higher volume might attract investors to set up a local production. It is a great export product and I believe that if it's produced here, it can lead to 30 to 40% cost reduction. Also, as I am a social enterprise and want profits to be directed to furthering the education/awareness of the effects of single-use plastics and saving Cambodia's natural environment; I donate or sell at discounts to NGOs or local F&B outlets that want to kick the plastic but can't afford the higher cost. What I ask in return is that they become 'ambassadors', and spread the word about plastic pollution and alternatives."
The cutlery that Only One Planet sells are also all natural, made from FSC Certified Birch wood. "I chose this as it fits the need for biodegradable, disposable cutlery," explains Ms Kotan. "It's inexpensive compared to bamboo products, and also bamboo requires the introduction of glues or binding agents, which I want to avoid. Again, I would love to help someone set up production in Cambodia, but I would not like to contribute to the deforestation here. I don't know of any FSC, sustainable forest projects in Cambodia that could supply the wood without further damage to the countryside, so I'm cautious of that."
As for the silicone line the company markets, it consists of water bottles, coffee cups and very soon a lunch box. "All of which collapse into smaller sizes to make carrying these things easier for the average person. I also brought in silicone straws, food storage bags and stretch lids. I chose silicone as it is extremely durable and temperature tolerant, and is inert—none of the harmful chemicals found in plastic (BPA, BPS, phthalates etc.). Although it is not biodegradable, it is recyclable, and in my humble opinion, a viable alternative. The non-toxic nature of the material, combined with its lifetime—some manufacturers say 10 years but I prefer to say 3 to 5 easily—these products can replace literally thousands of pieces of single-use plastic."
Ms Kotan counts as main clients F&B outlets. "Places that need to provide delivery or take-away service. For the silicone line, I sell directly to consumers via my website, or through wholesale, brick-and-mortar, eco-friendly establishments. Of course, the best solution is to consume without creating any garbage, so I hope to enable both consumers and the F&B industry the means to get consumers to 'bring their own' containers—be it for coffee, food or water. The corporate world is also slowly coming on board and looking at their client gifts/incentives to be more eco-conscious in Asia so I am hoping to make more inroads there, as it will help with the education aspect of single-use plastic."
Back to basics
According to Ms. Kotan, there are businesses in Cambodia that are using even more natural alternatives such as banana leaves for some of their take-away, delivery and canapes. Among them restaurants such as Friends and Romdeng in the capital and Tevy's Place in Siem Reap. Although banana leaves are ubiquitous in Cambodia and in some cases can even be sourced for free, they remain relegated in the sidelines.
"With banana leaves, you have to add freshness and you have to get it every couple of days," she explains. Anything that is unprocessed and natural will have a shelf-life says Ms. Kotan. It is a reality that she herself is dealing with as she explores selling all-natural straws that come from stems of a water plant. "They are water plants that grow along the river and are sterilised. But the problem with that is it they need to be fresh because they only last for so long. They do not stay so long as six months on the shelf. Maybe six weeks, maybe not. But we are trying to get those made out of Kampot."
Other initiatives taking place in the Kingdom, include the ones by Café Collective. Started last year by eight cafes in Cambodia's top tourist destination, Siem Reap, there are now 28 different venues that charges 25 cents for take away food in cup or a box. But they also give 25 cent discount if you bring your own.
According to Ms. Kotan the message of plastic use should not just be limited to the environment. "Six months ago people are saying plastic is bad don't use it. Well that's not enough information. Plastic's bad and here's why. It's not just the environment, it's your health too. It gets into your food, into the water. It hurts you too, your family—everyone. Then you need to give examples of alternatives and not just say don't do it, but give solid examples of what they can use instead."
As part of its advocacy on the effects of plastic use, Only One Planet provides resources, such as an eco calculator on its website to help measure cost and impact of water bottles or plastic cups. It likewise connects the community to resources by including a data base of individuals and organisations that recycle and upcycle trash. Its Ecofood eco report card, meanwhile, is a community-driven list of restaurants and hotels, and what they're doing to help the planet.
All these efforts seem to be paying off. "I am very encouraged," shares Ms. Kotan. "In the last six to eight weeks, I'm getting more and more Khmer places asking me about our products. The first part of last year, there was almost nothing. But it is coming. The product is expensive. If there's a place selling packs of rice for 75 cents, it can't really take a 20-cent hit for the box. That is why getting it made here is going to be so key. But businesses are still asking, and there's a few saying: 'No, I'm going to do it anyway because it is important to me'. So it's getting a lot of traction.
"I hope to focus my time more on workshops, education and helping local organisations to set up local production and distribution of all-natural, Cambodian-made alternatives. I would love to organise coffee shops and F&B outlets into buying co-ops in which better prices can be achieved by bulk orders.
As with those from other emerging markets, green actors in Cambodia like Ms Kotan believe the country stands to gain more if systems are set in place including product bans, increased collection services, materials recovery facility, prohibiting wasteful packaging and incentivising biodegradable substitutes. But for now, they are steadfast in taking small steps and remain hopeful that change will continue.
Air Force 1 High