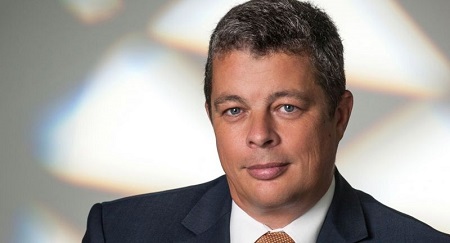 Oliver Lodl,Chief Sales Officer
Marketplace has taken on an unprecedented level of significance nowadays due to the coronavirus outbreak that rocked the world. As response planning and social distancing measures began in late February to mid-March in South East Asia, retailers were flooded with waves of panicked customers. The situation is further aggravated by reliance on precious and accurate on-time deliveries. This shows why online marketplaces are valuable for both consumers and site operators, it's the first large-scale example of ecommerce as a salvation to a supply-panicked population.
ORDERFOX.com, a leading Marketplace for over 19,000 buyers and CNC manufacturers, is offering fast, simple and cost-effective solution to ward off the consequences of the coronavirus and other crises.
Kathryn Gerardino-Elagio of International Metalworking News for Asia interviewed Chief Sales Officer Oliver Lodl of Orderfox AG on how the company can actively support customers in Asia and the entire CNC industry during this acute situation.
Orderfox in Asia
"Two years ago, we started working together on the CNC market in Asia. Our goal is to offer our customers the opportunity to find the right partner who can meet their requirements with little effort. But it is also a chance for purchasing organisations to find the right manufacturer on the global market in a simple way and with little effort," Oliver explained.
He detailed, "Orderfox also offers the possibility to realise global projects with local sourcing due to the many partners. This enables many companies to concentrate on their core competencies and to produce sustainable and environmentally friendly products."
Due to the current crisis, the existence of numerous CNC companies is at stake, said Oliver. "The COVID-19 outbreak has highlighted the vulnerability of complex global manufacturing supply chains. To make matters worse, the CNC industry heavily relies on on-time deliveries. Delivery delays of just one day can create gaps in the entire supply chain, which can lead to exploding costs, enormous sales losses or even a complete standstill," he mentioned.
Business for many companies has been delayed or halted as a result of the pandemic, industrial trade fairs have been cancelled and tens of thousands of workers around the world are in quarantine at home.
Oliver stated, "The financial impact of the coronavirus crisis will undoubtedly be severe. Yet we are not completely powerless. It is now imperative that we limit the damage and contain the losses. The crisis may limit many production facilities, but the demand for components is still high."
He is positive that changes in CNC supply chain management are now being called for COVID-19 was a wake-up call for many CNC companies. "Many of them have realised that they need to fundamentally rethink their supply chain management," Oliver added.
Business strategies
He rationalised the great opportunity CNC manufacturers can get from digitalisation. "Many CNC manufacturers are small and medium-sized enterprises that rely on traditional procurement strategies that are time-consuming and quickly becoming obsolete," he reasoned.
Oliver added, "In many cases, these producers are highly dependent (more than 65%) on their regular customers, while only around 30% of their turnover is generated from newly acquired customers (Source: Orderfox Customer Research). Customer acquisition is often difficult and time-consuming. And now that numerous industrial trade fairs have been cancelled, new acquisition channels are urgently needed."
He mentioned that digitisation also will change the CNC procurement. "It is not easy for buyers in the CNC industry to fill the gaps that have arisen and find alternative business partners. Many manufacturers don't have their own website, and therefore can't be "googled". Most industrial fairs, which have been a reliable source of business contacts for many years, are expected to be cancelled in 2020, he stressed.
Market scenarios
Oliver noted that digital platforms are a welcomed solution, as they open up new market opportunities while providing additional transparency.
"Among them, Orderfox is the only global platform that believes in the need for a direct relationship between buyer and manufacturer. While other platforms hide manufacturer information and supplier procurement takes place in a "black box", Orderfox enables direct communication between the two parties," he specified.
Oliver added, "This creates maximum transparency and mutual trust. At the same time, the price pressure on manufacturers is alleviated, as the latter can also differentiate themselves from their competitors by means of quality attributes."
Digital marketplace for the CNC industry
"Orderfox is the world's leading digital marketplace for the CNC industry. We want to maximise the success of our business partners and revolutionise the way they work together. Companies in the CNC machining sector can rely on our global network for customised manufacturing by qualified workshops," he remarked.
ORDERFOX.com was developed in response to the Internet of Things (IoT) or Industry 4.0 and the rapidly advancing digitalisation of all production processes. The interactive community links buyers and CNC manufacturers around the globe and thus opens up unlimited market opportunities for all users in the truest sense of the word.
Oliver commented, "There are countless small and highly professional companies that are extremely hard to find because they don't invest much in their market presence or marketing. This tedious research is carried out by Orderfox for you. Visitors to the platform can see at a single glance which components can be produced by which companies, in which tolerance classes they can do so, which machines they use and where their production is located."
Viewpoints on coronavirus
The coronavirus shutdown is an extreme situation for the entire economy and is hitting the CNC industry hard, Oliver observed.
"Although there is huge uncertainty, we can be sure of one thing: falling into a state of shock is the most dangerous reaction to this acute situation and is therefore not an option. Instead, the best way to counteract the problem is with a mix of flexibility, optimism and solidarity. Because we will overcome this crisis together," he revealed.
Oliver concluded, "Here at ORDERFOX.com, we want to play our part, which is why we are enabling CNC manufacturers and buyers to use our entire platform free of charge – for a dynamic and cooperative response to the shutdown."