The Plastics Applications in Food and Beverage Packaging Summit held in Manila, Philippines on November 5-6 gathered the who's who in Philippine food, beverage and plastics industries. The Summit was attended by over 250 participants who listened intently to highly informative presentations from representatives of government agencies, industry associations, academic community and business sector.
Organised by Ringier Trade Media Ltd. through its Ringier Events, the Summit gained the support of various organisations in the Philippines and around Asia such as the Philippine Chamber of Food Manufacturers Inc. (PCFMI), Association of Petrochemicals Manufacturers of Philippines (APMP), Packaging Technology Division of the Department of Science & Technology (DOST), Indonesian Packaging Federation (IPF), ASEAN Food and Beverage Alliance, Food Industry Asia (FIA), and Philippine Association of Food Technologists, Inc. (PAFT). International companies also supported the event as sponsors such as AKEI Holdings Company Limited, Ever Polymer, Labthink, L.K. Machinery International Limited and Tat Ming Technology Co., Ltd.

Over 250 participants attended the Plastics Applications in Food and Beverage Packaging Summit
As Mike Hay, President of Ringier Trade Media Ltd. stated in his opening speech: "We all know that the Southeast Asian region presents many business opportunities given its huge market and with a GDP of US$2.6 trillion and over 622 million people. Southeast Asian plastics market is expected to grow by more than 6% annually from 2018 to 2023, thus creating excellent business opportunities. As the US-China trade situation turns sour, it is in my view that a wide range of opportunities will open up for ASEAN countries, and you can expect to see a further migration of foreign manufacturing companies relocating in Southeast Asia."
Mr. Hay added that over the years, the Philippines has overcome many political and economic challenges to become one of Southeast Asia's fastest growing economies today. And without doubt, the country's food and beverage industry continues to be one of the biggest contributors to the Philippine economy. The country, which is one of Asia's largest producers of food valued at over $29 billion or an annual growth of 10%, poses high demand for plastic packaging products.
With government actions focused on creating proactive and adaptive downstream industry that will be able to fully satisfy domestic and export markets, the demand for plastic packaging is continuously growing. But so is the awareness of the urgent need for recycling plastic waste – not only as a responsibility, but also as a business opportunity. The Philippine government aims for 40% recovery and recycling of disposable input by 2022 and plans to reach 60% goal in 2030 with its "Ener ASEA + 4 Doors" and "Global Market Capture" plans. This is expected to push demand for eco-friendly materials and advanced production solutions.
A powerhouse of technical experts
What made the Plastics Applications in Food and Beverage Packaging Summit a well-attended event was its lineup of highly experienced and well-known technical experts, from the Philippines and abroad, who discussed topics relevant to those engaged in food and beverage production and plastics packaging manufacturing.
Dr. Rowena Cristina Guevara, Undersecretary of the Department of Science and Technology (DOST), brought forth the packaging research initiatives and technological innovations of the DOST; Mr. Joey Roi Bondoc, Research Manager at Colliers International, presented the investment trends in food and beverage packaging; Mr. Joseph Ross Jocson, President of the Packaging Institute of the Philippines, provided an update on the Philippine packaging industry and the quest for sustainable packaging; and Dr. Lotis Francisco from the Philippine Association of Food Technologies Inc. discussed how plastic packaging affects the senses.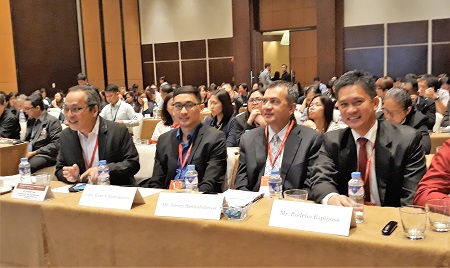 Industry experts share their views and technical knowledge on various topics.
The Summit also addressed key issues on sustainability and recycling. As the Philippines is one of the countries in Southeast Asia tagged as "worst polluters,"the Summit brought into focus the urgent need for sustainable production and recycling. Commissioner Crispian Lao of the National Solid Waste Management Commission gave an engaging discussion on how to achieve circular economy through recycling; Mr. Steven Bartholomeusz, Policy Director at Food Industry Asia, presented the data-driven, country-specific and tailored approach to effectively manage plastic and packaging waste; Mr. Noli Jimenez, Consultant at First in Colours, Inc., tackled the recent advances in composting and recycling as well as issues pertaining to proper waste disposal; Ms. Elsie M. David from the Association of Petrochemicals Manufacturers of Philippines and Assistant Vice President of JG Summit Petrochemical Corp., discussed the sustainability value of packaging in the eye of the designer, manufacturer and consumer; Dr. Leslie Joy Diaz, from the University of the Philippines, cited the current trend of bioplastic as applied in food packaging; and Mr Joshua Tan, Product Design and Development Specialist at D&L Polymer & Colours, discussed the latest additives for food contact materials.
Important aspects in packaging manufacturing operations were also covered with Dr. Elaine Borazon, R&D Consultant, presenting the latest techniques in safety management and control for packaging operations; Mr. Lope A. Doromal Jr., Chief Technology Officer of IBM Philippines, covered the issue on blockchain for food safety; Mr Rodelio Espinosa, Head of Sales at Krones Philippines, discussed the new developments in beverage production under the House of Krones; Mr. John Alvar A. Buencamino, Manager of PQM, PMS & PQS Departments of MH Poly-Electromechs Inc. discussed the energy management solutions for plastic and packaging industry; Mr Matthew P. McConnell, Regional Sales Manager at VideoJet, presented how efficiency can be achieved through coding and marking for food packaging; and Ms Emmeline Hambali of Dynapack Asia focused on sustainability in rigid plastic packaging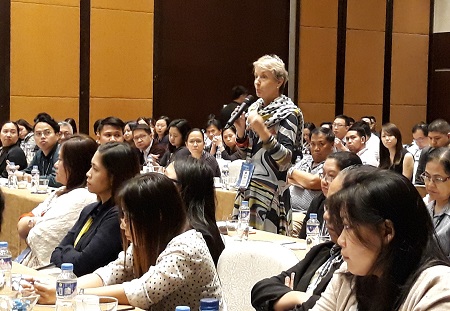 The Summit serves as excellent venue to expand network and discuss issues.
The presentations from the Summit's various sponsors are aimed at improving business operations through their innovative solutions - such as that of AKEI which focused on the latest in extrusion blow moulding systems; LABTHINK which brought quality control solution for food & beverage packaging; LK Machinery which offered solutions in plastics injection moulding; and Ever Polymer Co., Ltd, which covered the applications of its plastic materials in multilayer film and food grade packaging. The sponsors also had their booths to answer inquiries from the participants during the event.
Significant contribution to dynamic sectors
Participants agreed that the Summit is the first-of-its kind in the Philippines in terms of scope and content. As Mr. Jimenez puts it: "The content is very good and I like the topics on food and sensory, as well as those covering advanced technology to process bioplastics." Commissioner Lao stated that the event "is important and a good start. I noticed that the Summit has a substantial audience, too. It is important to first raise awareness so that people can go into doable action. I think we're doing it well as a first step and I hope that the industry through this conference will understand a lot more the problem that we have on hand because they are key to finding solutions especially in the packaging industry. I would be happy to join future Ringier conferences."
Dr. Francisco said that the Summit featured a good blend of topics - and these topics ranged from the basic to applied. "It's focused on target companies and covered the life cycle from raw materials to finished products. I'm glad that Ringier Events brought this Summit to the Philippines because the industry needs technical summits like this and I will definitely recommend this to those in the industry."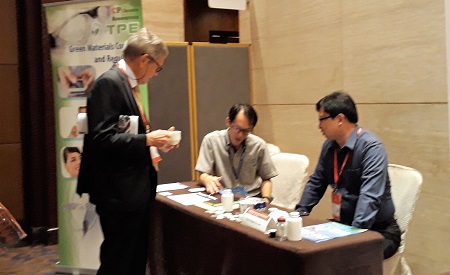 Sponsors get the chance to explain the benefits of their products to participants.
The sponsors also concluded that this Summit organised by Ringier Events met their expectations. "It certainly met our expectations in terms of attendance and inquiries as we hope to have more clients in this part of Southeast Asia," Mr. Liao from Ever Polymer Co., Ltd said. Mr. Fung from LK Machinery was happy to be part of the Summit in the Philippines: "We have been supporting Ringier Events' conferences around Asia and I would say we are glad that we had the opportunity to be in Manila where we expect more local companies to take advantage of the production solutions we offer."
Delegates from Philippines' leading food & beverage manufacturing and packaging sectors joined the Summit. They represented the big names in the industry - Jollibee Corporation, Universal Robina Corporation, Mead Johnson Nutrition, Petron Corporation, JG Summit Corporation, McBride Corporation, Leslie Corporation, Mccormick Philippines, Nutriasia, Bountry Fresh, San Miguel Foods, Inc., and many other well-known companies in the Philippines.
Many of the delegates found the event interesting as they cited it's the first time they encountered such Summit with rich content. Ms. Ma. Zyra Mae Oliman from L&E International, Ltd said: "I find the conference very informative. Since it's very specific to the F&B industry, the guest speakers were well targeted in their topics, particularly in addressing issues not just on food packaging - such as its functions - but as a wholistic approach with the inclusion of topics on waste management and emerging technologies. Overall, it gives everyone an update on what's going on in the industry."
Mr. Antonio del Rio from DOST-ITDI said that the Summit is highly informative. "The event is great and very useful specially for those involved in R&D for food and beverages to be able to enhance the quality of plastic packaging. If Ringier has other events outside the Philippines, we would be interested to join."

Another delegate from Big E Food Corporation, Leo Sim Crisostomo Soldevilla, stated: "It was a summit with full of leaning and open opportunities for everyone. I am hoping that the event organisers will hold another event like this in the future and invite us or update us with future events."
Nike Shoes