Videojet and its partner Tomco Automatic Machinery Co., Ltd introduces three new innovations at ProPak Asia 2019 (June 12 - 15, 2019) designed to deliver effortless marking and coding experience. These new systems take advanced technologies further than ever before, simplifying processes, minimizing coding errors, providing ease of maintenance so that manufacturers can improve uptime and drive productivity, quality and efficiency. This year, Videojet presents these new innovations of smart printing hand in hand with Tomco to the local and regional markets.
The new Videojet 1580 continuous inkjet (CIJ) printer delivers lasting uptime during everyday operation, while minimizing operator errors and reducing total cost of ownership (TCO). The printer is enabled with Videojet OPTIMiZE software that analyzes printer performance, operator behavior and environmental parameters to help interactively guide operators on how to correct suboptimal printer usage that could lead to unplanned downtime and adversely impact line productivity or increase total cost of ownership. Operators are assisted in their printer interactions with embedded guided "how to" videos.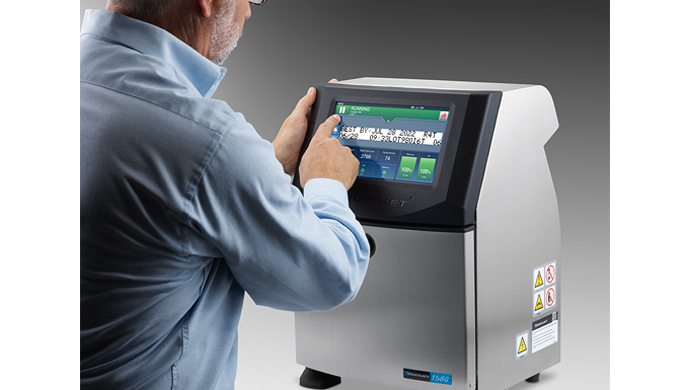 Videojet 1580 continuous inkjet (CIJ) printer
The Videojet SIMPLICiTY™ user interface is designed to greatly reduce operator printer interactions, helping to eliminate potential user errors through an easy to operate, tablet-inspired 10-inch touchscreen display. This advanced Code Assurance capability offers intelligent message creation functionality, and customizable interfaces with built-in wizards that allow operators to only see the options they need, reducing the opportunity for operator-induced errors.
A combination of technologies that further increase uptime includes a built-in make-up reserve tank enables the printer to run for a minimum 8 hours after the cartridge is empty, providing operators with ample notice to replace it during normal line changeovers or shutdowns. Field-proven perforated nozzle with optional Videojet CleanFlow™ technology, requires less frequent cleaning and delivers longer runs and consistent print performance. Operators can also quickly perform routine maintenance with easy-to-change Videojet SmartCell™ color-coded printer components, that are engineered for predictable replacement intervals to align with normal line shutdowns and no additional production downtime.
Videojet expands family of Thermal Transfer Overprinters (TTO), introducing a comprehensive range of TTO portfolio for manufacturers using flexible packaging. The new Videojet 6230 Thermal Transfer Overprinter (TTO), is an easy-to-use printer that helps manufacturers reduce flexible packaging coding errors, and improve Total Cost of Ownership (TCO). The 6230 printer features a simple cassette design that allows for long production runs. Its 700m ribbon length is typically much longer than ribbons used for hot stamp printers, and requires fewer ribbon changes versus other competitive TTO systems. The airless printer design not only eliminates the need for compressed air, but features fewer wear parts through the exclusion of air hoses and connectors. Printer components are fast and easy to replace to help ensure that production is up and running as quickly as possible. The unique printhead is also designed for maximum uptime, since it's easy to change and requires no additional operator intervention to return to printing functionality.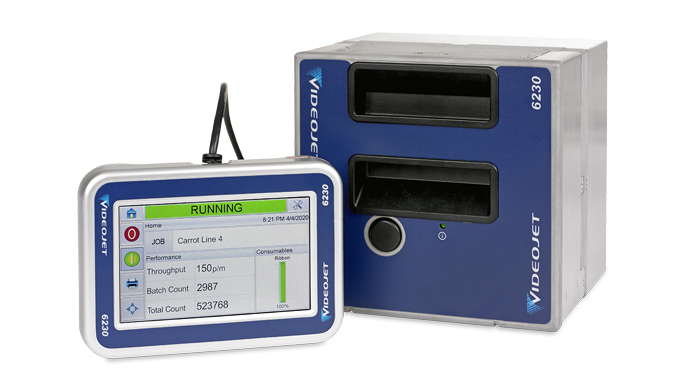 Videojet 6239 thermal transfer overprinter
Code Assurance comes as standard in the 6230 printer. Manufacturers can benefit from simple code creation with VideojetConnect™ Design or CLARiSOFT™ software, helping to reduce operator interactions resulting in fewer user errors and unnecessary product waste and rework.
The WYSIWYG print preview functionality allows operators to confirm the correct code is selected, and a real-time clock stamp avoids date errors, helping to reduce recall risk. Available with optional Bluetooth® capability, and with the use of the compatible Bluetooth USB adaptor, the 6230 printer can also be controlled from an Android phone rather than a HMI. With this feature activated, manufacturers can use an Android phone OS 4.4.4 or higher as a graphical user interface, a memory stick to transfer jobs, and barcode job selection functionality. This simplifies operator interaction with the printer and production line.
In April 2019, Videojet launch the DataFlex® 6530 and 6330 TTO in two new printhead sizes, 107mm and 32mm respectively. These airless, all-electronic printers, eliminate the need for high-quality and expensive compressed air.
The DataFlex 6330 32mm comes with revolutionary Videojet iAssure™ technology, a feature also standard in its 53mm TTO sister models. This innovative technology is a built-in code quality checker that automatically checks for code quality and position and provides a warning when common code defects are detected. Users can then decide whether to stop the line to correct the fault, thus reducing the need to scrap or rework product. This allows operators to focus on other areas of the production line.
"Videojet iAssure™ technology helps our customers to reduce product waste and rework by automatically checking every code with no additional hardware, installation or training," comments Heidi Wright, Business Unit Manager for Videojet Technologies. "When we researched and evaluated the customer requirements for an easy, cost effective code checking solution, we initially considered some form of traditional Vision System approach. When we took our thoughts back to the market as part of our VOC validation, customers told us that they wanted this capability to be integrated into the printer, with no additional setup requirements or adjustments because they have enough to consider without training their operators to be Vision experts.
iAssure technology makes automatic code checking so simple. When a pre-set number of code defects are detected, it alerts operators by stopping the line or rejecting products with poor code quality. It also provides on-screen recommendations for production line adjustments that can help to improve the code quality. No other Thermal Transfer Overprinter in the market can do this."
"Videojet continues to invest in Research and Development and drives innovation through the launch of advanced coding and marking solutions to deliver greater production efficiency, better code quality and lower total cost of ownership. We are proud to demonstrate these latest innovations at ProPak Asia 2019," commented Steve Bijok, Senior Distributor Manager TH,VN,ANZ at Videojet Technologies. "We are also pleased to have the support of our local partners at ProPak Asia, together we demonstrate our commitment to the needs of our customers in the region."
Visit Videojet Technologies local partner—Tomco Automatic Machinery Co., Ltd— at Hall106/EB21 to discuss your requirements with our coding and marking experts.