Three Wood Machinery Industry showcases a SM-500YK full servo full elastic waist band baby diaper production line, a new launch this year. SM-500YK is able to produce baby pants with great improvement in wearing and comfort. Also its speed can be up to 500ppm.
Ms. Janice Chang, international sales manager of the company said that this year Three Wood invested in two new high-speed production lines one after another, one is a hourglass baby pants production line, design speed of 600ppm, the other one is a four-ear like stretch taped baby diaper production line, design speed of 900ppm. These two production lines are accompanied with stacking and automatic packaging machines. The new production base is expected by the end of 2015 or early 2016.
For the hygiene market, Ms. Chang is very optimistic about the development of adult incontinence products because China gradually enters an aging society. She is also expecting that the demand of baby diapers is increasing in the Southeast Asia market. In fact, there have been a lot of new orders from the Southeast Asia.
Three Wood continues to expand its overseas markets and now it mainly exports to South Korea, Indonesia, Vietnam, Turkey, Iran, Iraq, South America. Three Wood successfully sells its products to Sweden this year. Though 70% of its customers come from aboard, Three Wood plans to increase its market share in China this year.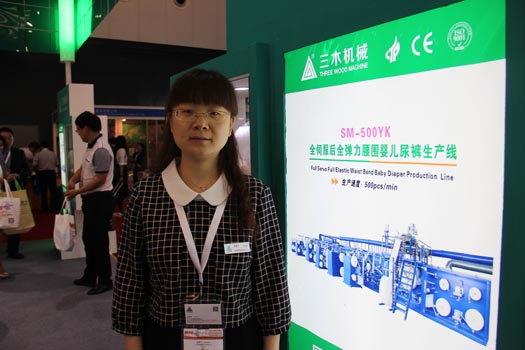 Three Wood Machinery Industry Co Ltd
Ms. Janice Chang, international sales manager
Kids Nike Cortez