As a professional brand exhibition with extensive influence and authority in China's beverage industry, CBST2019 has attracted the attention of people from all industries. The sales of booths continue to be hot and it is expected that there will be nearly 400 exhibitors with an exhibition area of approximate 50,000 square meters, which will attract more than 30,000 professional visitors from China and all over the world.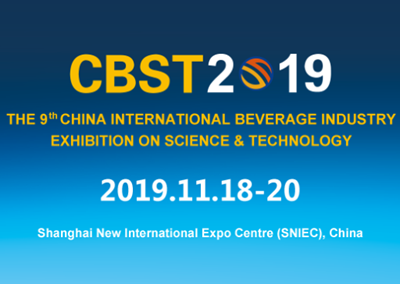 Recently, with the continuous recovery of the beverage market, CBST2019 exhibitors from China and foreign countries express their hope to use the industry platform of CBST to showcase their cutting-edge technologies and products, and actively create a grand gathering of professional buyers and sellers in the beverage industry! During the CBST2019 exhibition, in addition to seeing the latest beverage industry new products, the visitor can also see the technology trends and development trends of the Chinese beverage industry under the new circumstance, and jointly contribute to the future scientific transformation and technological progress of the beverage industry.
The visitor invitation work is fully launched
CBST takes advantage of the organizer China Beverage Industry Association's entire industrial chain hub. With the unique database of the association, the exhibition organizing committee will carry out more refined management and operation in the invitation of the visitor, and strive to make the visitor invitation more effectively and reach a new high. The exhibition organizing committee will use the targeted invitation method to make one-on-one phone follow-up invitations to the management personnel on beverage industry supply chain and company; for potential professional visitors, invitation work will be carried out by phone, email, mailing, etc.; for well-known production companies, local associations, and local exhibition bureaus, we continue to organize and invite group visit.
In addition, based on the traditional visitor invitation method, we will work with professional exhibition visitor marketing companies to plan a richer and more comprehensive visitor invitation program, and provide convenient and professional services on organizing large-scale and high-quality visitors for CBST2019 exhibitors. The services will enable exhibitors and visitors to make full use of the CBST exhibition platform to promote cooperation and communication between the two parties.
More concurrent events are coming
To attract more companies and professionals from the entire beverage industry chain, the CBST2019 launched a series of wonderful concurrent events, including China Beverage Industry Entrepreneur Salon, 2019 China Beverage Industry Association Annual Meeting, Young Entrepreneur Experience Sharing Meeting, Instant Production and Selling Beverage Development Seminar, 2019 the 1st China Pop Drink Contest, China Functional Beverage Development Seminar, China International Beverage Technology Reporting Conference, China Beverage Enterprise and Supplier Matchmaking Meeting, "Master Kong Cup" the 3rd China Beverage Industry "Ink and Autumn" Calligraphy and Painting Exhibition, Beverage Industry Health Walking, etc. Around 20 activities will be in line with CBST2019, bringing infinite surprises to exhibitors and visitors!
CBST2019 online pre-registration channel is open to help visitor attend the exhibition efficiently
As a biennial Chinese beverage industry event, CBST China International Beverage Industry Exhibition on Science & Technology has been favored and paid attention by people from all aspects in the beverage industry chain. At present, the online pre-registration channel for CBST2019 visitor has been officially opened, http://www.cbst.com.cn/en/audience/register.html. In order to further enhance the visitor's experience and increase the admission speed, the pre-registered visitor will have more privileges, including pre-exhibition express delivery, exhibition information push, exhibition booklet, visit card early mailing, exquisite gifts, etc., which will allow the visitor to have a more professional and effective visiting experience.

See you in Shanghai and join with CBST2019. Log on the official website of CBST2019 and pre-register for more privileges!
Nike Air Max 97