Healthy yet delicious snacking is one of the key focus areas of Olam Cocoa's growth strategy, particularly in Asia, where it hopes to reinforce its presence. With the region's snack goods segment expanding very fast, already accounting for 40% of new product development initiatives in Asia in 2018, Olam Cocoa, the cocoa arm of global leader in multiple specialty agri-products and food ingredients Olam International, believes solutions that combine good taste and nutritional benefits to be a winning formula.
Olam Cocoa sees continued strong demand for food items such as biscuits and cookies further boosting the snack market in Asia. In preparation and to provide higher-value options to manufacturers and consumers alike, the company underscores ingredients that promote health and wellness. This is the inspiration behind the company's flagship, premium brand, deZaan, which underpins natural ingredients.
Olam Cocoa's TrueDark is a natural cocoa powder that can be used in biscuits, ice cream, and other bakery and dessert products. It is the first dark natural (non-alkalised) cocoa powder capable of delivering the same colour and flavour intensity as medium alkalised powder.
Charissa Leong, Olam Cocoa's head of Sales for Asia, said that because TrueDark does not contain any additives, manufacturers can declare it as a natural ingredient. "It enables manufacturers to go clean label, something that more and more companies hope to step up to at present," she shared.
Besides delivering powerful cocoa taste and rich brown colour, Olam Cocoa's TrueDark performs well in a wide range of applications, thereby enabling manufacturers to develop products, formulations and even recipes according to their customers' demands.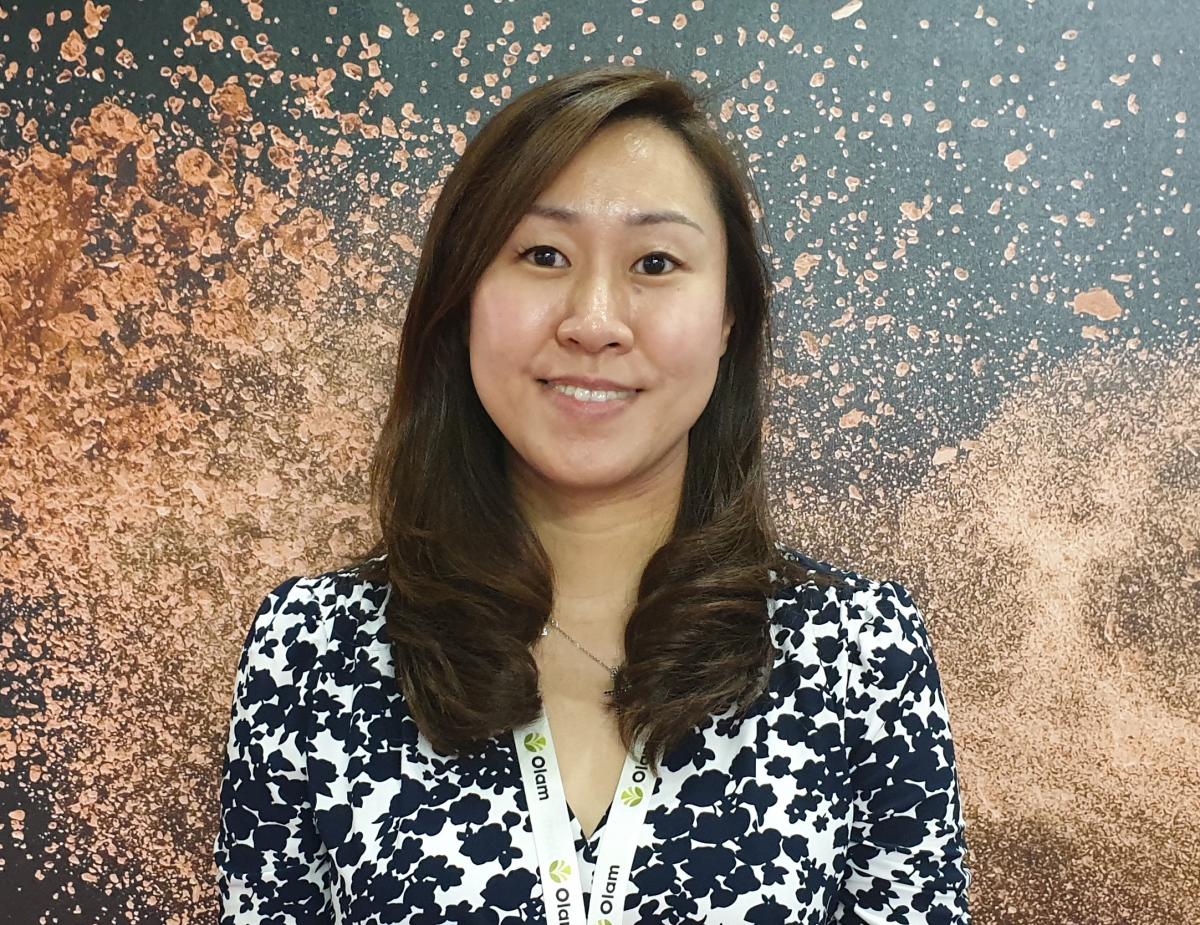 Charissa Leong, Olam Cocoa's head of Sales for Asia
Exploring new flavours and formats
To complement its lineup of healthy and delicious ingredients, Olam Cocoa places a premium on discovering new flavours and delivery formats such as bite-sized snack goods to match diverse user preferences in Asia. Efforts along this line are yielding fusion products such as green tea cocoa, which is among the ingredient application Olam Cocoa showcased at the recently held Fi Asia 2019 in Thailand.
"More end-users, in particular millennials, want to explore new flavours, and this is something we hope to address with these fusion products. Our cocoa ingredients have a rich flavour profile and intense colour, which when paired with other ingredients result in even richer flavours. So we have savoury products with chocolate or tea with chocolate," Leong shared.
Olam Cocoa currently has eight innovation centres across the globe, with one of them located in Singapore to cater to the Asian market. Experts in these innovation hubs develop flavour pairings as they explore new formulations or customise solutions for customers.
Leong said: "Fusion food is one strong trend. Millennials like to try new things, so cocoa is increasingly used together with savoury ingredients. There's salted egg chocolate and peanut butter cocoa, both of which have a little bit of saltiness in them."
The deZaan cocoa ingredients portfolio features many levels of colour richness and flavour intensities that makes it flexible enough in customising for use in food and beverages. Cocoa powders, cocoa masses and cocoa butters under the deZaan brand are designed to deliver rich, full flavour and colour impact in a variety of applications.
Cocoa powders, for example, come in a wide profile range from fruity to bitter. The colour diversity encompasses vibrant reds to dark brown and black. The taste profiles and intensities also vary, as does the fat content. Manufacturers can likewise choose between natural and alkalised variants.
"With deZaan being our premium brand, we make sure it has the three key qualities of functionality, colour and flavour profiles," Leong said.
She added that deZaan is a testament to Olam Cocoa's principle of Less is More when it comes to developing solutions and ingredients. "Because of the intense colour and rich flavour of our cocoa ingredients, manufacturers can actually use a lower dosage and still get the same, if not better, results. This translates to cost savings without risking product quality," said Leong.
In pursuit of sustainability
Beyond preparing for increased demand for healthy food and expanding its market even further, Olam Cocoa remains committed to sustainable and traceable sourcing as indicated in its 6-year strategy for 2019–2024, which also responds to trends in e-commerce and "purpose" brands. Amongst the company's highlights at the Fi Asia 2019 are forward-thinking concepts and practices for sustainable farming and food production.
Olam Cocoa is setting its sights on harnessing ethical sourcing trends and practices, including and in particular sourcing raw materials in a sustainable manner. One of its growth enablers is keeping sustainability at the centre of business and re-generating food and farming landscapes even whilst responding to changing consumer preferences. This approach is anchored on the company's 'right-for-me, right-for-the-planet and right-for-the-producer' principle.
Olam Cocoa's Huysman cocoa powders, for example, use cocoa cakes sourced directly from cocoa growing countries. The company as a whole, sources crops from about 4.8 million farmers and maintains its own plantations, concessions and farms for coffee, dairy, palm oil, peanuts, rice, rubber and wood products, among others.
"More consumers are now aware of and call for sustainability. As Olam Cocoa, we have committed to achieve 100% traceability in our global, direct source supply chain by next year. We are making great progress and are on track to achieve this goal," Leong shared.
Part of this long-term commitment to traceability is AtSource, Olam International's comprehensive sustainable sourcing platform. Launched in 2018, AtSource is designed to provide insights on agricultural raw materials and food ingredients as they move from the farm to factory and retail customers, thereby tracking the social and environmental footprint of a product. It will work with five product supply chains initially, namely cocoa and cashew from Côte d'Ivoire, coffee from Brazil and Vietnam, and onions and garlic from the US, and will cover more products gradually, with 100% of the company's physically sourced volumes 'AtSource-ready' by 2025.
"The bag of cocoa ingredients can then be traced through the supply chain."
Boosting Asia market
Olam Cocoa predicted earlier in 2019 that demand for cocoa powder in Asia will increase at a five-year CAGR of 8%, with the surge in demand driven by markets in China, India, Japan and the Philippines. Asia is poised to become the second-largest cocoa consumer in the world. When before the global market was dominated by Europe and the US, the growing availability of international brands in Asia, greater purchasing power amongst end-users and better retail networks are shoring up Asian markets.
"Olam Cocoa has a strong footprint in Asia, but we hope to further grow our presence and market in the region and work with more manufacturers," Leong said.
To support its growth plans in Asia, the company recently acquired BT Cocoa or PT. Bumitangerang Mesindotama, Indonedia's largest cocoa processor. This development, which gives Olam an 85% share of BT Cocoa owner YTS Holdings PTE Ltd, adds 120,000 metric tonnes of cocoa bean processing capacity and 30,000 metric tonnes of cocoa mass pressing capacity, which when combined would enable Olam Cocoa to serve greater demand in Asia for cocoa products, in particular cocoa powders.
"We have established our presence in Indonesia, which is a huge market for cocoa products in Asia. This recent development is very strategic and is a huge capacity expansion, especially given that the current consumption in Asia for cocoa powders is 350,000 metric tonnes. The added capacity will certainly allow us to grow our market more aggressively and at the same time continue to emphasise quality and sustainability," shared Leong.
For the past few years, Olam Cocoa has been collaborating with BT Cocoa under a Business Collaborative Agreement, even helping the latter reduce its energy consumption by as much as 30%.
Olam Cocoa also has a facility in Singapore that helps handle production of deZaan ingredients. In addition to Indonesia and Singapore, the company sees major growth potential for cocoa ingredients in the Philippines, India and China.
"These countries are focus areas for Olam Cocoa as well, specifically in terms of strengthening the market in Asia. Vietnam also shows potential but it is not at present as big a market as these four other countries," Leong added.
Olam International's expansion efforts in Asia align with as well as support the company's overall growth strategy, which is anchored on four pathways. These strengthen, streamline and focus the business portfolio with $3.5 billion investment in 12 priority high growth potential businesses and $1.6 billion released from deprioritising and divesting four businesses (sugar, rubber, wood products, fertiliser); drive margin improvement through cost and capital efficiency enhancements; generate additional revenue streams through differentiated products and services offerings; and, explore partnerships and investments in new growth engines.
Besides cocoa products, Olam will invest in businesses with high growth potential such as edible nuts and oils, rice, packaged foods and other food products.
NEW BALANCE