Having been around for well over a hundred years, Germany-based Wacker Chemie AG is recognised in the area of polymers, silicone, and other specialty chemical products. A few years ago, the company placed much greater emphasis on R&D for the food, nutraceuticals and dietary markets under Wacker Biosolutions,the Group's biotech and life-science division, which offers solutions and products for the food, pharmaceutical and agrochemical industries.
Recalling the year 2010 as a turning point when this fine chemicals division was renamed, Mr Heiko Zipp, Director for Business Team Nutrition at Wacker, explains that 'Bio' stands for the goal of continuing to expand the innovative biotech products and processes that Wacker has developed with almost 30 years' experience, and 'solutions' means that Wacker offers its customers customised and innovative end-to-end solutions. "Today, biotechnology is an innovation driver for key industrial sectors like food and beverage, which Wacker supplies with products and applications," he says.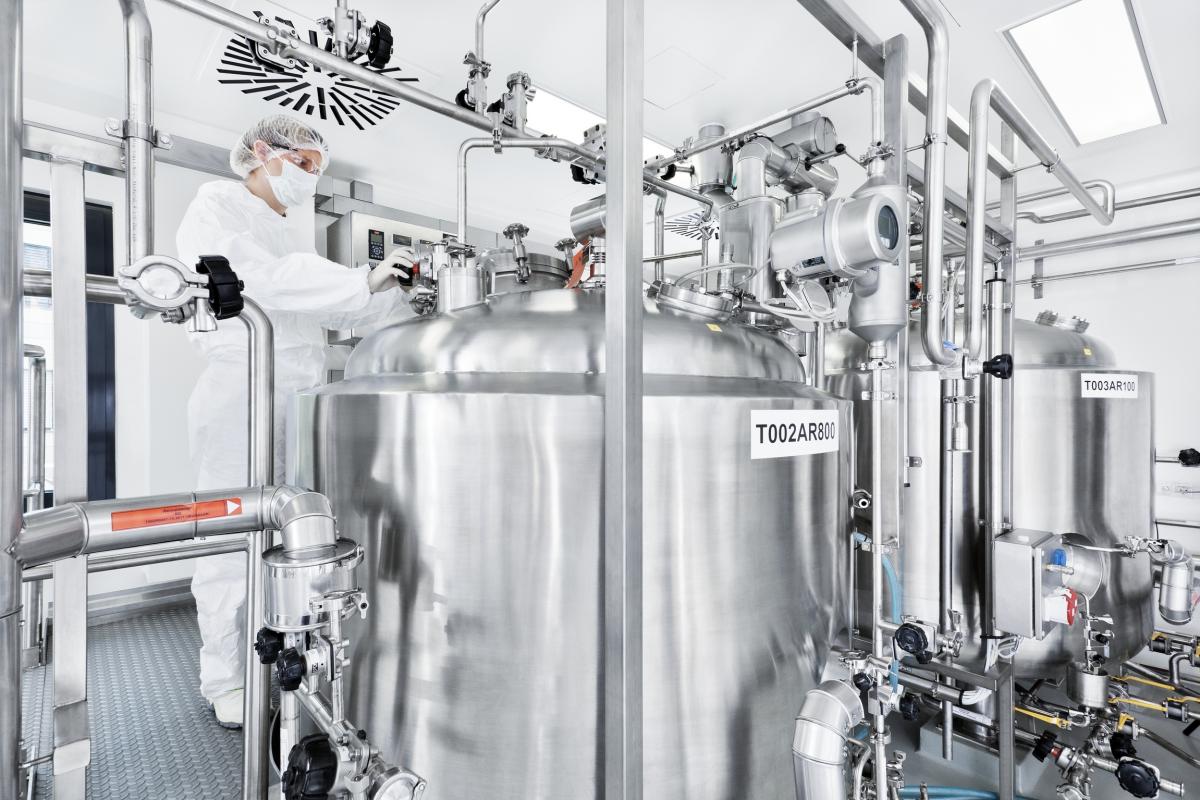 Wacker Biotech's production plant in Jena, Germany. The WACKER Group entered the field of contract manufacturing of pharmaceutical proteins when it acquired Jenabased Prothera GmbH and subsequently renamed it Wacker Biotech in 2005. (Photo and caption: Wacker Chemie AG).
Ingredients companies from many parts of the globe have been setting up their innovation centres and business hubs in Asia, as the region becomes increasingly significant. Wacker, which has been doing business in Asia since the 1980s, is no different. "In late 2016, we opened a laboratory for food ingredients and dietary supplements at our regional headquarters in Singapore and another new lab in Shanghai, China in 2019. These facilities allow us to offer tailor-made solutions for the specific demands and needs of our customers in Asia," says Zipp.
It was a step in the right direction for Wacker then, armed with its biotech expertise, to focus on health-oriented products and ingredients in Asia. Home to both the highest numbers of Millennials and seniors, the region is a market for products for managing diverse health concerns ranging from proper nutrition, weight management, skin health in the young, to mental, heart and musculoskeletal system problems among the old.
According to a Mordor Intelligence report, the APAC dietary supplement market is growing at a CAGR of 8.4% (2019-2024 period) to reach USD 72.7 billion. Down the road, personalised nutrition and foods for special medical purposes will be among the key drivers in the health and nutrition space, according to market analysts.
"Demand for health-promoting dietary supplements has increased considerably due to ageing populations, higher obesity rates as well as increasing health awareness," says Zipp. "Functional food solutions with positive benefits are thus becoming more popular, especially natural active ingredients that have the potential to prevent certain diseases or slow the ageing process."
Wacker's expertise ensures that these health ingredients are suitable for use by F&B manufacturers. "Many promising substances are difficult to process in food production or difficult for the human body to absorb. That's why the industry increasingly seeks solutions to increase the bioavailability of ingredients. A good example is curcumin, a powerful anti-oxidant with anti-inflammatory, antibacterial and hypoallergenic properties," Zipp explains.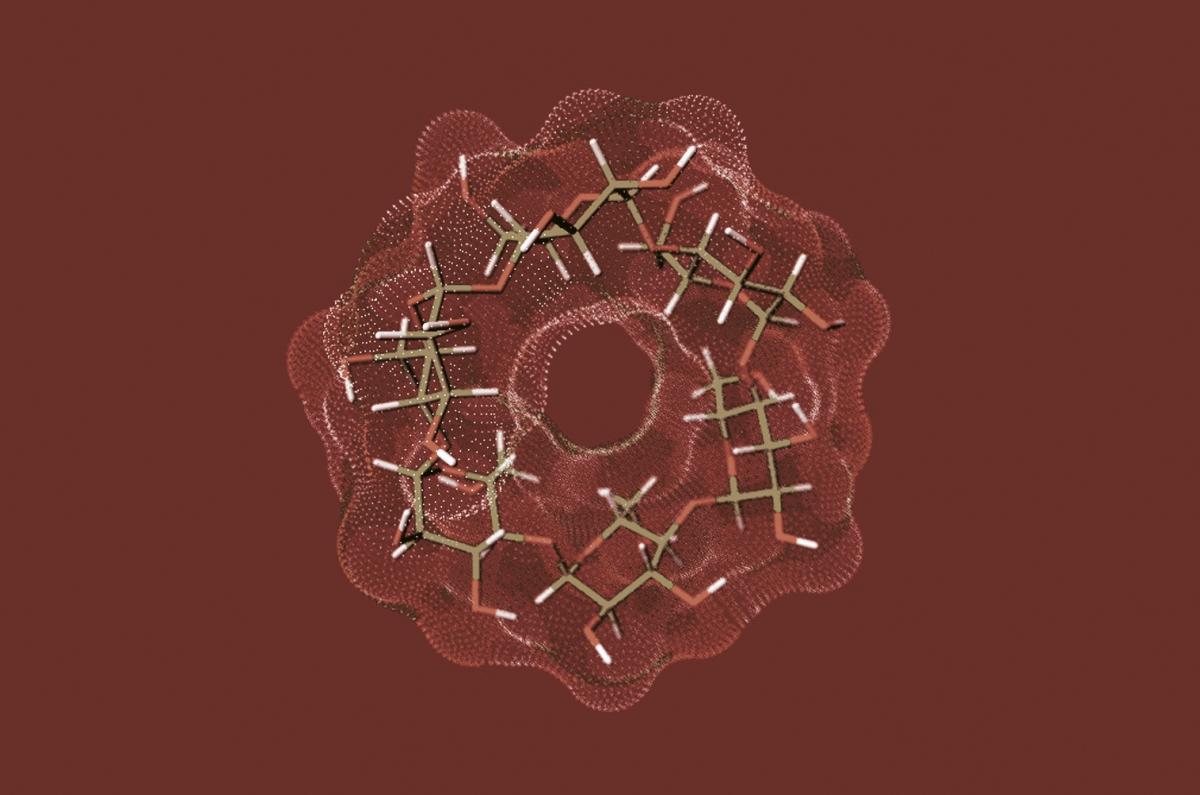 Cyclodextrins are bioengineered from plant-based raw materials such as corn or potatoes with enzymes. The ring shaped molecules have a hydrophilic (water-loving) exterior and a lipophilic (fat-loving) cavity. This cavity can hold and release lipophilic guest molecules. (Photo and caption: Wacker Chemie AG)
Cyclodextrin specialist
Wacker has become the go-to company for its cyclodextrin technology which enables it to enhance the bioavailability of functional ingredients.
Cyclodextrins are sugars, or ring-shaped sugar molecules that have many applications in food and dietary products. Those from the company offer plant-derived, cholesterol-free and non-allergenic alternatives which are produced enzymatically from corn or potatoes. The dietary alpha-dextrin may reduce the glycemic index of starch-containing foods, and this has been verified by an EU health claim. Since alpha-dextrin does not have an E number, it can also carry a "clean label," according to Zipp. The products are halal and kosher as well, so they can be offered to a wider market.
"Wacker is the only manufacturer in the world that can produce all three forms of cyclodextrin (α, β and γ) commercially, along with their chemically modified variants and derivatives," says Zipp. These are marketed under the brand CAVAMAX®.
"Wacker developed the enzymes and the production process and owns the corresponding intellectual property rights. Besides R&D, we have also generated and published significant data on the environmental impact and toxicology of cyclodextrin, registering the products on the world's major markets. This means our customers can feel safe in using our vegetarian-grade cyclodextrin in their own F&B products and processes."
The company has focused on the bioavailability of curcumin, one of the most important compounds in the nutraceuticals market today. Its solution, CAVACURMIN® powder, enhances the dispersibility – and, consequently, the bioavailability of curcumin by means of encapsulation in cyclodextrins. This is necessary because curcumin is not readily absorbed in the blood stream owing to its extremely hydrophobic nature.
"A clinical study that was published just recently in the European Journal of Nutrition confirms that the bioavailability of our complexed curcumin can be increased significantly – by a factor of 40 compared to conventional curcumin extract," Zipp points out. Simply put, the product can be about 40 times more bioavailable in the intestine to ease consumption and convenience barriers.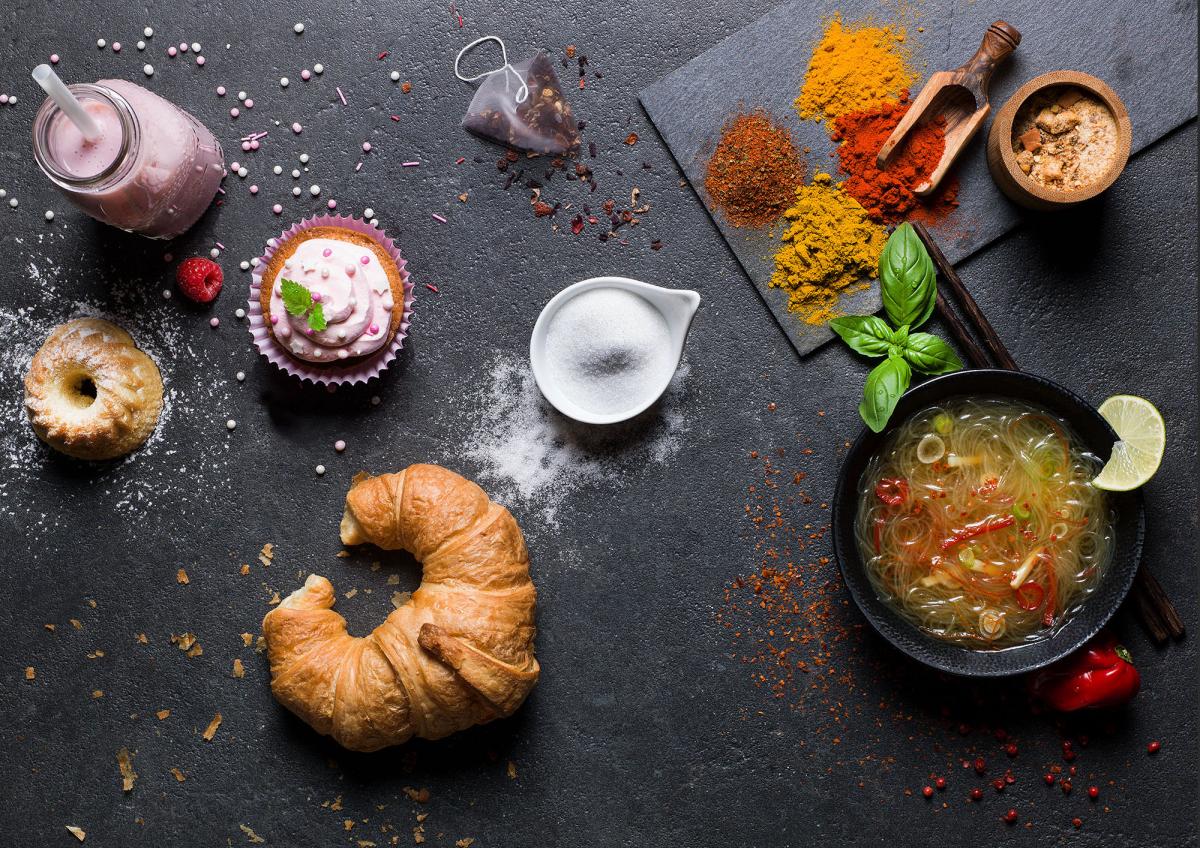 Cyclodextrins can be used in food production in a wide variety of ways: they protect valuable ingredients during processing and storage, improve the aroma and flavor of food by masking unwanted or overpowering flavors, stabilize creamy emulsions and improve the texture and consistency of spreads and frostings. (Photo and caption: Wacker Chemie AG)
Meeting free-from and other food trends
Changing consumer preferences tend to lean increasingly toward those perceived to be better for health. "There's clearly an ever-growing trend towards avoiding fat, sugar, cholesterol, animal-based raw materials and allergen-free ingredients," Zipp adds. Today's consumers are said to be more discerning of products, especially demanding information on origin of products and sources of ingredients.
Wacker helps manufacturers address such trends with products like vegetarian-grade cyclodextrins (CAVAMAX®) and vegan cysteine (FERMOPURE®). These are high-quality, free-from solutions that work with commonly used ingredients.
CAVAMAX® W6 FOOD is a food grade alpha-cyclodextrin that adds emulsifying and stabilising properties to foods that do not contain products derived from animals. This product can improve the quality of many ingredients used in Southeast Asia like the staple, coconut milk powder.
"In many coconut-milk powder products, manufacturers add sodium caseinate to produce a stable, creamy-milky product after addition of water – and caseinate is based on milk as raw material. Wacker offers a purely vegetarian-grade alternative to caseinate in coconut-milk powders – which not only saves on cost, but also enhances product properties," Zipp explains..
Manufacturers who are looking to eliminate egg from formulations can consider Wacker's guiding recipes containing emulsifiers and alpha-cyclodextrin alternatives.
"Our cyclodextrins offer impressive stabilising properties and thus enable dispensing with animal-based proteins as an emulsifier. Thus, it is possible to replace egg in diverse bakery or dessert products, or other animal-based proteins in mayonnaise or salad dressings."
Cyclodextrins also enable food manufacturers to get rid of undesired flavour or taste, as they can mask unwanted odours, while at the same time stabilising or protecting those they want to enhance.
"In bakery applications, the amino acid cysteine is often used to soften dough and to increase its volume. Yet, many manufacturers extract cysteine from human or animal sources such as hair, feathers or pig bristles with the aid of hydrochloric acid. But Wacker's L-cysteine (under the FERMOPURE® brand) is based on starch fermentation and manufactured from purely plant-based and inorganic starting materials, so it is free from animal- or human-based raw materials such as hair or feathers. As such, the ingredient is also produced sustainably.
Wacker currently produces its amino acid cysteine in Spain, while cyclodextrin is manufactured in the United States.
Nature-identical version of hydroxytyrosol
The bioactive compound hydroxytyrosol has the ability to reduce LDL (low-density lipoprotein) cholesterol levels. Along with other secondary metabolites, this antioxidant can be obtained from a diet of fresh fish, fruits, vegetables and especially olive oil, and is also readily available on the market as an ingredient in dietary supplements.
According to Zipp, the process of extracting hydroxytyrosol from olives and olive leaves is labour- and cost-intensive. "The end product is likely to contain unknown substances and impurities. As such, the use of hydroxytyrosol in food solutions was, until recently, limited."
Wacker has now successfully developed a nature-identical version of hydroxytyrosol which the company now markets under HTEssence® brand via a new, patented synthesis route. "This process improves purity without unwanted by-products or contaminants, allowing the active ingredient to be highly concentrated and suitable for use in functional foods and dietary supplements, such as tablets, capsules, energy bars and functional beverages," according to Zipp.
"A recent human clinical study demonstrated that our HTEssence®, which is a much purer hydroxytyrosol than what is available in the market today, can significantly reduce LDL (low-density lipoprotein) cholesterol and thus lower the risk of coronary heart diseases. With the rising trend towards healthier lifestyle and disease prevention, hydroxytyrosol is seeing rapid growth in market demand and will open up entirely new possibilities for manufacturers of nutritional supplements."
According to Zipp, Wacker's HTEssence® also has a clinically proven skin-brightening effect that is comparable with vitamin C and α-arbutin, making it ideal Asian market for dietary supplements with skin- lightening claims.
As a parting thought, Zipp says that to grow in the F&B market amid so many trends, manufacturers should constantly innovate and focus on growth markets. "With changing challenges come new opportunities and markets which may not yet be tapped on. It is thus important to align your products with consumer trends such as increasing health and wellness, rising indulgence and ethical concerns," he concluded.
By Marijo Gonzalez
Air Max 90 Woven