Krones' portfolio of flash pasteurisers in the VarioFlash family excels in terms of low energy and water consumption, and in meeting requirements for product quality and microbiological safety.
To heat up a product gently and safely, the flash pasteurisers have sliding PU control and an adapted hot-water circuit. This ensures that the buffering capacity is utilised to the full and compliance with the heat-up temperature is monitored. Processes like express pasteurisation likewise ensure improved beer quality: the heat-holding time is substantially shortened, and simultaneously the heat-up temperature correspondingly increased. In the event of production stops, the patented "Eco-hygienic Sleep Mode" guarantees that energy and water consumption are reduced by up to 90% – without having to compromise on microbiological safety.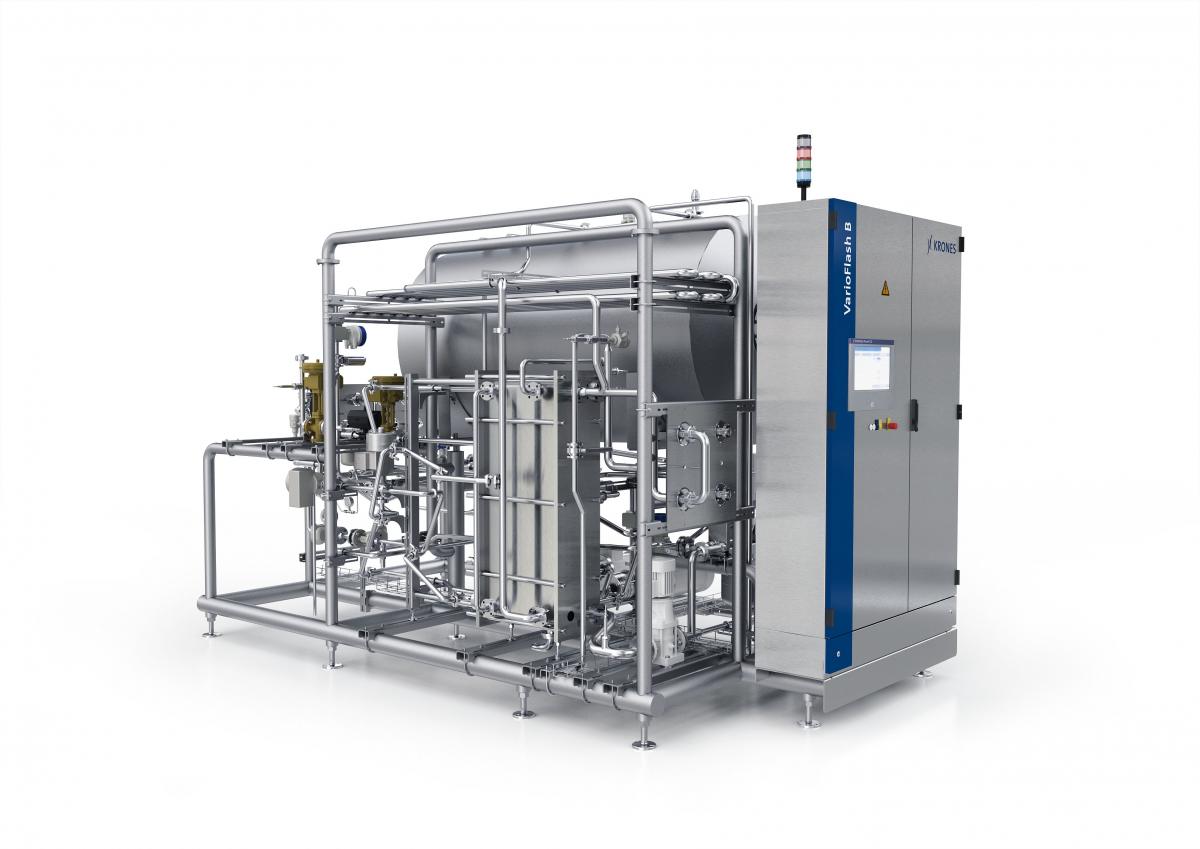 Small variant of the VarioFlash B has been designed for small breweries, and is well suited for outputs ranging from 18 to 45 hectolitres per hour. (Photo credit: Marcus Schneider, Krones AG)
The VarioFlash B flash pasteuriser ensures microbiologically safe filling of beer. With an output from 18 to 600 hectolitres per hour, it targets both large breweries and craft brewers or breweries running small batches. The VarioFlash B can be combined with bottle or can fillers, but also with lines for filling kegs.
The small variant of the VarioFlash B has been designed for small breweries, and is suited for output ranges from 18 to 45 hectolitres per hour. The entire compact flash pasteuriser fits inside one container, thus perceptibly facilitating installation and commissioning. The size has other advantages: the horizontal buffer tank ensures that the output is automatically adjusted in the event of production fluctuations, thus minimising product losses and media consumption. While the reduced number of components, in conjunction with sturdy engineering, ensures reduced maintenance costs.
Air Jordan XIII 13 Shoes