Maguire Europe has shipped the 50,000th Maguire® Weigh Scale Blender (WSB) to Jasplastik-SK sro, one of Europe's leading producers of consumer electronics, automotive components, and EPS packaging.
In a visit to Jasplastik in Galanta, Slovakia to celebrate this milestone, Maguire Products, Inc. vice president of marketing and sales Frank Kavanagh presented General Manager Milan Macháček with a $50,000 credit toward a future equipment purchase. The blender sold to Jasplastik-SK is a WSB 240R unit, with maximum throughput in the 270 to 350 kg/hr range. Maguire supplies over 120 WSB models, with throughputs ranging from 40 to 5,500 kg/hr.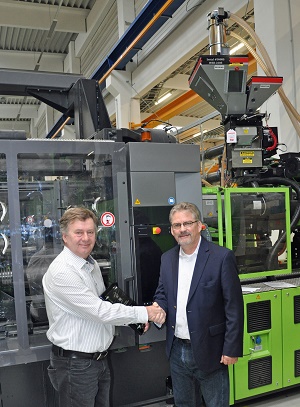 Founded in 2001 Jasplastik-SK is part of the Jasplastik Group headquartered in Hungary. At its main facility in Galanta, Jasplastik-SK employs 2,000 people, and operates 60 injection molding machines up to 2,300 tons. At a new and growing facility in Nitra, the company has 20 injection molding machines up to 1,700 tons and employs 300 people. Its main products are consumer electronic components for Samsung and Sony, plus automotive parts. Total turnover in 2016 exceeded 90 million Euros.
Built in the USA by Maguire Products, Inc., Maguire blenders are widely used gravimetric blenders for plastics processing. Steve Maguire, the company's president and chief designer, developed the blender in 1989. When it was introduced 27 years ago, the Maguire blender was the first affordable and easy to operate system for precisely controlling the composition of a raw material blend, noted Maguire Europe sales manager Robert Tesar, who is the account representative for Jasplastik-SK. "Today the Maguire blender is used worldwide by molding and extrusion processors, compounders, recyclers, and wire and cable manufacturers, along with a range of other Maguire® auxiliary equipment systems."
A gravimetric batch blender sequentially dispenses each batch ingredient in its target proportion into a weigh chamber; then, by monitoring each gain in weight of a batch, the blender control makes adjustments to subsequent batches to maintain accuracy and control raw material consumption. The Maguire system holds batch accuracy to within +/- 0.1%.
Air Foamposite One Pro