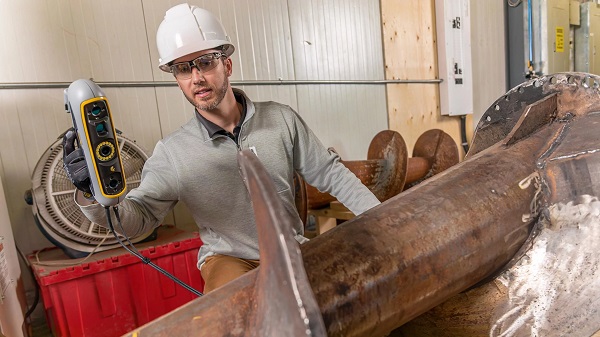 Creaform, a business unit of AMETEK, Inc. and worldwide leader in portable 3D measurement solutions and engineering services, announced today the release of peel 3 and peel 3.CAD, brand-new 3D scanners that offer the best 3D scanning value. These professional-grade scanners will provide amazingly high performance, great versatility, and unmatched affordability to anyone who needs it.
The new peel 3d scanners are available in two different bundles: peel 3, a new generation of 3D scanning technology that includes the peel.OS data acquisition software, and peel 3.CAD, a fully integrated 3D scanning solution for reverse engineering that combines the peel 3D scanner and peel.CAD reverse engineering software. In both cases, the scanner boasts an ergonomic design, an intuitive multi-function LCD touchscreen, an industry-first haptic user communication through vibration, and an improved resolution. Combining its new operating system with a watertight, crush-proof, and dust-proof rugged case, the scanner is perfect for applications like heritage preservation; heritage preservation; AR; VR and digital content; healthcare; aftermarket and tuning; product design; MRO; and engineering.
Beginning in 2017, peel 3d branched off of Creaform as a testing ground, exploring the need on the market for an entry-level, professional-grade 3D scanning technology. Five years later, what started with a single scanner derived from Creaform's technology architecture became a full product lineup with technology developed specifically for this market.
"The peel 3d initiative has become a great complement to Creaform's metrology-grade portable and automated 3D measurement solutions for industrial applications," said Marco St-Pierre, Vice President of technology and innovation at Creaform. "This new scanner marks yet another important step in peel 3d's history by developing its own technology and personality to address its users' specific needs."