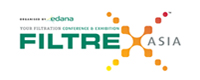 EXPERT speakers at the 2015 edition of FILTREX™ Asia not only the valuable opportunities present in the sector, but also the ongoing need for filter media in their essential role to resolve pollution challenges and to improve the quality of life in the region. In their presentations to about 150 attendees from the nonwovens and related industries, the experts discussed new ways of collecting finer particles from the air, preventing the invasion of insects, separating contaminants from water, and reducing energy consumption for financial and ecological reasons.
Organized by leading global nonwovens association EDANA, the fourth edition of
FILTREX Asia
was held in Hong Kong on March 17-18, 2015, with welcome remarks from Godfrey Leung, JP, Under Secretary for Commerce and Economic Development of the Hong Kong Special Administrative Region. Mr. Leung noted that Hong Kong's scientific park hosts a range of high-tech and innovative industries, among which nonwovens filter media could feature, both thanks to the technologies involved, and their end uses.
EDANA general manager Pierre Wiertz commenting on the essential role of nonwoven filter media in health protection, said:"A report released last week stating the European Union's early mortality rate due to poor indoor and outdoor air quality provides a sobering reminder that clean air is critical to our health and survival."
"China's Premier Li Kequiang has been a leader in responding to this challenge, committing his attention, and the government's focus to the issue across China in 2014, declaring a war on pollution, just like his predecessors some years before had declared war on poverty," Mr. Wiertz also said. "Our industry has the technology to help improve this situation, and deliver a very real benefit for our society and the planet."
FILTREX Asia was a forum for new solutions to solve the problems of air and water pollution, said Dr Joerg Sievert, chair of the EDANA Filtration Committee.
"Clean air and water are basic requirements of human health and well-being. Specifically in Asia, air and water pollution are of major concern, and have been addressed by local governments. The conference featured expert speakers who discussed these issues, identifying possible solutions to ensure a higher quality of life both here in Asia and across the globe," Dr. Sievert said.
Designed uniquely for the nonwoven filter media industry, FILTREX Asia supports the expected market growth for filtration across Asia and the Indian subcontinent, bringing together technical specialists and business management. The event provides a forum for filtration professionals to share information and new developments, and to meet and do business.
Air Force 1 Mid Flyknit