Full Shine Plastic Machinery Co., Ltd specializes in manufacturing automatic blow molding machine, PET stretch blow molding machine, one-stage injection stretch/blow molding machine, molds and optional equipment. The company's plastics machinery lineup symbolizes excellence in blow molding technology. Full Shine has earned an excellent reputation for quality machines and thorough customer services around the world as it sells to more than 50 countries.
To ensure high production efficiency and lower labor cost, the use of robots in automating production system has become the trend, and a must for all plastic factories in the near future. Automation ensures high performance in the production line and the use of robots has alleviated concerns on labor shortage and rising wage. However, many company owners generally have the misconception that to invest in automation requires a lot of money. Nowadays, automation technology has become mature and cost effective.
Full Shine has integrated automation in blow molding operation through its customized design proposals to suit a customer's production line. In FS-45HDSO, Full Shine's linear movement blow molding machine, a smart robot system has been installed to satisfy the requirement for highly efficient production. From autodeflashing process, carrying out finished bottles, and auto packing on trays, the whole process is done by the robot system. There is no need to have manpower involvement, thus less contamination is assured. To move forward in attaining an automated line, this machine is capable of working on the whole line process, such as auto deflashing, auto jar neck cutting, leak testing, and auto recycling system, as well as central material supply system next to the machine, to achieve the concept of an integrated and complete production line.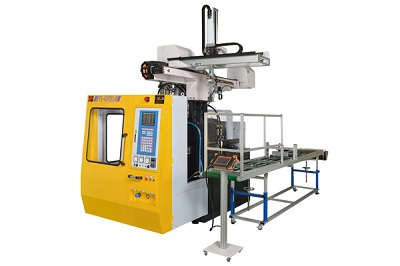 Full Shine designs for the energy-saving concept incorporate Yuken-Japan servo drive system for carriage for energy savings of 30-60%. It also comes with new curved-arm design for strong mold clamping and parallel linear carriage movement. During the cooling time and idle time, the motor is at the sleep stage (extreme slow RPM, near to 0) to significantly reduce power consumption, and when the motor is active, it starts to 100% performance. With Yuken servo motor, the carriage movement is operated via digital linear transducer control, which is more precise and accurate to ensure precise molding performance.
For more information, click here.
New Balance