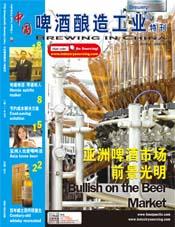 Brewing in China [2011-6]
Asia loves its beer

Now the largest in the world, the Asian beer market now accounts for nearly 32% of global consumption and has overtaken Europe, according to an annual report published by the Kirin Institute of Food and Lifestyle of Japanese brewery Kirin.

Euromonitor also reports the whole beer market in the Asia-Pacific region is expected to reach $144.15bn by 2012, and $156.62bn by 2014 (from $133.65bn in 2009). Growth in the region is being led by the most populous nations, China and India, where beer consumption is expected to rise between 7.45% and 9.5% annually in China until 2014, and reach 13.2% by 2014 for India.

Investments in the region continue to grow, whether major capital expenses such as a greenfield brewery in China for Asia Pacific Breweries of Singapore; a Kingfisher plant in Sikkim, a province of India nestled in the Himalayas; or a new Crown Corporation plant in Viet Nam to produce caps for the booming beer market in Indochina. The bottom line is that buyers and suppliers are capitalising on the rising affluence and growth opportunities in Asia.