Almost half, or around 46.6%, of the manufacturing and supply chain professionals surveyed across ASEAN believe that their own companies fell behind the industry average when it comes to utilizing digital tools as part of business processes, according to a study conducted by AIBP and Oracle from March to April. The survey counted 193 professionals mainly from IT, innovation, and business backgrounds in manufacturing and supply chain companies across the largest economies in Southeast Asia: Singapore, Indonesia, Malaysia, Thailand, Philippines, and Vietnam.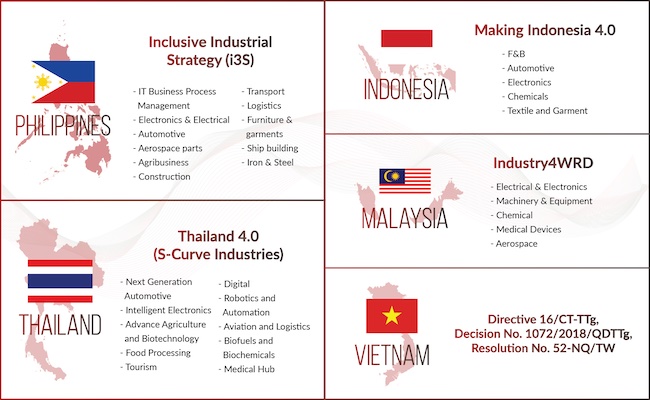 The manufacturing industry plays a significant role in local economies of Southeast Asian countries, contributing more than 20% of gross domestic products in markets like Singapore, Indonesia, Malaysia, and Thailand. Recent US-China trade tensions have also increased expectations of how manufacturing can contribute to markets like Indonesia and Vietnam. Concurrently, local governments are focused on uplifting local manufacturing capabilities by implementing policies to encourage and support initiatives towards Industry 4.0.
The survey also found that 46.6% of respondents believed that the top priority of implementing digital solutions should be to drive operational efficiency in a bid to reduce costs, while 16.6% feel that it should be used to increase or create revenue opportunities.
The COVID-19 pandemic has seen supply chain disruptions across industries—while some companies struggled to come to terms with unusual fluctuations in supply and demand, other companies were better prepared. "There is an urgent need to reorganize one's supply chains in the wake of 2020 and the recent Suez Canal blockage, and manufacturers in the region are rightly realizing that what they have in-house is not enough when creating robust and resilient logistics processes that keep the business moving efficiently," said Michael Lim, GTM Leader, ERP & Digital Supply Chain, Oracle. "With new capabilities upgraded onto Oracle Fusion Cloud Supply Chain Management each quarter, we are helping our customers streamline logistics to fulfil orders faster, cheaper and more sustainably to deliver the operational excellence they desire."