Royal DSM, a global science-based company active in Health, Nutrition & Bioscience, will showcase its latest food and beverage and human nutrition innovations at this year's combined Food ingredients Asia (FiA) and Vitafoods Asia. Hosting the events' largest stands in hall 2, booth D38 (FiA) and hall 3, booth AH42 (Vitafoods Asia), DSM invites attendees across the dietary supplement and food and beverage industries to explore its extensive portfolio of functional, high-performance ingredients and purpose-led solutions.
From sustainable algal-sourced omega-3s to meat alternatives like plant-based satay, DSM is committed to working closely with its partners to develop innovative products that deliver an optimal consumer experience with science-backed benefits to meet nutritional and lifestyle needs across the lifespan.
As a long-running partner of the global and Asian Fi and Vitafoods trade shows, DSM is excited to welcome visitors to discover its wide range of solutions at this year's combined exhibition in Bangkok, Thailand. For food and beverage brands, DSM will demonstrate how manufacturers can help consumers to enjoy it all without compromising on taste, texture or health. A broad range of novel prototypes available to sample includes indulgent plant-based concepts, fortified energy drinks and healthy snacks. For dietary supplement manufacturers, DSM will be showcasing its latest innovations and market-ready solutions across six areas: eye, heart and immune health as well as health from the gut, maternal nutrition and healthy aging.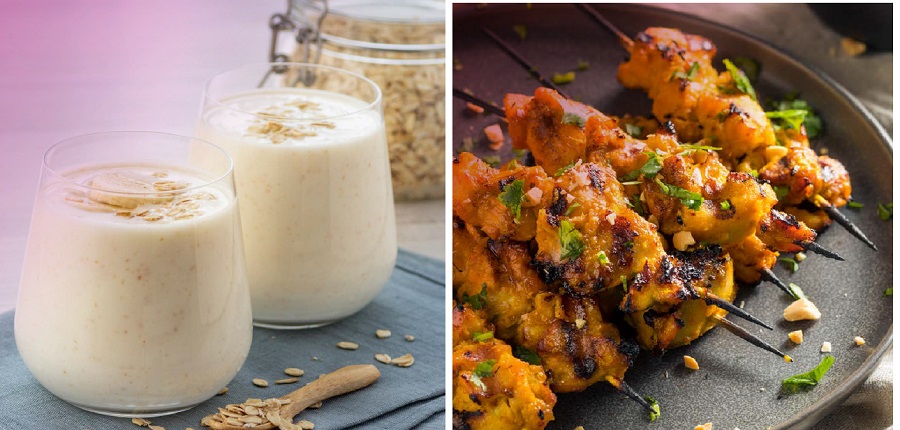 Taste, texture and health solutions
DSM will also showcase its unique food and beverage ingredients and solutions that help manufacturers deliver on consumers' increasingly high expectations for taste, texture and health. DSM's extensive portfolio serves as a one-stop-shop for food and beverage brands to turn their biscuit, beverage, fresh dairy, cheese and plant-based dairy and meat alternative concepts into reality.
At booth D38, visitors can look forward to experiencing all-new product prototypes including the latest consumer-inspired healthier snacking formats and indulgent, plant-based taste experiences. Attendees can discover specialty energy drinks customized for e gamers, students and even pregnant women, as well as novel meat alternatives customized to local Asian palettes such as plant based satay and meat-free meat bone soup. DSM's portfolio for plant-based alternatives also includes enzymes, flavors, yeast extracts, hydrocolloids and vitamin premixes that come together to help manufacturers deliver delicious and nutritious plant-based alternatives. At Vitafoods and Fi Asia, DSM will also display a variety of dairy alternatives that include chocolate oat 'milk' and soymilk drinks, while savory offerings featuring enhanced flavor, texture and mouthfeel range from cheese sauce and crackers to a mocha sandwich. DSM's specialty enzyme solutions can also enable manufacturers to enhance their ingredient processing of vegetable oil, fruit firming and sugar.
Supporting health and wellness across life stages
With many people in APAC countries reportedly spending over 10 hours of screen time daily, eye health is a key focus in this market. Emerging science shows that the carotenoid lutein may provide protection from the harmful effects of blue light and slow the progression of age-related macular degeneration (AMD). Visitors to hall 3, booth AH42 can learn more about FloraGLO® Lutein and eye health through an interactive 'veggie meter' that measures the level of carotenoids in the body and an MPS II eye scanner that assesses AMD risk by measuring macular pigment optical density. For a deep dive into the science behind eye health and eye performance, delegates can register to attend an expert seminar on 6 October from 10.45am to 13.00pm ICT.
Omega-3s are a widely recognized dietary supplement ingredient with research demonstrating its role in supporting multiple health areas, including healthy blood pressure. DSM will display solutions featuring life's™OMEGA – a sustainable, concentrated algal derived omega-3 that promotes heart health by delivering the benefits of both eicosatetraenoic acid (EPA) and docosahexaenoic acid (DHA). Immunity also remains a top health concern for consumers globally. Visitors to the booth can explore DSM's ampli-D®, a bioavailable metabolite of vitamin D that helps maximize the vitamin D's immune supporting function. It is clinically proven to raise vitamin D levels more effectively than native vitamin D3. To cater to consumers' growing interest in gut wellness for overall well-being, DSM will also spotlight its range of market-ready solutions to support food intolerances, digestive health and more.
Visitors can delve into DSM's offerings that promote wellness across the lifespan from maternal health to healthy aging. With the world's growing elderly population comes a rise in the prevalence of age-related conditions such as sarcopenia, a disorder involving the loss of muscle mass and function. DSM will present a proprietary nutritional macroblend to help maintain muscle and mobility health, while delegates can explore NutriView – a new tool developed to show the gaps in nutrient status across several APAC countries.
Join DSM at Fi Asia (hall 2, booth D38) and Vitafoods Asia (hall 3, booth AH42), and discover insight-led food, beverage and dietary supplement solutions inspired by people and delivered by experts. Book an appointment and learn more about DSM's science-backed nutritional solutions here. To connect with the team and explore the DSM's range of innovative food and beverage concepts, click here.