The integration of digital solutions in industrial production is a significant development that started years ago. In Southeast Asia, digital technology is now seen as the way to go towards improving productivity and end-product quality, as well as reducing material waste. At InterPlas Thailand 2022, International Plastics News for Asia had the chance to talk to Mr. Roger Bitterlin, ENGEL Regional President Southeast Asia and Mr. Aram Tongurai, ENGEL Thailand Managing Director on how the ENGEL's industrial digital solutions can benefit plastics manufacturers in Southeast Asia.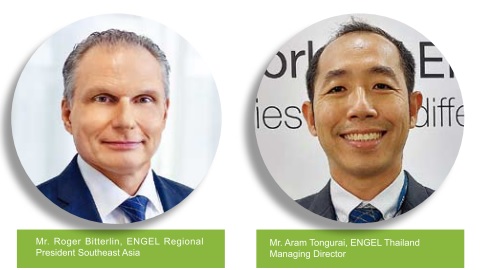 What is the highlight of ENGEL's presence at InterPlas Thailand exhibition this year?
Mr. Bitterlin: This year, the ENGEL exhibit is different from what we had in the past because we didn't show any machine. Our main focus at this exhibition are the ENGEL Industry 4.0 products with our industrial digital solutions which we have in our portfolio to help the plastics industry produce parts with less scrap so basically to optimise their production with our solutions. The digital solutions are presented in the four phases of the product life cycle - design, mould sampling, production and service - to help customers use more recyclates with a higher process stability.
Through the inject 4.0, ENGEL can assist customers in Southeast Asia achieve their goal of having a smart manufacturing operation. inject 4.0 combines the advantages of the smart machine, smart service and smart production. We ensure seamless exchanges and the availability of relevant data across the entire value chain through horizontal data integration. You benefit from plug-and-produce production systems that can easily be integrated into other ENGEL systems and peripheral devices, guaranteeing maximum flexibility. The vertical integration allows continuous communication from the individual sensor, any peripherals and the machine with the MES system and even the ERP system. The result is maximum transparency throughout the production process and an unprecedented database on which to base analysis and decision-making. ENGEL iQ process observer is an intelligent software solution that gives customers the ability to monitor hundreds of process parameters continuously and effortlessly across all four phases of the injection moulding process - plasticising, injection, cooling and demoulding. The results of the process data analysis are displayed on the CC300 machine control of the injection moulding machine.
ENGEL is introducing for the first time in Thailand its remote assistance service. What are the benefits that plastics manufacturers in the region can derive from this?

Mr. Bitterlin: Another important highlight of our presence at InterPlas Thailand was the debut of ENGEL e-connect.expert view which is Remote Assistance Service with Augmented Reality (AR). This is the first time we are introducing this service to the Southeast Asian market and through this, we can help industrialists solve their service issues more quickly. The Remote Assistance Service with Augmented Reality can work easily with a smartphone, tablet, or smart glasses.
As you would notice, we didn't have any machine demonstration at the ENGEL booth in InterPlas Thailand. But what we want to show visitors is how the Remote Assistance with AR works with the e-connect system in combination with our showroom in Thailand – with real data so the visitors and potential customers can experience how this solution works, and the advantages it offers to their injection moulding operation.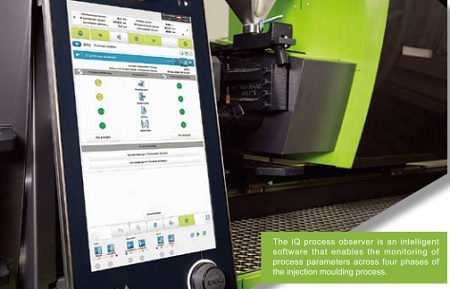 The ENGEL e-connect is a free customer portal that pools all available information for your systems. That means you stay informed of current service items, monitored components and upcoming deadlines at all times. In the event of an issue, the portal allows you to send a service request directly to ENGEL.
Customers also have the option to visit the showroom and see the ENGEL machines in action, test and running the mould to be able to understand how the digital solutions can work to their advantage.
ENGEL has opened a centre in Thailand last year. Please talk about its services.
Mr. Tongurai: ENGEL Machinery (Thailand) in Bangkok is located in the Suanluang District, where it has its own technology centre and training centre, as we are now expanding our offerings for customers not only from Thailand, but from all of Southeast Asia. The technology centre houses ENGEL injection moulding machines and other ENGEL technologies where we can stress our digital solutions. The machines are available to our customers for injection tests, sampling and demonstrations.
The meeting rooms are equipped with the latest technology and are used for both face-to-face and virtual meetings. The centre also has seminar rooms with space where trainings are conducted.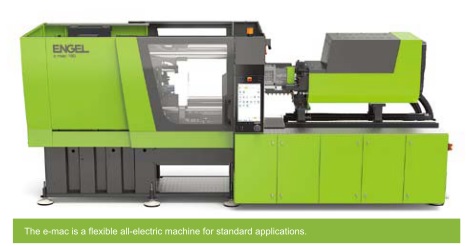 What specific industries are you targeting in this region?
Mr. Bitterlin: In Southeast Asia, we are looking at the automotive industry as one growth area as it is moving fast, along with the automotive industry in China and other countries. With electric vehicles being the focus of much innovations, ENGEL machines can very well play an important role in this industry. Another industry is the medical industry and with Covid-19 still around, the need for high precision machines for this application is also significant. We also see higher demand for packaging products in this region, along with other applications such as teletronics and technical moulding. ENGEL has a team of experts that focus solely on each industry in order to support our customers to the fullest. We believe in expertise around the world and close to home. As such our customers can benefit from both local experts in their area as well as our experts in places like China, the U.S and of course Austria.
Additionally, to help better support our customers, ENGEL Southeast Asia has increased its portfolio and is now offering a range of stock machines, with a shortened lead time.
These machines are made with specifications especially picked for the customers in our Southeast Asia region.
One such machine is the e-mac all-electric machine which was shown in the showroom and monitored at the booth via the e-connect.24. The e-mac is a flexible all-electric machine for standard applications which makes it especially suitable for technical moulding customers. We have made our e-mac series even more compact, allowing you to optimally utilise your production floor space. You will also benefit from the unbeatable advantages of an all-electric injection moulding machine by ENGEL which ensures consistently high quality of the parts you produce. Moreover, the outstanding energy efficiency saves you money in terms of production costs.
Mr. Tongurai: Specifically for Thailand, the plastics industry is currently experiencing a slight slowdown due to the impact of Covid-19 and inflation which have affected investment in industries.
While the automotive sector is still below production capacity, we anticipate a rebound in some industries such as packaging and medical products. In particular, the medical sector is poised for growth as the government of Thailand is promoting Thailand as medical hub in Asia.
Additionally, Circular Economy topics are also important to us at ENGEL. With the government's initiative to reduce waste, our technologies, such as the iQ weight control, can help customers use both new and recycled materials more efficiently. Thus reducing both waste and energy consumption.
ENGEL MACHINERY (Thailand) Ltd
Tel: +66 (0) 2 102 1544, (0) 2 102 1545
E-mail: info.th@engelglobal.com
Website: www.engelglobal.com