Register today for How to Handle Supply Chain Challenges and Skilled Labor Shortage: Why Automation Is a Must, taking place on December 1, 2021,10:00 - 11:00 A.M. and 2:00 - 3:00 P.M. Singapore Time. This webinar will feature presentations led by Elite Robot's Vice President & Overseas Director, Ms. Ren Yi.
The increasing move towards automation in the manufacturing industry will continue to push robot installations in Asia Pacific (APAC). In fact, collaborative robots (cobot) market in APAC is projected to become the largest cobot market worldwide, growing at a CAGR of 45.46%, with an addressable cumulative market value of US$13.17 billion over the next 7 years in terms of cobot hardware.
This online tour webinar will provide an in-depth look into the company's lightweight 6-axis (3kg, 6kg, 12kg) collaborative robots, and other reliable technologies that can ensure competitive edge.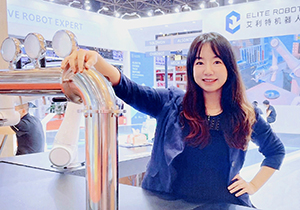 You will have the opportunity to connect with Ms. Ren Yi for exclusive insights and get answers to their specific questions during a live Q&A.
In this webinar you will learn how Elite Robots can:
Help you save time (less training cost for workers)

Improve efficiency by keeping a stable productivity especially during this pandemic

Provide safety (robot and human could work together)

Provide higher ROI (usually users could get cost back in 8-12 months)

24/7 services
Register NOW for FREE! More Information
For more details, contact:
Jack Cheng, Conference Planner
Tel: +886-4-23297318
E-mail: jackcheng@ringier.com.hk