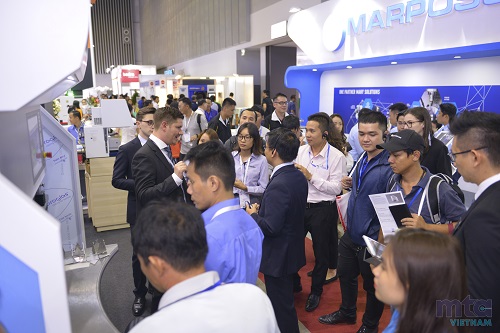 HCM City – Only 1 month to go, MTA Vietnam, the annual precision engineering, machine tools and metalworking expo for Vietnam and region, operates the 18th edition at SECC, Ho Chi Minh City, Vietnam from 06 – 09 July 2022. The expo is organised by Informa Markets Vietnam - the world's leading exhibitions organisers, providing customers and partners around the globe with opportunities to engage, experience and do business through face-to-face exhibitions, specialist digital content and actionable data solutions.
This year, MTA Vietnam sets to welcome hundreds of international and local exhibitors to showcase their cutting-edge technologies, products and innovations in the industry. There will be some international pavilions from 12 countries & regions presenting at MTA Vietnam 2022, including: China, Germany, Hong Kong, Korea, Japan, Singapore, Switzerland, Sweden, Taiwan, Thailand, United Kingdom and USA.
Some well-known exhibitors, such as: Bystronic, Trumpf, Takamaz, Vạn Sự Lợi, Hwacheon, Mitsubishi, Shandong Leiming, Jinan Bodor, Horn, Mazak, Renishaw, etc and other industry players join to network, exchange information and showcase their latest technologies and products.
Mr. Tee Boon Teong, General Manager, Informa Markets Vietnam says "the return of MTA Vietnam, after two years of Covid-19 disruption, will be an opportunity to support local enterprises to connect, update the new technologies, expertises with the regional and international enterprises. We hope MTA Vietnam 2022 will attract over 10,000 attendees, including owners, key decision makers, managers, engineers, technician, experts and bankers to network, exchange expertise and knowledge and seek business opportunities."
MTA Vietnam 2022 will introduce a wide range of engineering products for Vietnam's manufacturing industries, from additive manufacturing/3D printing, machine tools and tooling systems, metrology and laser systems to precision engineering and semiconductor manufacturing equipment and materials and components for automated manufacturing, he also said.
Onsite Conferences & Seminars
Aside from innovation showcasing at the expo, there are some full and half date of symposia, conferences and seminars, where the industry experts and enterprises share their best-practices and know-how.
The International Conference under the theme "Accellerating Vietnam's Manufacturing Transformation Towards Smart Production" to be take place on 7 July 2022 allows attendees to have an overview of Vietnam's manufacturing market and it's challenges and opportunities.
After the International Conference, there will be the Conference and Workshop with the theme "3D Metal Printing: From potential to application reality for professional manufacturing in Vietnam" on 9 July 2022, providing insightful knowledge about Vietnam's 3D metal printing market and its application to reduce cost, increase productivity and profits.
Other interesting topics are also presented during 4-day expo to support enterprises in manufacturing industry to have an overview about the industry and its opportunities and challenges, as well as case-studies on how to efficiently manage manufacturing operations.
Co-located expo - Plastics & Rubber Vietnam 2022
Uniquely, MTA Vietnam 2022 will be co-located with the 9th International Plastics & Rubber Technologies and Materials exhibition for Vietnam (Plastics & Rubber Vietnam 2022) from 6 - 8 July 2022. The expo will demonstrate a comprehensive range of global technologies and equipment, plastics and rubber products, including semi-finished products to technical parts, production materials and services catered for the revitalised co-related plastics and rubber industries in Vietnam and the region.
Register your visit!
The online registration system is now opened to welcome all attendees to visit the show. To register your visit, please scan the QR below!
Time : 09:00 am – 5:00pm from 06-09 July 2022
Venue : Saigon Exhibition and Convention Center (SECC),Ho Chi Minh City, Vietnam
Organiser : Informa Markets Vietnam