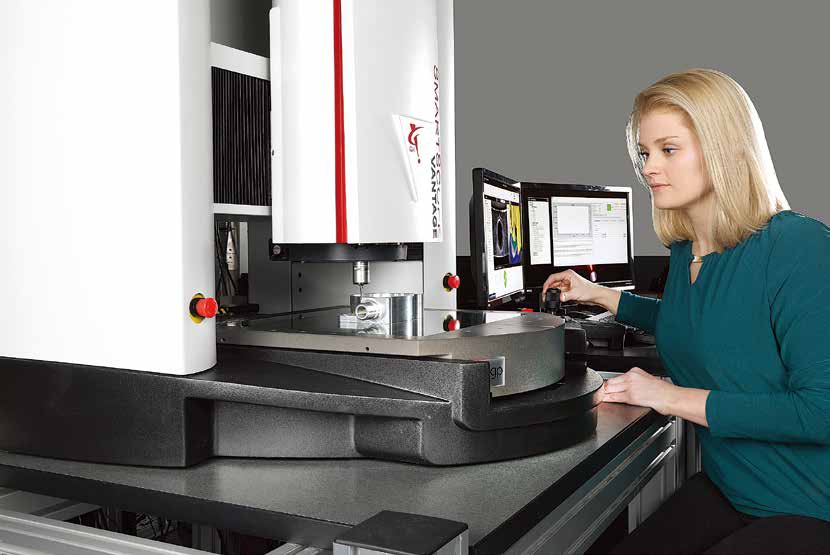 Founded in 1945, Optical Gaging Products (OGP®) is known for producing high-quality precision metrology machinery. Many of these OGP metrology systems operate using ZONE3® Metrology Software - the world's most comprehensive metrology software. ZONE3 is utilised by many industries, including the electronics and automotive industries.
Consumers today may fail to appreciate the new technologies and innovations which ensure a premium and safe user experience. If one takes a closer look inside a smartphone, all components within involve a vast spectrum of manufacturing precision. This precision leads to superior function and application of the technology within.
Identical dedication is extended to the automotive industry where safety is held at the highest regard. Mass production calls for optimally programmed machines with precise specifications, ensuring smooth operation and safe functionality. Industrial metrology is key to enable these industries to operate at an optimum level.
Science Of Industrial Metrology
The concept of metrology involves applying measurement in manufacturing and related processes to guarantee high quality results. Furthermore, it is essential to have precision measuring instruments adequately calibrated for best results. The calibration and verification elements of metrology equipment are paramount in manufacturing to ensure quality and safety during the manufacturing process.
Metrology goes beyond just accuracy in measurement. Its traceability is essential for consistent, comparable, and valid measurement values. As a fundamental concept of modern-day metrology, global accreditation standards allow measurement results to be internationally recognised.
Pride In Accuracy with ZONE3
The dedication OGP displays to innovating metrology systems precedes their range of products. ZONE3 Metrology Software is a testament to the company's determination in overcoming measurement challenges. ZONE3 is the world's most comprehensive metrology software, presenting a new way of working with multisensor measurement systems. The built-in 3D CAD capabilities explicitly display relationships between parts, sensors, datum alignments, and machine tooling. This next-generation metrology software offers full 3D CAD-based multisensor measurement programming, while utilising advanced metrology features.
ZONE3 uses CAD models and other innovative features to generate measurement routines automatically and effortlessly. The software integrates all sensors, allowing them to be readily available at any time during programming. This allows the user to choose the best measurement tool for every measurable feature. ZONE3 combines all metrology software functionality into one comprehensive package.
To ensure accuracy of the software, ZONE3 is verified by the Physikalisch-Technische Bundesanstalt (PTB), the national metrology institute of the Federal Republic of Germany. Together with National Institute of Standards and Technology (NIST) in the USA, the National Physical Laboratory (NPL) in Great Britain, PTB ranks among the leading metrology institutes in the world. As the National Metrology Institute of Germany, PTB is Germany's highest authority in terms of correct and reliable measurements.
Pairing Precision with Versatility
ZONE3 offers a multitude of options to best fit the application at hand. ZONE3 Express offers full measurement capabilities and tools, basic GD&T functionality, and the ability to work with 2D CAD files. ZONE3 Prime offers all the functionality of Express, plus full 3D CAD capability and full GD&T functionality. ZONE3 Pro adds enhanced productivity and analysis tools for the power user, as well as support for regulated environments. ZONE3 Offline is designated for use at an offline PC workstation, allowing users to program and evaluate routines to reduce machine down time.
Multisensor systems allow all sensors to be integrated seamlessly with the system mechanics and software. Each sensor may be utilised throughout any phase in the measurement routine. Pairing tactile and non-contact sensors with the main optical sensor creates a competitive advantage over a traditional coordinate measuring machine.
Single and dual compound rotary indexers enable measuring geometric forms or complex free form shapes a breeze. ZONE3 utilizes data from a single sensor or combination of sensors to report measurements. 3D measurement of cylinders, cones, spheres, planes, and intersections are possible with this software, in addition to 2D features and relationships.
In a very competitive manufacturing landscape, metrology has become an integral component of process control. Metrology systems and software from OGP offer solutions to help bolster high quality manufacturing practices while improving throughput.