The third international processing and packaging trade show for the Philippines, ProPak Philippines, finally returned to the World Trade Center Metro Manila, on February 1, after a two-year break, with thousands eager to physically explore what's new.
Organiser Informa Markets, said over 250 exhibitors from 25 countries and regions are in attendance at this event, which offers opportunities to engage, experience, and do business through live and virtual experiences, specialists digital content, and actionable data solutions.

During the opening ceremony, Hon. Mario Vittorio A. Mariño, Chairperson – Trade and Industry, House of Representatives, called the event "a great opportunity to know more about global technologies and concepts" in order to help MSMEs, which comprise the country's manufacturing sector.
Secretary of the Department of Trade and Industry, Alfredo E. Pascual, also lauded the efforts of ProPak Philippines in encouraging "businesses to perform safely and ethically, while attaining improved accessibility and a positive environment for its organisation and consumers." He also appreciated how the event allows local government agencies to help MSMEs improve their entrepreneurial skills.
In his speech, he said: "With the vision to present quality Filipino-made products as a strong contender in the global market, we hope to create favourable conditions for the Philippine industries to thrive, while looking forward to the attainment of our socioeconomic goals.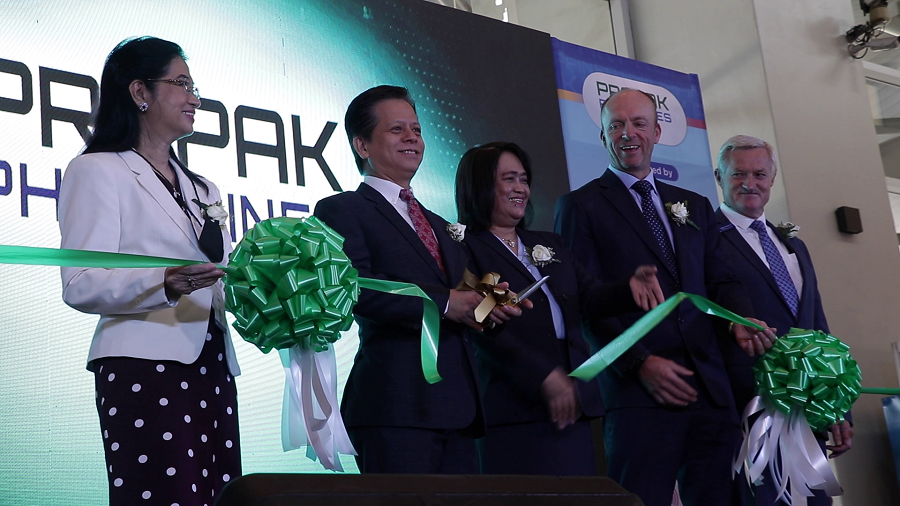 From left: Dr Annabelle Briones, Director, Industrial Technology Development Institute, DOST; Hon. Mario Vittorio A. Mariño, Chairperson – Trade and Industry, House of Representatives; Hon. Blesila Lantayona, Undersecretary, Regional Operations Group, Department of Trade & Industry; Ian Roberts, VP, Informa Markets Asia; and Prof Pierre Pienaar, president, World Packaging Organisation
Ian Roberts, VP-Asia at Informa Markets said that the Philippines is showing strong export potential and increasing demand. "Both small and large-scale businesses must increase productivity by improving technology, adapting automation and keeping up to date with the latest trends in the industry," he said in his welcome speech.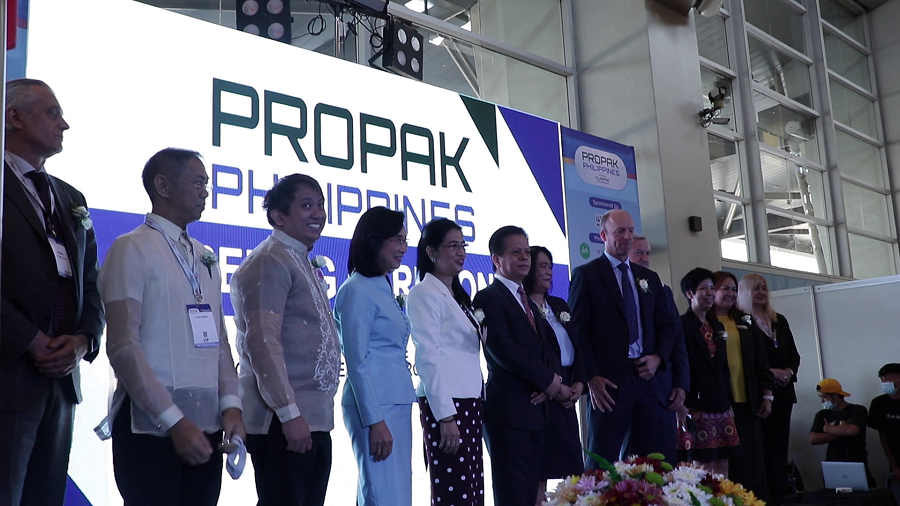 VIPs and representatives of associations supporting ProPak Philippines
Hence to support this growth, ProPak Philippines exhibitors are showcasing processing and packaging machinery, technology, and materials in the sectors of filling, bottling, quality assurance, testing and measurement, maintenance, and their related fields of automation, instrumentation, refrigeration and storage. Labeling, printing, plastics processing, and wrapping machinery are also on exhibit. Some of the participants are Wolf, Loopex, F&B Packaging Tech, FPT, Clearpack, Krirub, Conveying and Packaging Co., Inc, Keyence, Aumpack, Rieckerman, Multivac, Handyware, Benison, and Ace Packaging.

"We expect ProPak Phlippines to be the international trade exhibition platform to offer solutions on cutting-edge technology in processing and packaging," said Ms Rungphech Chitanuwat, Informa Regional Group Director – ASEAN. "We emphasise on the development that would need to get technology adoption in both big scale and MSME enterprises. With our international network and our brand ProPak in Asia, we have also brought experts to share in conference and seminars during the 3-day event."
Among the show highlights is the Sustainability Square, where Prestige Paper Products has created its entire booth out of recycled paper and sustainable materials, to underline the theme. Informa has also set up a coffee station and has chosen servers with hearing impairment, as part of its social sustainability on inclusion and diversity.
Along the exhibition, the show also featured ProPak Connect, a business to business online supplier platorm and a content hub that facilitates online marketing activities, including supplier and buyer sourcing, networking, interactive product, and machine demos and virtual and hybrid events. Above all, ProPak Connect provides a targeted online marketing solution for comaoneis within the packaging and processing industry.
ProPak Phlippines 2023: Click here for videos

ProPak Philippines will host free conference sessions during the three-day event from partner associations and supporters: the Active and Intelligent Packaging Industry Association, the World Packaging Association, the Philippine Printing Technical Foundation, the Philippine Association of Food Technologists, Inc, the Production and Operations Management Association of the Philippines. These will take place at the Luna Room, Hildalgo Room and Seminar Rooms A and B.
The event is also supported by the Department of Trade and Industry, Department of Science and Technology, the Philippine Pharmaceutical Manufacturers Association, the Philippine Printing Technical Foundation, the Association of Laguna Food Processors Inc., the Association of Filipino Franchisers Inc, the Filipino International Franchise Association, One Town, One Product, GS1 Philippines, the British Chamber of Commerce in the Philippines, the UP – Institute of Small -Scale Industries, and the Philippine Coconut Authority.
The Australian Institute of Packaging, the professional association of packaging experts, trainers, and educators, and business leaders are holding both free and paid workshops and training. Prof. Pierre Pienaar of the World Packaging Association, said that it is important to educate people about the effectiveness of packaging especially in saving food.
The global standards organisation, GS1 is supporting ProPak Philippines for the first time.
ProPak Philippines ends on 3 February at the WTC. In 2024, the event is scheduled to take place from 31 Jan to 2 February with more new features.