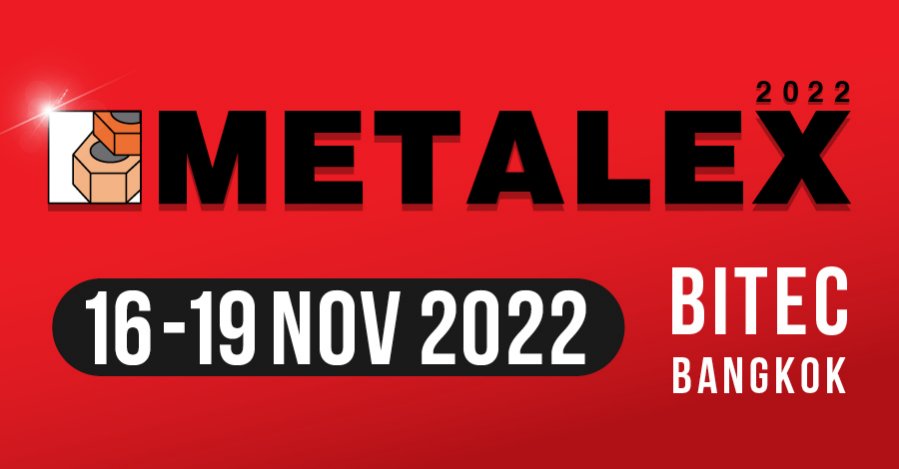 RX Tradex is holding METALEX – No.1 Machine Tools & Metalworking Exhibition Serving ASEAN 36th Edition under the "ASEAN Community Connector" concept, connecting over 85,000 metalworking industrialists across the region with more than 2,500 brands of world-class metalworking technologies. The exhibition will consist of six highlights, special zones to debut new innovations for the first time in Asia, and international pavilions from seven technologically advanced countries. More than 6.5 billion baht of turnover is expected to be generated in the event.
Mrs. Varaporn Dhamcharee, Managing Director of RX Tradex (formerly Reed Tradex), ASEAN's leading trade fair organizer, revealed that RX Tradex is holding METALEX 2022, No.1 Machine Tools & Metalworking Exhibition Serving ASEAN - 36th Edition, between November 16-19, 2022 at BITEC. The exhibition will not only showcase metalworking machine tools, but it also serves as a meeting place for metalworking industrialists who want to expand their networks, especially the business partner network in ASEAN, to work together to develop production efficiency and create business opportunities that will lead to further industry growth.
"METALEX will connect industrialists with the latest metalworking machine tools and technologies, as well as sheet metal processing technology or sheet metalworking, wire, and tube fabrication technologies, industrial robots, and many more, to enable the entire ASEAN metalworking community to take on challenges and grow strongly. Because this is the first event to be held after the COVID-19 crisis and reopening of the country for international travelers, we are confident that this exhibition will attract entrepreneurs from all over the world. It is expected that there will be no less than 85,000 visitors and turnover at the exhibition will be no less than 6.5 thousand million baht," said Mrs. Varaporn.
METALEX 2022 will consist of six halls, which include Machine Tools in Halls 102-103, Metrology, Tools & Tooling in Hall 101, and Sheet METALEX, Welding, Smart Wire & Tube to support Industry 4.0 and the latest wire, cable, high-performance pipe bending and cutting technologies from world-renowned brands in Hall 100. International Pavilions and Robot & Integrated Automation Solutions & Smart Sensors will be in Hall 99. Factory Automation, Pumps & Valves, Equipment & Accessories, Smart Materials will be in Hall 98.
The highlights of this year's METALEX include three special exhibition zones:
Zone R – Robotics Cluster Pavilion: Find all the answers from agents from the public and private sectors regarding investment in automation systems, software design, lean manufacturing, SI implementation, and human resource development for the new age of manufacturing in Hall 103.Zone A – Additive Manufacturing: Add value to your products and boost your business with the trending additive manufacturing approach through a full range of 3D printing technologies and solutions in Hall 103.Zone S – Smart Materials: A special zone dedicated to the up-and-coming smart and lightweight materials for modern manufacturing like aluminum and substitute materials that will play an important role in the New S-Curve industries, Mega Projects, and many more in hall 98.
There is also highlight in the High Tech @METALEX category that showcases world-class, beyond expectation technologies. Highlight technologies include Fiber Laser Machine from AMADA that is able to cut steel up to 32 mm thick and ENSHU Machining Center that is easy to use and also saves space. The 1st Time category connects you with new technologies making debuts for the first time in Asia, ASEAN, and Thailand at the exhibition. Highlights include MAKINO Machining Center with high machining performance, speed, and accuracy, MAZAK Machining Center with built-in tilting rotary table for multi-surface 5-axis machining of complex shapes, and Water Cutting Machine from FLOW with efficient and accurate cutting up to +/- 0.05 mm/min.
International Pavilions zone showcases state-of-the-art machines, technologies, and equipment from seven technologically advanced countries, including China, Germany, Italy, Japan, Republic of China (Taiwan), Singapore and South Korea.
In addition to exhibits, more than 20 seminar programs will be also held at the event. Interesting topics include "METALEX AI Forum 2022: The Role of AI in the New Industrial World," "The 10th Metallurgy Forum: Adaptation of Thailand's Aluminum Industry Towards a Circular Economy and Green Production," and "SmartMove: Driving and Developing Thai Vehicles." Speakers are from the Permanent Secretary of the Ministry of Industry, Federation of Thai Industries, Thailand National Metal and Materials Technology Center, National Electronics and Computer Technology Center, Mobility and Vehicle Technology Research Center at King Mongkut's University of Technology Thonburi, Smart Mobility Research Center at Chulalongkorn University, Faculty of Engineering Mahidol University, Faculty of Engineering Kasetsart University, Faculty of Information Technology King Mongkut's Institute of Technology Ladkrabang, Panus Assembly Co., Ltd., Urban Mobility Tech Co., Ltd., and Energy Absolute Public Company Limited.
One more of the special happenings on the event's first day is that RX Tradex received an honor to host an MOU Signing Ceremony for the Cooperation Framework on Human Resource Development for the Realizing of Industry 4.0 between The Ministry of Industry of Thailand and The Ministry of Economy, Trade and Industry of Japan. The signing ceremony will be attended by Thailand's Minister of Industry Mr. Suriya Juangroongruangkit and Japan's Minister of Economy, Trade and Industry Mr. Nishimura Yasutoshi.
METALEX 2022 will be held at BITEC between November 16-19, 2022, 10:00 a.m. - 6:00 p.m. Pre-registration is available on www.metalex.co.th. You can bring the visitor code received by email to the Badge Printing counter to print your badge and receive an official show i-Directory for free. More information can be obtained from Facebook metalexpage, LINE @metalexexpo, or email us at contactcenter@rxtradex.com, or call +66 (0) 2686 7222.
For further information, please contact:
Marketing Department, RX Tradex
Mr. Sutham Chuaitang, Tel.: +66 (0) 2 686 7248, Email: sutham.chuaitang@rxtradex.com