The Reifenhäuser Group will be represented with four booths at K 2022, from October 19 to 26. Under this year's Reifenhäuser motto "The Time is Now", the extrusion specialists will show producers of films and nonwovens valuable solutions for the three major topics of the industry: sustainability, digitalization and productivity.
Bernd Reifenhäuser, CEO of the Reifenhäuser Group, explains: "The world and our industry are facing major challenges. There is uncertainty, disorientation and unanswered questions on many topics. And yet they will not tolerate any delay. Now is the time to act and turn challenges into opportunities. We have know-how for this as well as great, immediately applicable solutions in our luggage, with which we enable our customers and partners to do so."
Reifenhäuser lines and components in 4 exhibition booths
The Reifenhäuser Group will be represented at three of its own booths and one joint booth in Duesseldorf. The main booth with approx. 1,200 sqm is located in Hall 17 (C 22) and showcases the Reifenhäuser Blown Film, Cast Sheet Coating and Reicofil business units. With the help of machine exhibits, visual presentations and concrete solutions for end products, visitors will learn, among other things, how they can manufacture fully recyclable products economically, process recyclates safely, increase their output and network the entire production without becoming dependent on systems, specialists or manufacturers. To ensure smooth production even after purchase, Reifenhäuser Service shows how customers can get the best out of their Reifenhäuser products and increase their productivity with rework solutions, modifications, training programs and digital services.
The component specialists of the Reifenhäuser Extrusion Systems business unit will additionally present their portfolio at two other exhibition booths. In Hall 11 (C16), everything revolves around screws, barrels and extruders - and why, especially for processing recycled material, high-performance wear protection is essential for reliability and high economic efficiency. The well-known Reifenhäuser Reiloy wear protection alloys for screws and barrels have repeatedly achieved top values in independent tests, proving that investing in high-quality wear protection pays off. In Hall 1 (D91), Reifenhäuser Extrusion Systems will showcase its innovations for flat dies and coextrusion blocks and their perfectly coordinated interaction for maximum productivity.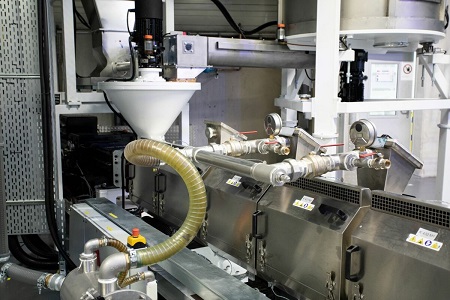 R-Cycle: Sustainability meets digitalization in the Circular Economy Forum
In addition to its own booths, Reifenhäuser will also be present as a partner of the R-Cycle initiative as part of a joint pavilion on the open-air site in the so-called Circular Economy Forum (CE 07). R-Cycle is a cooperation project of various technology companies and organizations along the entire life cycle of plastic packaging. The interdisciplinary team has developed an open traceability standard for sustainable plastic packaging that makes recycling-relevant information transparent by providing a Digital Product Passport. This enables waste sorting facilities to more precisely identify recyclable packaging and form recycling-friendly and single-variety fractions. This is the basis for obtaining high-quality recyclates to build a functioning circular economy.
From the exhibition booth to the Reifenhäuser Technology Center
A special highlight for visitors to the Reifenhäuser trade fair booths is the opportunity to additionally participate in the in-house exhibition on October 20, 21 and 24 at the Reifenhäuser Technology Center. For this purpose, Reifenhäuser organizes a free bus shuttle between the Duesseldorf trade fair and the Reifenhäuser headquarters in Troisdorf, which is only about 70 kilometers away. Here, the guests can experience various blown film and flat film lines in operation during two moderated live demonstrations per day. Interested parties can contact their Reifenhäuser representative to inquire about participation.
Reifenhäuser Blown Film overcomes challenges in the processing of recyclate
One of the highlights of the exhibits is how line manufacturer Reifenhäuser Blown Film has developed a technology that makes blown film producers independent of highly fluctuating recyclate qualities and ensures a stable production process - even when processing low-quality input material: EVO Fusion upgrades recyclate qualities.
With EVO Fusion, blown film producers also process previously unusable, lowest-quality recyclates into high-performance blown films for simple applications, such as trash bags or mailing bags. Until now, such low-grade recyclates could only be used for simple and thick-walled injection-molded products. In addition, producers can make higher-quality film from recyclates that could also be processed in the past. Eugen Friedel, Director Sales at Reifenhäuser Blown Film, explains, "In order to drive the circular economy, recycling content in blown film products must increase and classic downcycling must be limited. With EVO Fusion, we offer a unique process that enables customers to process even low recyclate grades easily and economically into high-performance products and increase the recyclate content. In this way, processors open up new fields of application for recycled products."
The EVO Fusion process relies on direct extrusion, which eliminates the need for energy- and cost-intensive regranulation of the raw material. This means that fluff (film shreds) and all types of production waste and PCR material can also be processed directly. This is made possible by the twin-screw technology, which homogenizes the melt better and thus ensures a stable process. In addition, processors can degas the system very easily and effectively, removing unwanted components in the recyclate.
For processing better quality regranulates, Reifenhäuser recommends the EVO Ultra single-screw extruder. Thanks to optimized barrier as well as shear and mixing parts, this extruder processes recycled material as reliably and naturally as other raw materials - the ideal prerequisite for success in the growing market for products with a high recycled content. With its twin screw and degassing unit, the EVO Ultra Twin Extruder can also safely process low-quality recyclate. The system can be degassed very easily and effectively to remove unwanted components in the recyclate.
With EVO Fusion, even fluff (film snippets) and all kinds of production waste and PCR material can be directly processed into functional films for applications such as trash bags or mailing bags.
- For more articles on K Show 2022, click here.