EVERY year, The Ringier Technology Innovation Awards - Food & Beverage Industry recognises new ingredients, packaging, processing and other technological advances that will address manufacturing challenges in China's F&B industry. In this report, we share the winning products and solutions in the Ingredients category. Organised by Ringier Trade Media Ltd, the Innovation Awards took place at the Guangzhou Huadu Crowne Plaza on 25 August 2022.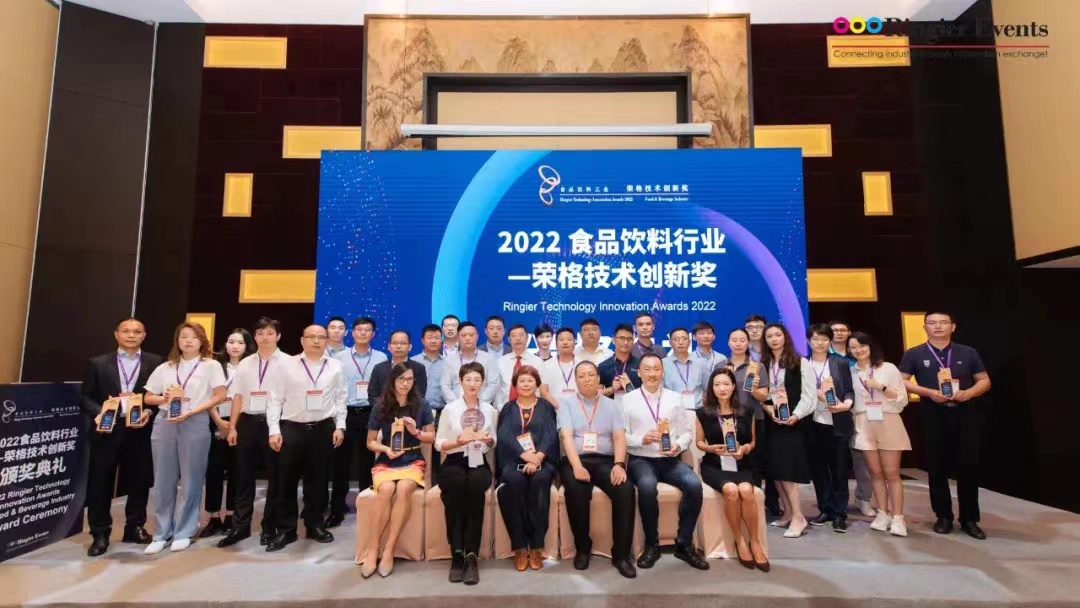 GELITA
GELITA's SOLUFORM™ HST gelatin allows the substantial protein enrichment of a whole range of confectionery products. Manufacturers of marshmallows and fruit gums can fortify their products with up to 35% protein, while candies can be fortified with up to 88%. The gelatin also works with extruded products. Another product, VERISOL® HST gelatin is optimised for manufacturing sweets and high-protein candy in all sorts of categories, and ramp up the collagen levels of marshmallows and fruit gummies up to 33%.
DKSH
As a leading Market Expansion Services provider, DKSH offers sourcing, market insights, marketing and sales, eCommerce, distribution and logistics as well as after-sales services. For this Award, the company entered Hofseth BioCare ASA's (HBC) ProGo bioactive peptides ingredient. Highly soluble in water due to its low peptide molecular weight, ProGo is a flexible ingredient for multiple formulation solutions. This also gives the protein a faster uptake of nitrogen compared to other proteins, with more than 98% digestibility. Health Canada has approved the claims of ProGo for promoting healthy levels of ferritin and hemoglobin as well as blood components required for oxygen transport; providing antioxidants, and promoting healthy skin.
Rousselot China
Rousselot, the health brand of Darling Ingredients, chose their product, Colartix® which is based on hydrolysed cartilage extract. The synergistic natural matrix of collagen peptides type II, is a unique bioactive ingredient that is easy to use in different applications, from functional food and beverages to dietary supplements. Colartix aids in better joint health at a very low daily dosage across gender, age, and sport intensity.
Xi'an Hihealth Biotechnology Co., Ltd.
Xi'an Hihealth Biotechnology Co. Ltd. has a range of products for weight management, sports nutrition, blood sugar management, beauty care, intestinal health, and liver health.
One of its products for weight loss, Encapsulated Ginger Powder, contains gingerol with fat-burning efficiency of up to 1.5-6 times that of L-carnitine, and raises body heat for 30 minutes to 1 hour. The taste of ginger oil has been reduced by 5,000 times; the active ingredients are retained by microencapsulation.
Wecare Probiotics Co., Ltd.
Wecare Probiotics Co., Ltd. is a national high-tech enterprise specialising in the R&D, production and application of probiotic strains, fermented food strains, intestinal flora and human health. The company's WecPro® functional compound probiotic powder for weight management is mainly composed of Lactobacillus plantarum Lp90, Lactobacillus acidophilus LA85 and Bifidobacterium lactis BLa80, which can effectively regulate the balance of intestinal flora and help control body weight; these three strains are derived from pure natural fermented foods.
Ingredion China Limited
Ingredion is a leading global ingredients solutions company that turns grains, fruits, vegetables and other plant-based materials into value-added ingredient solutions for the food, beverage, animal nutrition, brewing and industrial markets. Among these is NOVELOSE ® 3490 resistant starch, a new type of insoluble fibre, which can be used as source of dietary fibre and support the development of low GI (Glycemic index) formulation.
Shanghai Kedar Biological Technology Co., Ltd is an agent for functional food materials, and is also in the business of raw material trade, formula design, ODM, etc. Their product, Memophenol™ is an innovative memory supplement containing flavonoids, such as resveratrol, catechin, ferulic acid, etc. It helps promote learning as it improves short-term and long-term memory. Through cell test, animal test and human clinical studies, the product has been verified and also patented for high bioavailability.
Royal DSM

Designed with oilseed processors in mind, Royal DSM's Purifine® LM enzyme solution processes soybean crude oil at 75°C to 80°C, requiring from 30 to 50 minutes to moderately enzymatically hydrolise the phospholipids and reduce viscosity. About 10%-30% of the treated phospholipid is specifically converted into lysophospholipid without losing total amount of phospholipid.
Maxavor® Fish YE is one of DSM's latest innovations of all-natural middle block flavour functionality ingredients. Whether it's beef, white meat, or poultry-like flavors; or the taste of a classic roast, these ingredients combine to create truly authentic savoury products. The product offers the benefits of being natural, non-allergenic, vegan, kosher and halal.
While DSM's Delvo ® Plant family of enzymes deliver better taste, texture and smooth mouthfeel to plant-based drinks. It can help in modifying the sugar profile of products as well as allow manufacturers to create gluten-reduced dairy alternatives.
Aside from these, DSM offers β-Carotene for colouring cheese without impact on flavours.
Zhuhai Nature Journey Biotechnology Co., Ltd
Nature Journey is a global leader in natural bacteriostasis technology, focusing on the R&D and technical application of natural bacteriostasis and antioxidant products. Its additive Natlock® KTF, made from natural ingredients, slows the spoilage of food. Colourless, tasteless, safe and efficient, it can replace traditional chemical preservatives.
Kalsec (Shanghai) Trading Co., Ltd.
Kalsec products, derived from natural herbs, spices, vegetables and hops, are translated into easy-to-use liquid extracts suitable for most formulations. DuraShield™, scientifically proven to be effective at improving food shelf life and safety, combines traditional natural antioxidant products with natural antimicrobials, such as cultured dextrose
and/or buffered vinegar. It has minimal impact on taste and aroma, and works well in Asian cuisine, baked goods & cereals, meat, poultry & seafood, plant-based proteins and soups, sauces & dressings.
SYNBIOTECH Biotechnology (Yangzhou) Co., Ltd.
SYNBIOTECH offers probiotics ingredients, fermented strains for dairy, drinks, fruit-veg, as well as enzymes, probiotics/starters for animal husbandry, aquaculture and agriculture, and OEM/ODM solutions. The company's new fermented plant-based liquid (suitable for plant-based foods) is derived from carefully selected suitable strains for plant-based fermentation. It utilises plant-based ingredients also known in Chinese medicine. In the fermentation process, the lactic acid bacteria metabolites are kept thereby enhancing bioavailability.
Biospringer-LESAFFRE Group
Biospringer-LESAFFRE Group, which specialises in yeast extracts entered its product, Springalys ® D201, to this competition. The company describes it as a pure product with rich nucleotides and amino acids, and features an Umami taste and meaty flavour, making it ideal for vegetarian food. The product is 100% vegan-friendly, clean label, GMO free and
Kosher- and Halal-compliant.
W. R. Grace & Co.
W. R. Grace & Co., a global leader in specialty silica and fine chemicals, won a Ringier award for its SYLOID® XDP F silica. It was selected for its unique performance and innovation as a carrier excipient in both food and nutraceutical applications. SYLOID® XDP F is a mesoporous carrier silica engineered to transform oily active ingredients into various solid dosage forms such as tablets, powders, capsules, and more. The product is ideal for nutraceutical formulations as it improves handling and release of primary active ingredients.
Shandong Bailong Chuangyuan
Shandong Bailong Chuangyuan integrates R&D, production, sales and service for various industries including food, medicine, health products, and feed. Among its offerings is stachyose, a natural tetrasaccharide which is generally formulated for good health as it helps regulate intestinal flora, as well as protect the liver, enhance immunity, regulate blood glucose and lipid metabolism, and even promote lead removal. Compared with other oligosaccharides, stachyose has the characteristics of natural plant extraction.
The winners in the packaging, processing, and food safety categories will be published separatedly.

THE JUDGES
The judges
Zhiying Ma, Professor-level Senior Engineer
Director of Food Safety Committee of Shanghai Food Society, Director of Expert Committee of Shanghai Food Association
Feng Ping, Chief Engineer
China Meat Research Centre, Member of the 10th, 11th and 12th CPPCC National Committees; Professor, Guangxue Chen, PhD; Supervisor, South China University of Technology, chief expert of Yutong Technology and the president of Yutong Research Institute
Chen Chenwei, Ph.D., associate professor, master supervisor, working in the School of Food Science, Shanghai Ocean University
Yu Peng, Senior Engineer
Director of Dairy Nutrition and Health Research Centre of Bright Dairy Research Institute, Member of Dairy Committee of Shanghai Food Association
Peng Yuan, Doctor of Science
Deputy Director of the Food Engineering R&D Department of China Food Fermentation Industry Research Institute; Academic Leader of the Beijing Key Laboratory of Functional Staple Food Creation and Chronic Disease Nutrition Intervention; Secretary-General of the Dietary Ingredients and Medicinal Materials Research Committee of the Chinese Medicinal Diet Research Association; Deputy Secretary-General of the China Clinical Nutrition Industry Innovation Alliance, Secretary of National New Food Resources Health Industry Technology Innovation Strategy Alliance
Eric Du, Ph.D.
Head of Product Efficacy and Safety, Amway (China) R&D Centre