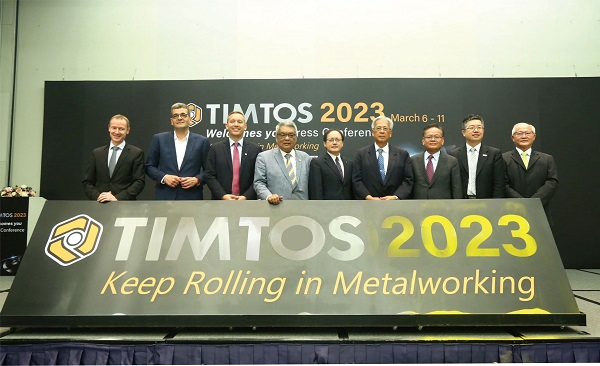 Taipei, November 30, 2022: Taipei International Machine Tool Show, also known as TIMTOS, will return in 2023 from March 6 to 11 at Nangang Exhibition Center, Hall 1 & 2 and TWTC Hall 1. With 1,000+ exhibitors in nearly 6,100 booths, an even larger scale than 2022, TIMTOS 2023 will be the largest trade show ever recorded after Taiwan has recently lifted all its border controls since the COVID-19 outbreak.
At present, foreign professionals are free to travel to Taiwan to participate in trade shows as usual, and the global machine tool industry is getting elated about the coming TIMTOS 2023. As a result, there are increasing demands for bigger booth spaces, and meanwhile, delegations are coming from Vietnam, Turkey, India, etc., according to TAITRA, the organizer.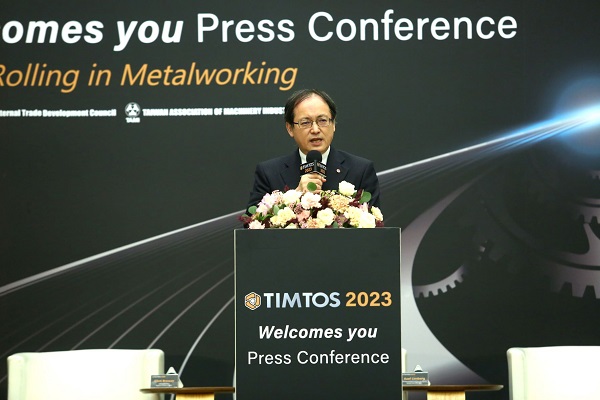 In a press conference for TIMTOS 2023 today, the show organizers, Simon Wang, President & CEO of TAITRA and Larry Wei, Chairman of TAMI, unveiled the highlights of the coming TIMTOS 2023. TAITRA CEO Wang pointed out that the new slogan for TIMTOS "Keep Rolling in Metalworking" highlighted the mega show's claim to link up the global machine tool ecosystem to make metal processing smarter, more efficient, and more sustainable. It is not an understatement to say that the growing metalworking industry worldwide is one of major forces driving sustained global growth, Wang said.


TAMI Chairman Wei is also confident of the success of TIMTOS 2023. Taiwan's machine tool industry has become more resilient since the pandemic, keeping working on intelligent transformation and adding value to their products. TIMTOS, a mega show that gathers the most Taiwan players in the machine tool sector, is a must-attend event for those who are looking for reliable and innovative products or services developed by Taiwan manufacturers.


Other panelists were Eugene Y, J. Chang, Chairman of Chin Fong, Richard Wang, Chairman of Earth-Chain, Miro Lin, CEO of Machine Tool Business Group (Taichung), Fair Friend Group (FFG), Sunny Yang, TTGroup as well as representatives from three country pavilions, Clint Brewer, American Institute in Taiwan, Axel Limberg, German Trade Office Taipei and Bo Mønsted, Trade Council of Denmark, Taipei who shared wonderful insights how changing market trends impacted the industry's transition to resilience and sustainability. The press conference attracted journalists and industry professionals from over 20 countries/regions on-site and online.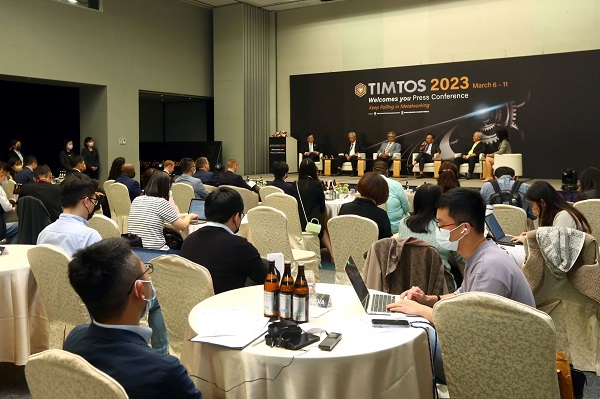 Besides Chin Fong, Earth-Chain, FFG and TTGroup, the big brands at home and from other 17 countries/regions in TIMTOS 2023 including HIWIN, PMI, YLM, SHINBU, KAFO, CHMER, Hartford, SOCO, YOU JI, TAKISAWA, YCM, Kao Ming, Victor Taichung, Delta, Siemens, HEIDENHAIN, TRUMPF, FANUC, igus, MAZAK, Mitsubishi, THK, Zeiss, Universal Robot, Mitutoyo, Keyence, and Renishaw will showcase the latest models and smart solutions.
What's more, TIMTOS 2023 will debut three new themed areas featuring "Advanced Metalworking Technology," "Additive Manufacturing" and "Future Manufacturing." The organizers also encourage attendees to take advantage of the exciting and productive events at TIMTOS 2023 such as Future Manufacturing Forum, Corporate Carbon Footprints Consultation, Podcast Live, Maker Workshop, and Guided Tours.
The visitor & media registration for TIMTOS 2023 is available at www.timtos.com.tw. For full event information, visit the official website, or follow the show on social media.