DEMAY New Materials Research Institute, co-founded by the Guangdong DEMAY New Materials Technology Co Ltd and Shanghai Jiayu Biological Technology Co Ltd, is committed to developing advanced cosmetic biomaterials. The Institute is built with a strong innovative R&D foundation to target developing functional cosmetic biomaterials. It is made of a team of scientific researchers from Guangdong Provincial Academy of Sciences and Guangdong Institute of Microbiology with over 50 years of experience. The Institute is also back up by the State Applied Microbiology Key Laboratory and National Reactor Key Laboratory. The Institute is equipped with modern bio-engineering technology, and it has made numerous achievements in cosmetics biomaterial R&D.
DEMAY developed the world's unique "Ice-source Chlorella Deep Purification Repair Factor", creating a green sustainable development model. The product won the 2017 personal care industry Ringier Technology Innovation Award and 2017 PCHi Green Sustainable Development Award. DEMAY adopted advanced technologies, including genetic engineering, microbial engineering and membrane separation, to mass produce a biodegradable new material "γ-polyglutamic acid" products. The biosynthesis technology of this new product meets the international level. In the field of anti-allergic and anti-stimulating actives, DEMAY developed "Gentian Anti-stimulating Factor", much more cost-effective than those made in Germany and South Korea drug material makers, and also made a breakthrough in developing a biodegradable new material "Bacteria Cellulose" for hydrogel mask production technology.
DEMAY collected unique ice algae species from 4500 to 5100 m high of the Himalayan plateau to develop the Ice-source Chlorella Deep Purification Repair factor". The ice algae contain natural biological active substance - chlorella growth factor (CGF). A large number of experimental studies have shown that it has multiple skin care effects after transdermal absorption, including deep purification to repair PM2.5 damage to the skin and scalp, repair cells and DNA damage, against UV damage; in addition, it can promote eliminating skin toxins. In particular, it can be used in skin care products for skin repair process.
CGF is a nucleotide peptide complex derived from the hot water extract of Chlorella vulgaris. Its main component is a nucleic acid derivative. CGF is produced in the process of strong photosynthesis, which makes the growth of chlorella, each cell every 20 hours can reproduce four new cells, CGF can speed up the breeding speed. Experiments show that CGF promotes growth and does not produce adverse side effects. In the human body, it can enhance the function of RNA and DNA, promote the production of cellular proteins and enzymes, stimulate tissue repair, and protect cells from toxic substances.
The DEMAY's team collect the glacier snow-covered high-quality chlorella species, and then adopt modern bio-engineering technology to produce high concentration of CGF. DEMAY's chief engineer Mr. Xiang Guanggang said that DEMAY achieves to generate the concentration as high as those CGF manufacturers in Japan and South Korea. From the algae breeding to the extract, all steps are well traced with eight high end safety toxicology tests. At present, DEMAY owns its original microalgae breeding base for cosmetics manufacturers to supply stable and high quality chlorella extracts.
Technological innovation is always the core competitiveness of a biomaterial maker. However, DEMAY's innovation can be found in its products, application technology as well as service. DEMAY has several R&D centers to cover all essential steps in product development and a comprehensive technical services for customers. One of DEMAY's successful factors is that DEMAY has an innovative R&D team. Their unremitting efforts produce outstanding results. They actually won the 2017 personal care industry "Ringier Technology Innovation Team Award."
In 2017, DEMAY launched the Ice-source Chlorella Deep Purification Repair Factor, Gentian Anti-stimulating Factor and other new products. Guangdong DEMAY New Materials Technology Co Ltd General Manager and Senior Engineer Ms. Huang Xiao Mo said that we have developed a series of branding strategies for these products.
DEMAY always adheres to the "innovation, excellence". It will continue to specialize in producing high-end cosmetic biomaterial products for anti-pollution, deep purification, deep repair, anti-allergic, moisturizing and anti-aging. Also DEMAY will continue to contribute to the cosmetic industry.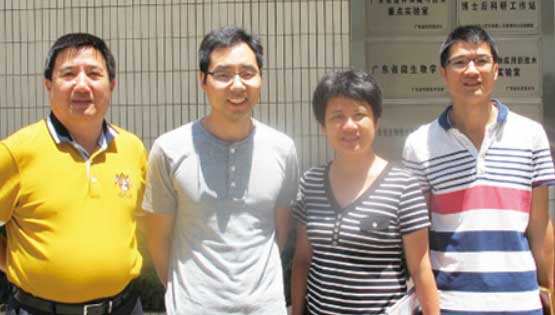 PHOTO: Guangdong DEMAY New Materials Technology Co Ltd General Manager and Senior Engineer Ms. Huang Xiao Mo (2nd Right), DEMAY's chief engineer Mr. Xiang Guanggang (2nd Left)
Guangdong DEMAY New Materials Technology Co Ltd
http://www.gd-demaynew.com
Air Zoom Pegasus 34