GROWING concerns over health and sustainability are fueling demand for protein alternatives including those derived from edible insects for food and feed. Current analysis of Reports and Data estimates the market for insect protein to grow at a CAGR of 38% and reach $1.4 billion by 2026. Topping the list are crickets, black soldier flies, mealworms, grasshoppers and ants.
According to the U.N. Food and Agriculture Organization, in many parts of the world, crickets are part of the meal of at least two billion people. Such figure is set to rise as lifestyles continue to change and more consumers consider the nutritional benefits of alternative proteins, as well as the low environmental impact of manufacturing protein alternatives.
The Malaysia-based company Ento offers flavour-packed snacks and burger patties made with crickets. Currently it is expanding production for healthier and sustainable food. Lawyer-turned-business-owner Kevin Wu shares what lured him into the business of insect protein.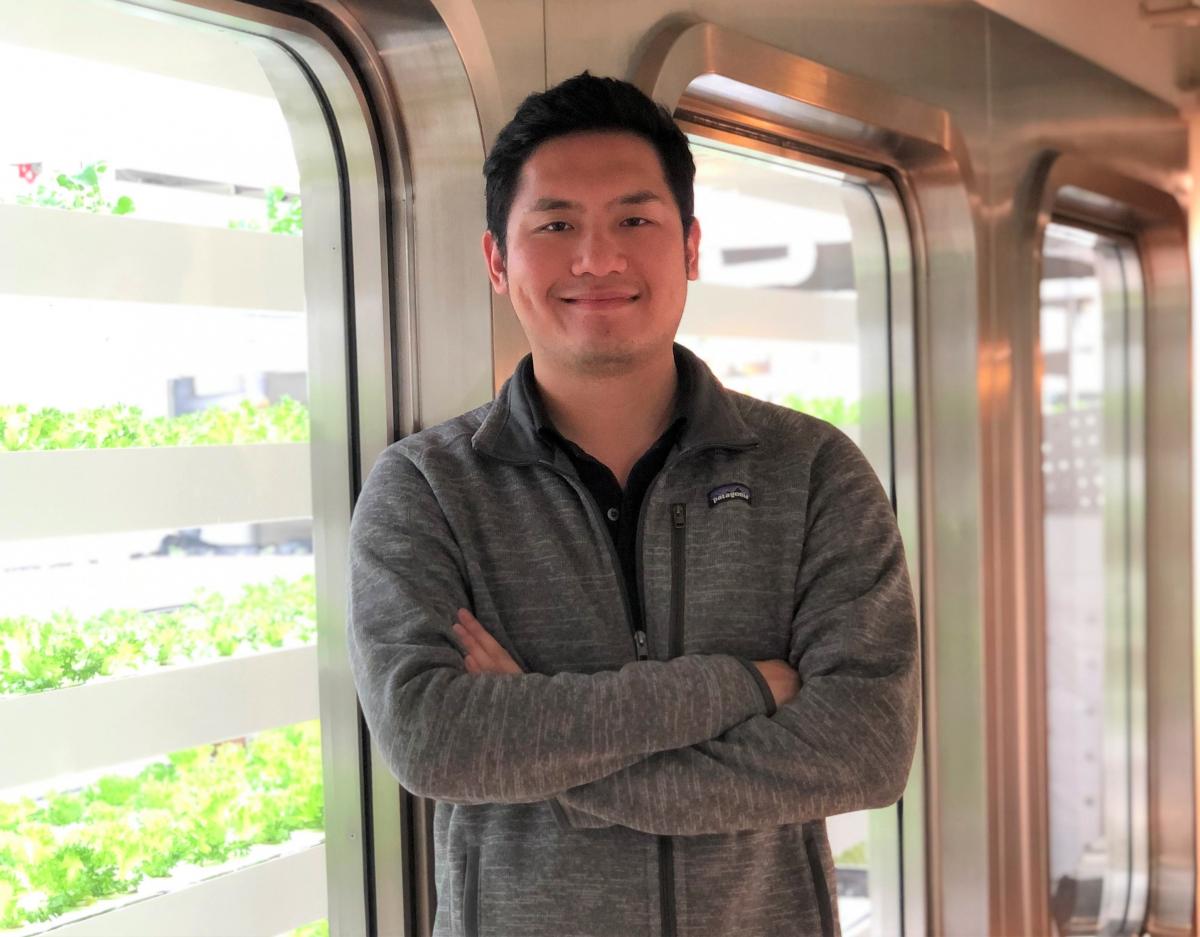 Kevin Wu is the owner of Ento, a manufacturer of snacks and burger patties made with edible insects.
Where did you first encounter cricket food, and how did it influence your entry into insect-based protein food?
I first got to try crickets and other insects in Mexico City during my round-the-world trip after I left my corporate legal career.
There was this taco stand off a charming side street in Mexico City, which smelled like buttery/freshly fried seafood. As I approached the stall, the whole cart sold insect-based taco, which was a traditional dish from Oaxaca. Just out of curiosity I decided to try the taco and to my surprise at that time, it was extremely delicious. From that point, I did some research into insects and turns out that they're not just nutritious and sustainable, they're also extremely tasty!
What is your corporate mission at Ento?
Ento is an alternative protein company that aims to promote edible insects for human consumption. Insects are highly nutritious and sustainable! Our mission is to become the next Beyond Meat/ Impossible Foods for insect-based protein.
Ento's products are mostly made of crickets. Why is that?
Crickets have three times more protein than beef/chicken, seven times more iron than kale and four times more fibre than oatmeal. Crickets are also highly sustainable to farm requiring 14 times less land, 12 times less feed, 2000 times less water than conventional livestock farming.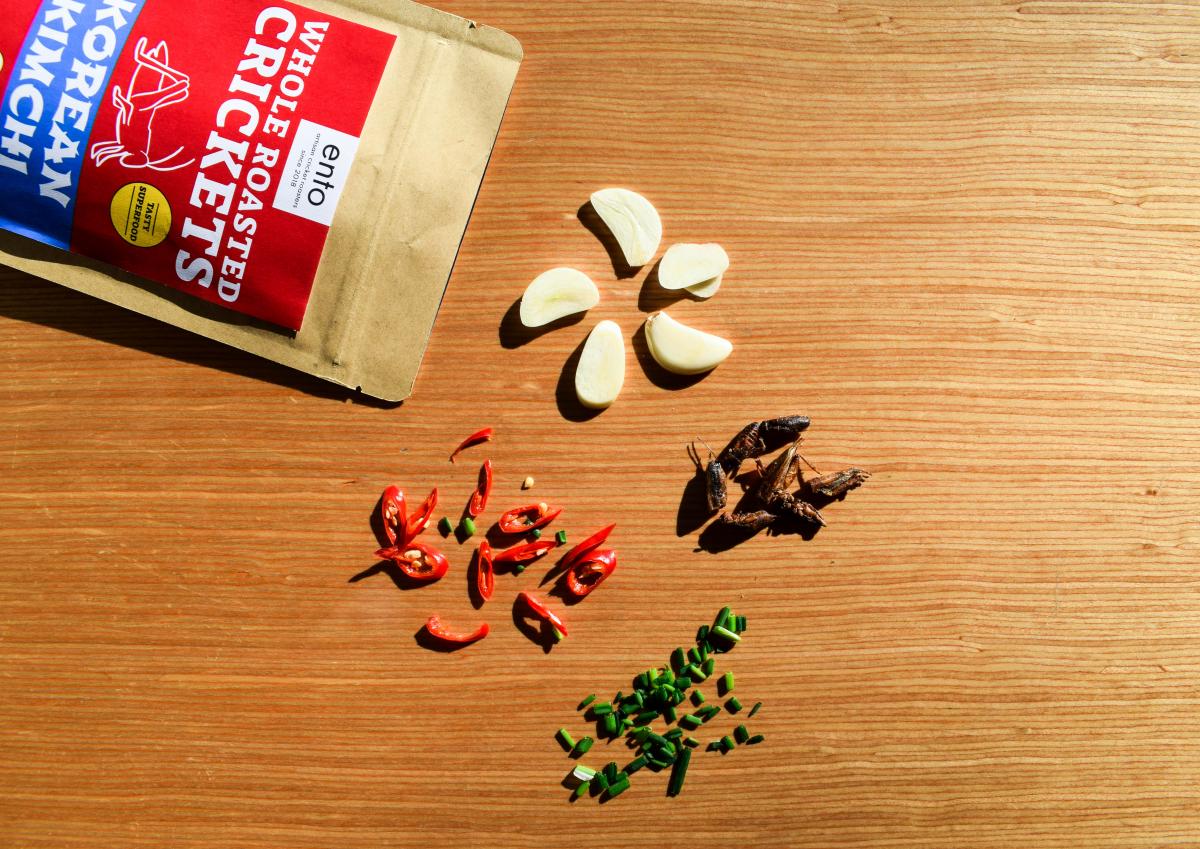 Kimchi is one of several flavoured cricket snacks from Ento
How did you start the insect farm in Malaysia?
Ento currently operates from a 10,000-sq-ft pilot farm facility based in the suburbs of Kuala Lumpur. It is headed by our Science Lead, Production Manager and Food Tech lead. We've spent more than two years conducting our internal R&D for feed, water system engineering, temperature and humidity controls.
What are the advantages and challenges of farming crickets yourself?
Advantages would be a stable and traceable supply chain of crickets and other insects. We are able to identify areas with the most potential to drive down cost of production and drive efficiency.
The challenges would be the time and resources needed to conduct R&D to master the insect farming process. However, we've identified processes in which we're able to conduct and execute R&D efficiently.
How do you ensure quality, safety and delivery of other ingredients that you use?
We only use ingredients which are traceable throughout our supply chain. We really want to build a brand that consumers love and can trust. This is extremely crucial for our long-term successes.
Are your ingredients mostly local or sourced locally?
Where possible, our ingredients are sourced locally to minimise carbon footprint within our products. We get our inspiration from local and heritage cuisines and culture. Which is what makes us very unique in this field. We're a proudly local company supporting other small businesses within our ecosystem.
What are your product lines?
Our first product line is whole roasted cricket snacks with unique seasoning. The second, granola protein bites made with our cricket powder; then, third is buttermilk rusks (a traditional South African snack) added with our cricket powder. Our next in line are burger patties made with our high-protein cricket powder.
Could you share about your current and target markets?
Currently we sell directly to consumers to more than 20 markets across the world ranging from Australia to Canada.
Over the past year, we've had a comprehensive plan to fully enter the B2B segment in the US and Europe. We aim to be within the US markets by late Q1 or early Q2 2020. Afterwards, we'll be launching Europe and Australia within quick succession.
Your whole roasted crickets are available in kimchi, BBQ and Singaporean salted egg-yolk. Is there a bestseller?
Our flavours vary depending on the market. For instance, our salted egg yolk flavour sells extremely well across South East Asia due to its popularity. Whereas our American customers prefer something more familiar such as our BBQ flavour. In future, we plan to do more market testing to optimise towards our customers' preferences.
Is there a specific demographic that you intend to focus on or are you casting your net wide in 2020?
We are extremely keen to work with millennial and Gen Z who are open to trying out alternative sources of protein. We hope that by creating more familiar and accessible product lines, we can cater towards the mass market. The year 2020 is going to be yet another extremely exciting year for Ento.
What strategies worked for you in getting consumers to accept and buy your products?
At the core of our business lies our powerful story of the 'Why' we do what we do. Every day, with every order, we are making a huge difference to tomorrow. We are able to provide healthy and sustainable protein for consumers and now it is even more accessible than ever before. Since we started, we've been attending artisan and local market fairs. This is a great opportunity for us to engage with our local community and customers. Once customers try our products, they rave about it and tell friends. This was really how we started our business.
What factors do you consider in deciding products to roll out?
We attend a lot of offline events, markets and fairs. We use this opportunity to showcase our latest products. We typically get quantitative and qualitative date on our new products. We typically use our booths as a testing ground.
How do you do quality control and to what standards?
We are registered with the Ministry of Health Malaysia. All our products are sent to labs for nutrition and microbial sampling to ensure the quality and safety of our food products.
We are working closely with our Singaporean Certifications Consultant to obtain GMP, HACCP, ISO 22000 and more.
What else can consumers expect from Ento in 2020?
We are currently fundraising our Pre-Series A round to expand our production capacity, develop our food products and marketing. We are looking for strategic partners who are able to provide marketing, food tech, manufacturing and distribution experience.
Air Jordan VIII 8 Shoes