The food and beverage sector (F&B) in the Philippines remains one of the fastest growing in the ASEAN region. The sector's value exceeds $29 billion with annual growth of over 10%. As demand for convenience and safety in food manufacturing and handling intensifies, much pressure has been placed on the packaging sector. In particular, plastics as applied in F&B packaging, has been growing over the years but faces challenges with the global call for environment-friendly products hitting many plastics industry players. From technology providers to high-performance materials suppliers, innovation in plastic packaging has now been geared toward sustainable packaging, or packaging that can help achieve a circular economy.
Against this backdrop, the Plastic Applications in Food & Beverage Packaging Summit in Manila, Philippines held a successful second edition where it gathered leading industry and technology experts in a two-day event held on 24-25 September at the Shangrila Hotel in Makati. Organized by Ringier Trade Media Ltd through its Ringier Events, the Summit welcomed more than 150 participants from both local and international origin.
The event has the active support of partner associations such as Philippine Association of Food Technologists, Association of Petrochemicals Manufacturers of Philippines, and the Food Industry Asia. This year's sponsors included Dase-Sing Group, Frigel Asia Pacific Co., Ltd., ADParametrik Inc., Ever Polymer Co., Ltd. and TATMING Technology Co.
The Summit opened with the welcome remarks from Mr. Mike Hay, President of Ringier Trade Media Ltd/Ringier Events. Mr. Hay put emphasis on the food and beverage packaging industry in the ASEAN region going through some major changes, such as increased automation lead by the concept of Industry 4.0 and soon 5G technology. He also pointed out the need to comply with more stringent safety regulations, waste management, recycling and the move toward a circular economy.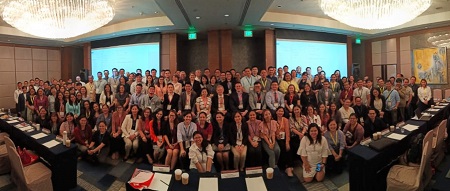 Over 150 participants from F&B and plastic packaging sectors joined this year's Summit.
Future of F&B packaging revealed
The diverse range of topics covered in the two-day Summit focused on revolutionary technologies and production processes that benefit F&B manufacturing, especially in the area of packaging. As plastics remains a major packaging material, innovations in plastic packaging production, plastic waste recycling, smart packaging and Industry 4.0 benefits were highlighted by the industry experts invited.
Mr. Vicente Co, President of the Philippine Plastics Industry Association (PPIA), a leading organization of Philippine-based plastics manufacturers was present and gave an overview on legislations affecting plastic packaging, as well as the future directions of the Philippine plastics industry. Mr. Joey Roi Bondoc, Research Manager of Colliers International Philippines, identified the hot spots or areas in the Philippines that are ideal for F&B manufacturing, as well as for plastic packaging production.
Food production standards and the interaction of product/packaging was the subject of the presentation by Dr. Lotis Francisco, President of Philippine Association of Food Technologists. Dr. Elaine Borazon, President and CEO of BusinessBests InnovaCon, Inc and Senior Research Fellow at the Research and Development Center for the Industry-Academy in Southeast Asia-National Kaohsiung Marine University, provided an interesting update on safety management and quality control for packaging operations; while former President of the Packaging Institute of the Philippines, Dr Joseph Ross Jocson, talked about the Philippine packaging industry, with a view of identifying design trends and market preferences.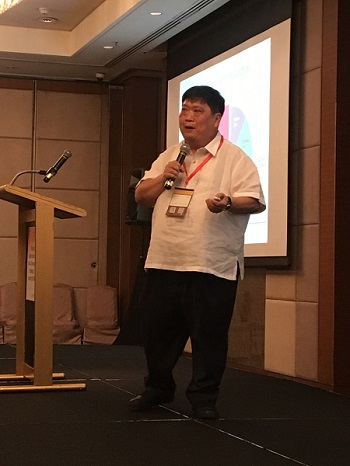 Mr. Vicente Co, President of Philippine Plastics Industry Association
Ever Polymer, a leading manufacturer of thermoplastic elastomers in Taiwan, was represented by its Sales Director Vincent Liao, who discussed the production and advantages of multilayer film, easy peel for food & pharmaceutical packaging. A member of the Association of Petrochemical Manufacturers of the Philippines (APMP), D&L Polymers and Colours Incorporated was represented by Product Design and Development Specialist Joshua Tan, who talked about the recent developments in the use of bioplastics as alternative material for sustainable plastic packaging.
Several presentations shed light on the recent and future trends in sustainable packaging. Ms. Misha Rabat, Corporate Affairs Executive of Nestlé Philippines, discussed the move toward a waste-free future citing the initiatives undertaken by Nestle to achieve sustainable production and encourage recycling. The production of environment-friendly packaging and leading trends in F&B production were the subject of the presentation by Mr. Teri Teo, Director (Learth Group) and Business Development Director (PS Food & Beverage (S) Pte Ltd. The challenges and experience of today's rising manufacturer of F&B was tackled by Mr. Stephen Co, founder and CEO of Nipa Brew Craft Beverages and WTH Foods.
Innovative technologies in F&B manufacturing and packaging production were presented by technology experts from various companies. Dase-Sing Group, a leading provider of packaging technology solutions, was represented by its sales manager, Ms. Jovy Chen, who talked about the company's latest shrink sleeve solution that is ideal to create more eye-catching packaging. ADParametrik Inc. representative, Mr. Lim Seng Tat, currently the Regional Director of Altair Engineering, discussed the innovations in packaging development and the future of packaging simulations solutions.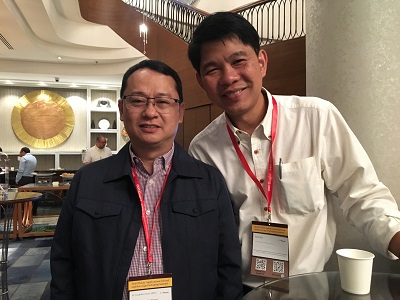 Technology experts gather to present useful insignt and updates on the packaging industry.
The benefits of process-synchronized cooling system via Ecodry System 4.0 were discussed by Frigel Asia Pacific Co., Ltd. Sales Director Claudio Domasi. Mr. Domasi put emphasis on the cost-efficient process cooling solution offered by Frigel and how manufacturers can achieve increased profitability through this system. With digitalization playing an increasingly important role in today's industrial sector and with Philippine companies showing interest in this area, Mr. Sung-ho Jun, IT Sales Manager (Korea) at Krones AG, talked about boosting digitalization level of beverage factory and available solutions today. The CEO of InnoArk Pte. Ltd., Chong Von Kee, gave an interesting presentation on how the goals of Industry 4.0 can be achieved by manufacturers in Asia.
Smart packaging has become a goal for most food and beverage manufacturers as they try to capture a bigger slice of the international market. Marketing Manager of Kurz, Patrick Mercado, presented the latest solutions aimed at improving the overall appeal of packaging.
Interesting highlights
The panel discussion has always been an interesting part of the Summit and this year, the panel of experts focused on sustainable packaging in the wake of global, regional and national regulations and initiatives. The panel of experts was composed of Commissioner Crispian Lao, currently the Commissioner and Vice Chairman of the National Solid Waste Management Commission under the Office of the President of the Republic of the Philippines, where he serves as the Private Sector Representative for the Recycling Industry; Mr. Edwin Seah, Head of Sustainability & Communications at Food Industry Asia (FIA); and Mr. Thomas Bell, Science and Communications officer of Partnerships in Environmental Management of the Seas of East Asia. The panelists gave their valuable insights on issues surrounding sustainable packaging and recycling, especially those affecting food safety. They discussed the move toward a circular economy for plastics and how this can be achieved through concerted efforts by various industries. The delegates were able to clarify certain issues and there were lively discussions after each presentation and panel discussion.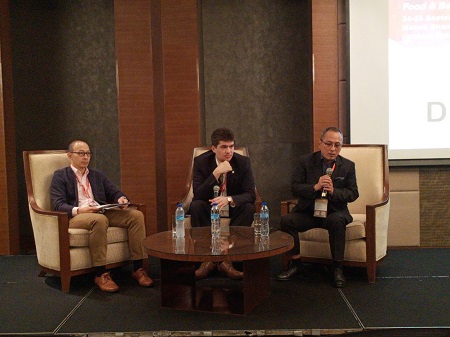 Panel discussion covers the latest issues on recycling and circular economy.
A factory tour brought some delegates to the production facility of Dairy Technologies Corporation in Cavite where the host company presented their product portfolio of affordable processed cheeses for institutional and retail market, under the brand Kesorap and Kesorap Express Melt. The tour was capped by a cheese-tasting segment where delegates tried the company's various products.
The Summit also served as a fitting venue for expanding networking and discovering new products and services as delegate were able to hold one-on-one discussions with the sponsors in their respective booths.
Feedback from participants
As varied as the topics, participants also gave various reactions to this year's Summit.
Mr. Arnel C. Guantes, AVP for Research & Development at Jollibee Corp., said: "The conference is very informative and relevant. And it gives an opportunity to really meet a lot of people in the industry, especially from the regulatory boards, the government and also from the private sector. Also, I was able to meet people from the supplier side, and obtain inputs on the quality and safety related to packaging." This feedback was seconded by Engr. Librado Cano, a civil engineer from the US and now adviser to Laguna Entrepreneurs Marketing Cooperative who said that the event is very interesting and added that "the Summit talks about improving life in general and this is one topic I focus on. That's what we are talking here, the general topic in the world."
Another delegate, Mr. Alvin A. Lavadia, Raw Materials and Packaging Technical Manager at PCPPI commented: "The Summit is highly informative and very timely specially with the current scenario in the Philippines and it also presented an excellent selection of speakers. One topic that sparked my interest is circular economy and I attended this Summit to personally meet Commissioner Lao and the PARMS team because we are a member of that team. We are a member of that alliance for the beverage industry."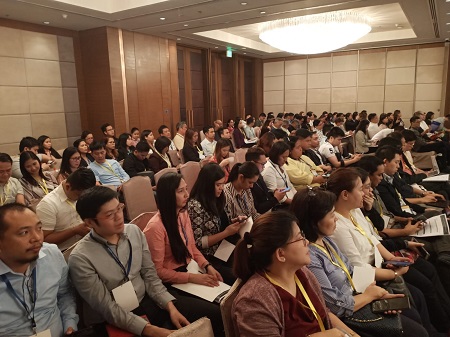 The delegates came from various sectors related to F&B manufacturing and plastics packaging.
For Ms. Laverne Lavadia, R&D Supervisor of Leslie Corporation – Minute Burger, the event is interesting and well-represented, "with many big manufacturers in the country present to discuss the issues confronting the use of plastics especially for food and beverage packaging." Mr. Alan Keith Castro, Consultant at Plastimer Group also shares the same feedback, "this Summit has a very good range of topics and each topic is relevant to the industries covered. My favorite topic is the one about regulations by PPIA President Vicente Co, but all the technology-related topics are very interesting and applicable to Philippine setting." Mr. Joven Chioco, Packaging Development Supervisor at Big E Food Corporation (Lemon Square) said that the technical presentations at the Summit are valued for the information they presented, with delegates being able to engage in a lively exchange with the industry experts. He added that this Ringier Event is one of a kind in the Philippines in terms of content and scope or industries covered.
Even the speakers found the Summit' participants and topics covered relevant. Mr. Joey Roi Bondoc, Research Manager of Colliers International Philippines, said that the Summit brings in technologies from abroad that local manufacturers can adopt, "the technical information that the various presentations provided create opportunities for growth in the local F&B industry that is now experiencing rapid growth. We also learned how local manufacturers are innovating and the importance of sustainable production in the present economy that could ultimately benefit more Filipinos."
Mr. Joshua Tan, who represented APMP, was present in the previous year's Summit and was able to compare the latest edition: "This year's Summit is better than last year in terms of content – and the content focused more on digitalization. It also expanded my network and will use as inputs the feedback and questions by the delegates after my presentation." Mr. Tan also explained that the implementation and shift toward bioplastics have been a big challenge for them and progress only started to pick up a few years ago.
Another speaker, Mr. Stephen Co, of Nipa Brew Craft Beverages and WTH Foods, said that the relevant content and industry-specific topics in the Summit made it more interesting. "There is good synergy between the different presentations – they are different from one another yet, they are related. You can get ideas from the different presentations and apply them to the industry you are engaged in. The delegates came from a wide variety of sectors, thus expanding our network, the audience size is also good."
As the Philippines' F&B industry moves to capture a bigger slice of the international market, many participants coming from leading companies and associations in the country are keen on joining future Ringier Events.
Air Jordan