The 6th Innovation Takes Root: A NatureWorks Advanced Biomaterials Forum - held on September 10-12, 2018 in San Diego, California, USA - brought together brand owners, industry leaders, sustainability professionals, marketers, business leaders, scientists and engineers from the biomaterials value chain. Organised by NatureWorks, the forum takes participants into a full-scale immersion into rethinking and dissecting the role of high performance materials in today's demanding market where consumer preference is moving towards sustainability, and where achieving a circular economy has become imperative.
NatureWorks has been offering a broad portfolio of renewably sourced polymers and chemicals to the packaging, polymers, fibres, and chemicals markets. With performance and economics that compete with oil-based plastics and fibres, naturally advanced Ingeo™ polymers are valued for their unique functional properties and used in products from coffee capsules and electronics to diapers and wipes. Other products, such as Vercet™ lactide-based solutions help innovators realise significant, measurable performance and cost advantages in products such as CASE (coatings, adhesives, sealants, and elastomers), toners, and surfactants. NatureWorks is jointly owned by Thailand's largest ASEAN leading integrated petrochemical and refining company, PTT Global Chemical, and Cargill, which provides food, agriculture, financial and industrial products and services to the world.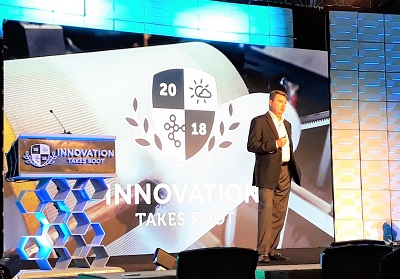 Mr. Rich Altice, NatureWorks President and CEO
Held every two years since 2008, the Innovation Takes Root (ITR) Forum has taken an important place in today's biomaterials sector because of its contributions in further studies, research and development of applications for NatureWorks' advanced biomaterials. From the first ITR in 2008 that brought together engineers and scientists from the Ingeo™ plastics and fibres supply chains to share technical developments in emerging industry, the forum has grown to gather thought leaders, entrepreneurs, marketers, and business leaders together with the scientists and engineers from the supply chain for a full-scale immersion into rethinking and remaking products as the plastics industry moves forward in utilising renewable materials.
This year, NatureWorks successfully put together an information-packed program with more than 60 speakers across six breakout sessions, four workshops, and two plenary sessions. The program focused on the various issues, trends and developments in the applications of biomaterials in consumer products, with innovations in applications, processing, converting, and recycling covered as well as other policy changes and international standards compliance.
Information-rich content
The first day workshops focused on tailoring NatureWorks Ingeo™'s physical properties for applications developments where an overview of polymer properties including polyolefins, polyesters, polyamides, was discussed and how they lead to developing performance attributes in downstream applications in various case studies. This was followed by a plenary where NatureWorks President and CEO, Rich Altice, welcomed all the participants and provided a brief introduction on the goals of the forum.
The first day plenary included presentations on how income generations and changing consumer preferences is driving innovation in the materials supply chain. The father/son team, David and Jonah Stillman, both experts in emerging generational characteristics and workplace trends, described the expectations of future consumers which they called "Gen Z"and how these can affect the biomaterials industry. Mats Linder, a consultant from the Ellen MacArthur Foundation, gave an overview on the foundation's study on the products and materials and how these fit into the structure of the circular economy, a restorative and regenerative model embraced by brands globally. Dr. Norbert Schmitz, from ISCC, discussed certified sustainable agricultural practices and their role in creating biomaterials that live up to their sustainable ideals. Omar Hoek from Ahlstrom talked about innovation with purpose and how consumers influence the creation of new products.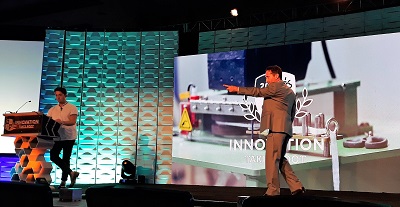 Interesting discussions on sustainability and the role of biomaterials such as Ingeo™ were held.
The second day workshops explored the market drivers and product developments with Ingeo™ product and applications being key aspect. One topic focused on food serviceware and product developments leading to zero waste models where breakthroughs in coatings for paper foodservice to improve performance, decrease system costs, and enable multiple end-of-life scenarios including composting & recycling/re-pulping were covered. The session further explored how compostable food serviceware measurably affects organics diversion rates and can decrease system costs in closed-loop environments looking to implement zero waste. The sessions on 3D printing for industrial applications looked into how various industries are evolving their processes taking advantage of the convenience of 3D printing and the tailored properties of Ingeo™ materials that meet such advanced application demands. Another set of sessions bring into focus the tools for Ingeo™ users which brought together experts in machinery design, additive development, and product certification to share first-hand and provide their recommendations for optimising brand owners' experience with Ingeo™ to enable success in across industries.
The last day of the forum held sessions on highly interesting areas. The workshops on the future of performance fibres and nonwovens looked into the latest inventions for Ingeo™ nonwovens which are creating performance attributes seen for the first time in the market, such as how hydrophilic technology creates diapers that reduce diaper rash, and slimmer, more effective absorbent hygiene products. The session on advancements in single-serve beverage delivery presented the the success of current Ingeo-based solutions that have validated compostability as an end-of-life solution for both the capsule and coffee grounds, and the new technologies that address capsule design across the increasing range of coffee brewing systems in the market and more. Another session that gathered the interest of the participants focused on engineering for degradability in new applications where techniques for designing applications that can take advantage of the ability to manipulate both the rate and method of degradation for Ingeo-based structures.
The final plenary had Marco Garilli from Electrolux talking about biobased materials as applied in the home appliances industry with Electrolux experience as specific example. Scott Jenkins of Green Sports Alliance discussed on what sustainability means for sports. The last presentation was delivered by NatureWorks President and CEO, Rich Altice, who discussed the evolving market activism and future drivers of value-added performance applications.
Networking with partners
Other highlights of the forum were the fireplace chats held after dinner where the speakers and participants had the opportunity to discuss key issues on specific topics.
Flo, a major European food packaging producer, also introduced Gea, an industrially compostable coffee capsule created in partnership with NatureWorks. Gea capsule is the result of a two-year joint development process that created a compostable capsule aimed to deliver on the high-performance requirements of the most demanding roasters. Gea is entirely composed of Ingeo™ PLA which is certified for industrial composting systems according to global standards such as EN-13432 (EU) and ASTM D6400-04 (USA). An exhibition of products from partner suppliers and sponsors was also held where representatives discussed their products and how their cooperation with NatureWorks led them to create innovative applications meeting market demand.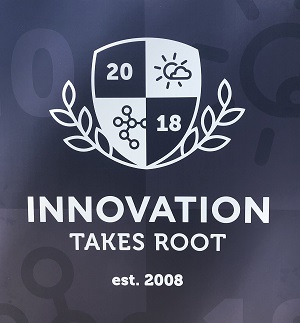 Nike