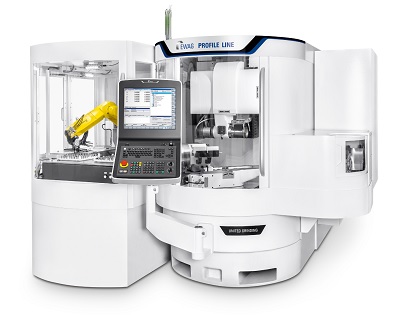 The machine is built in close partnership with sister company Walter Maschinenbau GmbH and enhanced with Ewag AG's tooling and software expertise. This partnership has produced an extremely efficient grinding centre for advanced grinding of highly complex interchangeable insert geometries, including interfaces.
The innovative technology of the PROFILE LINE has set new standards of production efficiency for these applications. For example, an intelligently integrated 6-station changer for grinding wheel sets and coolant supply manifolds ensures optimum wheel selection, thereby maximising the machining volume for sintered blanks. Another outstanding feature for autonomous multi-shift operation is the intelligently integrated, flexible automation with a 6-axis Fanuc robot. Customer-specific pallets can be accommodated in the user-friendly robot cell. A high-resolution CCD-HD vision system is available for loading grid pallets using magnetic grippers. Cleaning, re-clamping and centring stations can also be integrated and adapted to the customer-specific product range.
Perfect software is required to create perfect geometries of interchangeable inserts on the machine. But the PROFILE LINE offers even more by combining ProGrind software from EWAG with HELITRONIC TOOL STUDIO from WALTER. The machine is totally unprecedented thanks to this unique combination of expertise and know-how from the two machine tool manufacturers.
This dramatically expands the range of applications for an extremely wide variety of interchangeable inserts. In drilling or milling applications, even complex geometries can be ground in one set-up thanks to the ultra-precise interfaces of the indexable inserts. This boosts precision and productivity enormously.
Furthermore, the FANUC control unit ensures maximum reliability, availability and ease of use for the user.
EWAG PROFILE LINE highlights:
1.For indexable inserts
2.Intelligently integrated 6-station wheel changer
3.Accommodates customer-specific pallets
4.Vision system for part recognition
5.Innovative ProGrind and HELITRONIC TOOL STUDIO software
6.EWAG tooling expertise (Smart chuck ®)
Air Jordan XX9 High