ROYALE International Food Industries Pte Ltd is one of the brand ambassadors of Tasty Singapore, and the company behind Crusty's, a brand whose secret home-made recipe for salted egg-covered fish skin has been tempting taste buds for years.
Food Pacific Manufacturing Journal had an interesting chat with one of its co-founders, Kenny Ng, who built the Royale with friends, Teo Woo Yang and Melvin Wong. Besides healthy and indulgent snack options, Mr Ng talked about overseas expansion, the importance of building consumer confidence in products, and making inroads to the condiments line, which is valued to reach $71,862.43 million in the Asia Pacific markets by 2025*.
How is the management of Royale divided amongst its three co-founders?
On day to day operations, we handle different departments individually, and respect each decision made on and for the departments. When it comes to strategic and direction setting, it takes a shared vision to make it work.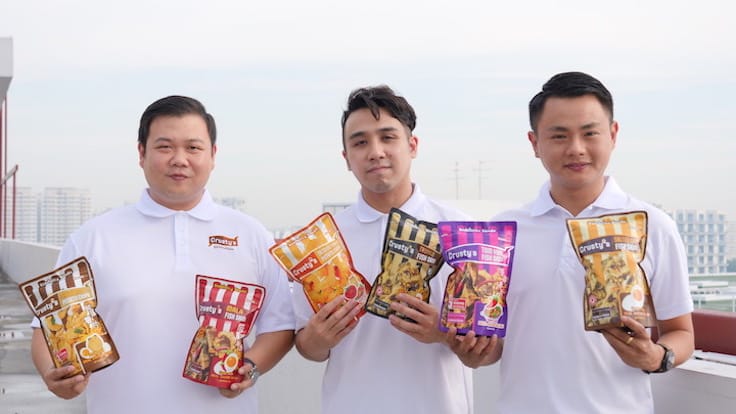 Royale International Food Industries co-founders: Teo Woo Yang, Melvin Wong, and Kenny Ng. (Photo courtesy: Royale)
What's it like to be a brand ambassador of Tasty Singapore?
Being a brand ambassador of Tasty Singapore is really having the identity of the company, together with other brands of Singapore, showcasing our unique Singaporean food culture and high-quality international food standards. One of the advantages of being part of Tasty Singapore is the confidence gained when we showcase our products in overseas food shows and events.
What industry standards have you set for the company?
When we first started, we were just selling to a small group of customers, for example malls, push-carts and Sunday markets. However, as we entered mainstream retailers and tapped into the growth overseas, we realised the importance of standards, and since 2018 have been ISO-20000 accredited.
We are more selective with our raw material suppliers now, making sure our sources are compliant to MUIS (Majlis Ugama Islam Singapura, also known as the Islamic Religious Council of Singapore) requirement, and also implementing a set of guidelines to ensure our manufacturing line meets certification standards. The certification is assessed on a yearly basis, and every new product that we plan to roll out has to be certified before actual launch to the retail partners.
How do you define a high-quality salted egg fish snack?
Fresh ingredients are very important, and it boils down to even the curry leaves and chilli padis used.

The Crusty's brand of crispy fish skin with red egg comes in different flavours and is also MUIS-compliant. (Photo courtesy: Royale)
At the outset, were you clear on the fish skin to use for your products?
We did experiment with some of the more available fish skins in the market, like the tilapia, salmon etc. However, the texture of pangasius dory skin is so far the best in terms of thickness and texture.
Which of your products, namely salted egg fish skin, tom yum salted egg fish skin, and mala salted egg fish skin, was the most difficult to develop, and why?
Salted egg fish skin being our first product was definitely the hardest because back then, we lacked the culinary skills and manufacturing experience. Therefore, we had to do multiple trial and error before coming up with a suitable recipe for manufacturing.
What prompted the expansion into potato chips and popcorn?
It is part of our expansion plan to increase our product offerings under the brand.
Do you have options for the health-conscious consumer?
We have recently launched a series of Soy skin snacks for the more health-conscious consumers looking for a lighter salted egg snack alternative.
Were there adjustments to make to accommodate the new product lines?
To increase the area for holding goods and new machinery is one of the bigger challenges that we faced when increasing product lines, due to the limited space constraint.
Where do you source salted eggs, and how much do you use per pack?
We are using imported salted eggs from Thailand from a reputable source and have been using them since day one, as the quality and taste is very consistent. In each pack of snacks (100grams), we use about two pieces of salted egg yolk.
How much of production is done in Singapore? Do you see that changing any time soon?
One hundred percent of our production is done in Singapore, and we do not see that changing anytime soon because being a "Product of Singapore" is in line with our brand image, and it differentiates us in the overseas market.
Where do you export your snack products?
We are currently in Canada, Australia, Thailand, China, Hong Kong, Taiwan and we hope to enter the USA this year.
Other exciting things consumers can look forward to?
We do have a new series of products coming up and will be venturing into food condiments under Crusty's.
Do you promote products together with other brand ambassadors, or do you do overseas promotions on your own?
Yes, we do participate in at least two to three overseas events a year together with the Singapore Food Manufacturer Association (SFMA), with support from Enterprise Singapore, which is a government agency championing enterprise development.
We also focus on social media platforms, Instagram and Facebook, etc, with a team working on content creation to reach out to our targeted customers. Apart from social media, we do run road shows/food sampling across our retail points during festive seasons. - JEAN ALINGOD-GUITTAP, Correspondent
*Allied Market Research