The global injection molding machine market has seen tremendous changes over the years. As demands from such industries as automotive, packaging, medical and consumer goods manufacturing evolve, the capabilities and capacities of injection molding machinery also change to meet requirements. Thus, rubber and silicone injection molding has seen rapid improvement owing to the research and development (R&D) efforts of major players in this sector to design more advanced production systems.
In Asia, many machinery makers are innovating and are now able to build their niche in a highly competitive market. One of them is
JING DAY Machinery Industrial Co., LTD.
(Jing Day), whose over 30 years of experience in designing rubber and silicone injection molding machinery for both domestic and foreign customers has earned it an enviable position in the industry. Jing Day has been able to strengthen its leadership in rubber and silicone injection molding technology that today, its JING DAY brand of machines are well known and are being operated in factories around the world.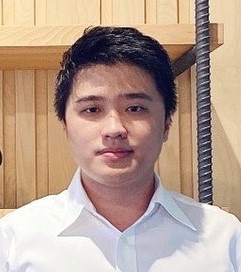 Mr. Daniel Yang, Manager
An innovator from Asia's fast-growing industrial sector
Jing Day was founded in 1983 by Mr. Kun Ming Yang, at a time when rubber injection molding machines were not yet as common as plastic processing equipment. According to Mr. Daniel Yang, Manager at
JING DAY Machinery Industrial Co., LTD
: "When our founder, Mr. Kun Ming Yang, visited the K show in Germany, he realized that the market lacked customized machinery so he decided to make customized machines as the company's main products."
Customization offers the flexibility of adjusting the mechanical design and performance of machines based on customers' specific requirements. Thus,
Jing Day
made up for the lack of customization capabilities of European and Japanese machines by designing and installing injection molding systems that cater to the more diverse product applications suited to the needs of various industries.
Today, the rubber and silicone injection molding machines of
Jing Day
are being utilized in the medical industry in various regions, including Europe and America. "These markets operate in highly technical environment. With Jing Day's customized machines, our customers can turn out products that can meet the stringent standards, such as for medical applications," Mr. Yang explains. To date, around 20% of Jing Day's output is sold to the domestic market, while 80% is exported to more than 60 countries worldwide. The JING DAY brand of machines are now in operation in Southeast Asia, Europe, America, South America and Africa.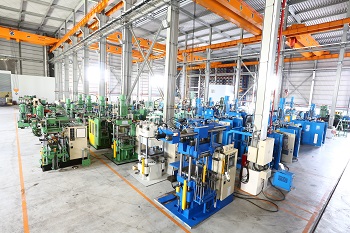 Highly-efficient rubber and silicone injection molding
Supplying the global market entails a lot of experience and innovation.
Jing Day
has been working closely with its customers to update old molds, add cold runners and then integrate these with the JING DAY injection molding machine. "These efforts enable our customers to save costs in purchasing new molds. And once completed and operational, the system needs only one person to operate four machines, which saves a total of 20-30% of manpower and operational costs," Mr. Yang adds. Jing Day has been able to provide new life to old mold while successfully integrating the JING DAY automatic injection molding machine for the customer's efficient production.
As Taiwan's machinery industry for rubber and silicone processing is an export-oriented industry and considered as one of the four major machinery industries, the rubber and silicone injection molding sector will see adoption of Industry 4.0 and smart manufacturing. In this case,
Jing Day
is not far behind. "At Jing Day, we encourage our R&D team to design various experimental machines. Our team focuses on two major aspects: technology research and development; and production of customized machinery. In fact, we invest 30% of our mechanical production capacity on development processes each year," Mr. Yang explains.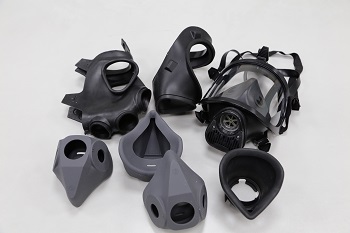 To date,
Jing Day
is a market leader in rubber and silicone injection molding machines, as well as in a number of production devices such as mold clamping safety protection, integrated hydraulic circuits to increase production capacity, temperature balancing devices to maintain consistent product levels, multi-layer template design, etc., and patented anti-overflow injection head / feeding device. The company also maintains a professional after-sales service team that can go to the client to assemble or repair machines for customers – even in emergency situations.
As Mr. Yang puts it: "Jing Day has agents from all over the world to speed up the delivery of services to our customers even during challenging times, such as during this pandemic crisis. We strive to provide our customers with the best services to ensure their profitable and efficient operations."