THE COCOA bean is one of the most important agricultural export products of Indonesia, known as the world's third largest cocoa producer after Côte d'Ivoire and Ghana. However, the domestic demand may double in the next three years as the country's middle class is growing. Local consumption has reduced Indonesia's bean exports and has expanded its grinding capacity from year to year with rapid expansion of smallholder farmer participation. Currently, the country has approximately 1.5 million hectares of cocoa plantations spread across Sulawesi, North Sumatra, West Java, Papua, and East Kalimantan.
One who knows good cocoa specifically from Bali is owner of chocolate manufacturing company Pod Chocolate, Toby Garritt who talks about the local industry in this interview.
How do you think Indonesia is capable of supporting the cocoa/chocolate industry?
What is so special about cocoa in Indonesia is that it can and is growing in this land of country. What confused me a lot is that when we talk about high quality chocolate, what we talk about are European countries, which do not have any cocoa growing in their countries. All of the cocoa comes from countries around equator, such as Indonesia, traveling thousands of kilometers to Europe to be processed into chocolate and coming back in the forms of high quality chocolate. If Indonesia can see this opportunity to produce and introduce more premium quality chocolate to the market, including promoting the benefits of these kinds of chocolate, then this can be huge for the chocolate industry in Indonesia.
What brought you to Bali to start a chocolate business?
Six years ago, I tasted raw cocoa for the first time in Papua province, Indonesia, and it tasted nothing like chocolate. I was surprised and intrigued, and knew at that point I had to try to make chocolate. After coming back from Papua, I noticed that a lot of cocoa is growing here in Bali but no one was really doing anything with it. It just went to market, to the brokers, to bigger brokers, and finally to Java and large factories. So it seemed to me that there was an opportunity to create Bali chocolate.
So in 2010, I started a very small-scale research into chocolate production in general, and small pilot project. From that time, our company has been developing and getting bigger, and now we produce a growing range of high quality chocolate using local ingredients.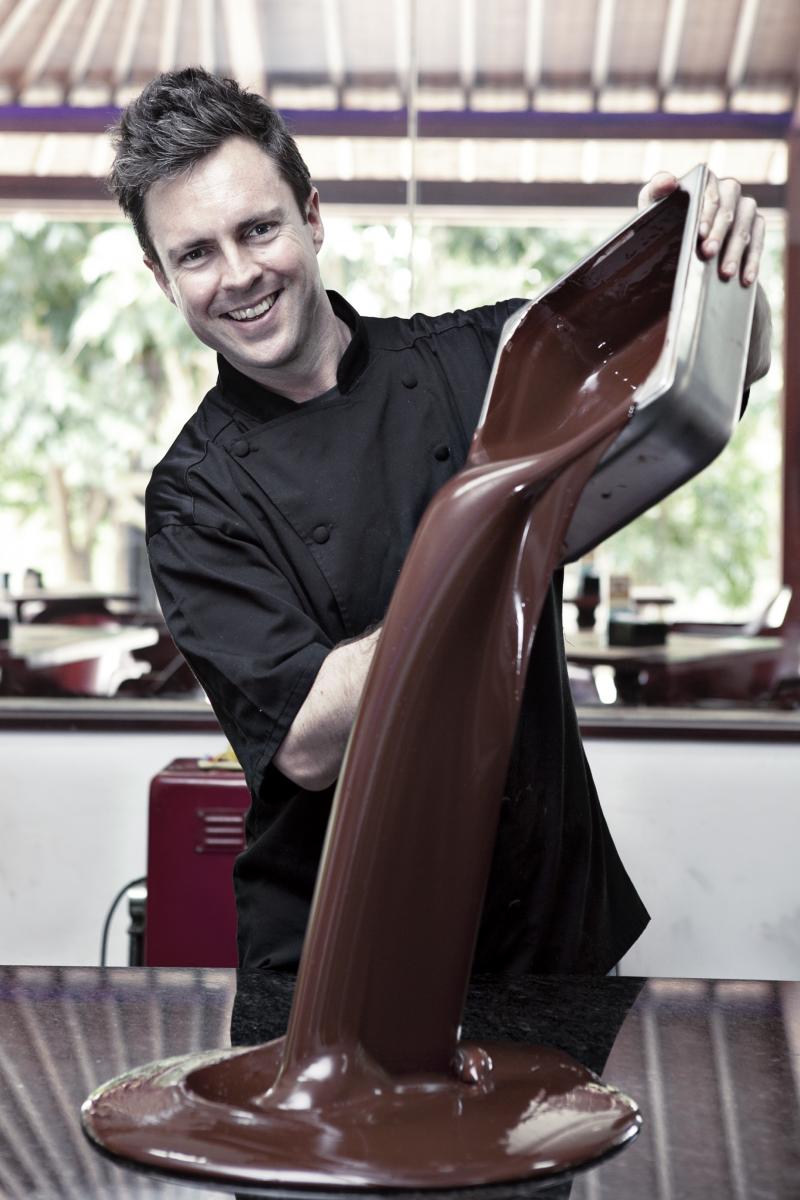 A photo of Mr Garritt tempering chocolate
Please tell us about the products from your company.
Typically our products are chocolate bars in various sizes (small bars, 45 grams, 100 grams, 1 kg), chocolate blocks and chocolate drops that are more for pastry, cookies, pralines, dessert, cakes, special amenities, gifts and custom creations.
In processing chocolate, is there a special feature that makes your products taste better?
I spent almost three years understanding the different techniques of chocolate making, and also about the challenges that farmers faced in order to grow cocoa. As just like anything, in order to create the great products, we need to start with great raw materials. So during the time, I started to do some work with the farmers to see if we can develop a sustainable farming model that could increase the production quality of the cocoa in Bali. We work on how to make the farm healthy, taken care of, and have adequate input to get healthy fruit, which leads to good chance of having good quality beans.
After that, what turns the raw materials into price-premium products is the post-harvest stage: the fermentation process, which is extremely important. These are the first steps on how to create high quality chocolate, combined with the use of modern European machine technology.
In our beverage particularly, we only use pure chocolate; we don't use cocoa powder, which basically contain cocoa beans without the fat. With pure chocolate, our beverages give out the full chocolatey flavors.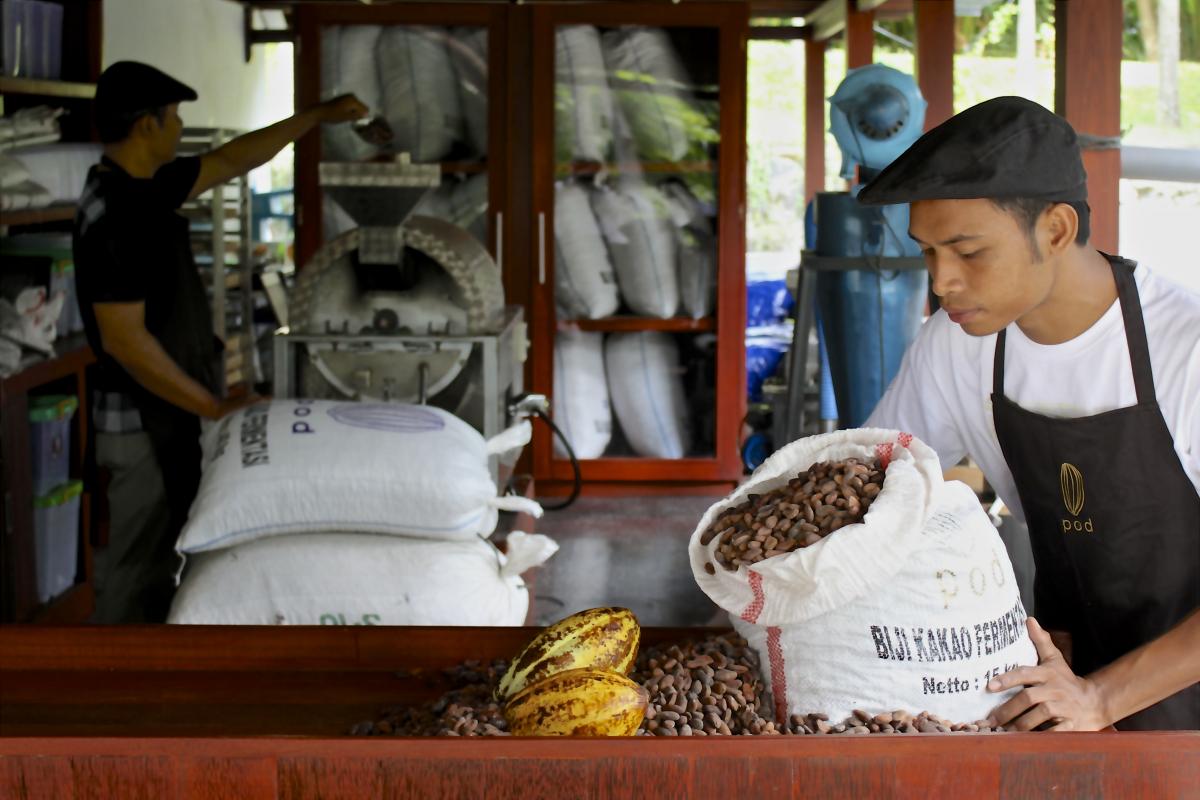 Cocoa beans sourced from Bali's farmers
Where do you source other ingredients?
Our two biggest ingredients are cocoa and sugar. For the cocoa, we get it from the local farmers. For the white sugar, we buy locally outside of Bali. For palm sugar, we buy locally here in Bali. We try as much as possible to use local ingredients that support local community, such as the palm sugar that we buy from the community-based organization called Muntigunung near Mount Batur, Bali, where the area is very dry. From them, we buy the palm sugar, cashew nuts and rosella flowers.
The only product from outside Indonesia is milk powder because we found it very difficult to source a pure local milk powder. Most of the local milk powder has additional vitamins and additives, which are not milk. To make a good chocolate, we really need the pure milk powder without any additive. However, we don't import ourselves but we buy from a local agent.
What is your production capacity and output for beverages? Do you also produce other products made with chocolate?
Our capacity is relatively small compared to cocoa factories in Indonesia; we cannot release the exact number. But you can see that we have one factory and work with 100+ cocoa farmers, either individual farmers or cooperatives. Each farmer generally farms a quarter to a third of a hectare of land; In Bali, they usually don't only plant cocoa, also other fruits, vegetables and also livestock.
For beverages, we make it from our chocolate. But we don't sell beverages outside of our outlets, where we also sell a range of other products using our chocolate.
Are there expansion plans in the near future?
At the moment, we need to expand our production capacity. Then we will be experimenting with one or two local supermarkets in Bali. So we can get the feel of how it is for our chocolate products to be in supermarket, how we can communicate what Pod chocolate is, and once we learn that, we can look more broadly into how to market and sell our products in Bali and nationally across Indonesia. For the future, we absolutely have the plan to export our products, but only at the right time. We'd better do it right the first time, than try and try again.
How will ASEAN integration change the way you do business?
Our mission is always towards growing a sustainable business starting with sourcing our raw materials locally, and working with local communities. As we begin to export we hope that the ASEAN integration will support this process.
What do you think will help advance the chocolate industry of Indonesia?
I think it is to get people to enjoy more high quality chocolate. With a population as large as in Indonesia, with a growing middle class, a growing economy, if even a small number of people decide to eat more chocolate then the market will definitely grow. Everyone can eat chocolate as an affordable luxury because the most expensive bar of chocolate you can find is a lot cheaper than the cheapest bottle of wine. I think the wonderful thing about chocolate is providing happiness, a feeling of spoiling yourself, and no other product does this quite like chocolate. With a small amount of money, you can put a smile on someone's face with chocolate. That's what makes chocolate so special. – DIANA SUCIAWATI
Ni?o/a