IN 2014, Indonesia consumed 53 packets of instant noodles per person, with the exception of South Korea and Vietnam, according to the World Instant Noodles Association1. The local noodle industry consumed 70% of the nation's wheat flour last year, while only 20% was used by bakeries. This has made the country the number two importer of wheat, since Indonesia itself does not grow wheat.
Although large businesses compete in this industry, only a small number of them dominate the market. As the world's largest instant noodle maker, Indofood Sukses Makmur generated sales of 57.73 trillion Rupiah in 2013, followed by Wings Group, Mayora Indah and Garuda Food, a subsidiary of Tudung Group.
However instant noodles are losing appeal among those who now seek healthier food products, and prefer fresh noodles with simpler ingredients.
Demand for fresh noodles is still insignificant in Indonesia, so most producers there are small-scale or family-owned businesses. But it is believed that as health and nutrition trends influence consumers' choices, fresh noodle production will also expand.
To find out more about the noodle-making process, we interviewed Mrs Galis Garnia, owner of Mileu, a company based in Bandung, Indonesia.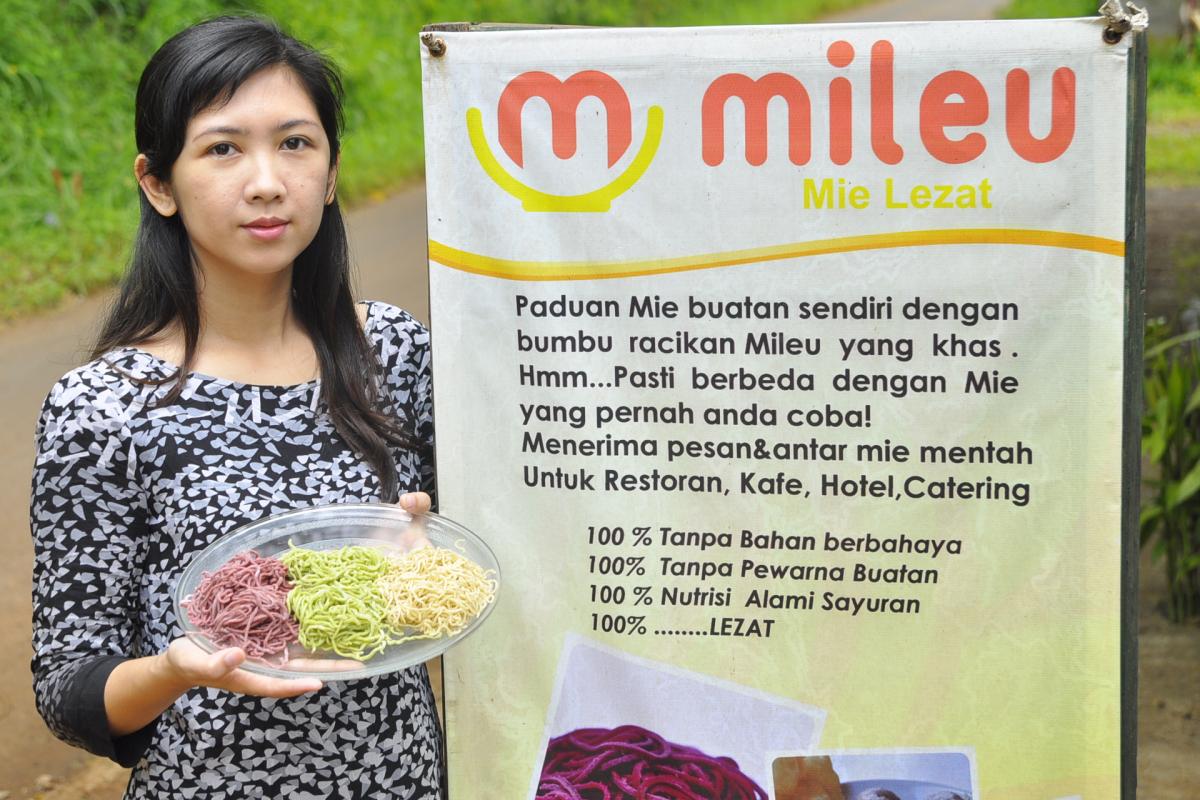 Mrs Galis Garnia, owner of Mileu says: "Personally I don't like cold dishes, so I came up with the idea of selling raw fresh noodles and spices that customers can cook at home to serve warm"
What is your view of Indonesia's noodle industry?
The local noodle industry is indeed a big one in Indonesia. Noodles are practical to prepare and easy to consume so they are in high demand.
Since the main ingredient for noodles is flour which contains carbohydrate, people here like to make it a staple like rice. You can see it from the menu in most restaurants in Indonesia. There must be 'Nasi Goreng' (fried rice) and 'Mie Goreng' (fried noodles).
How long have you been producing fresh noodles?
We opened our café and restaurant in 2004. People like to come and eat our noodles, and they would also request for takeaway. Personally I don't like cold dishes, so I came up with the idea of selling raw fresh noodles and spices that customers can cook at home to serve warm.
So two years ago, my husband and I looked for people who can make noodles from one of the nearby small towns, Ciamis, then we hired them to make the noodles at our place. I also learned to make noodles myself, but I usually get our staff to produce all the noodles we are selling. We have been producing and selling fresh noodles ever since.
Besides the noodles, we also sell the homemade seasonings and meat to be stirred with the cooked noodles. So it is fully customized for our patrons. The point is that we want our customers consuming healthy and delicious noodles.
What processing techniques are used to make healthy noodles?
The process is simple. We just use natural and homemade ingredients without any additives. The color of the noodles also comes from natural ingredients like beet, vegetables, etc. So it is totally safe to be consumed by everyone, including children.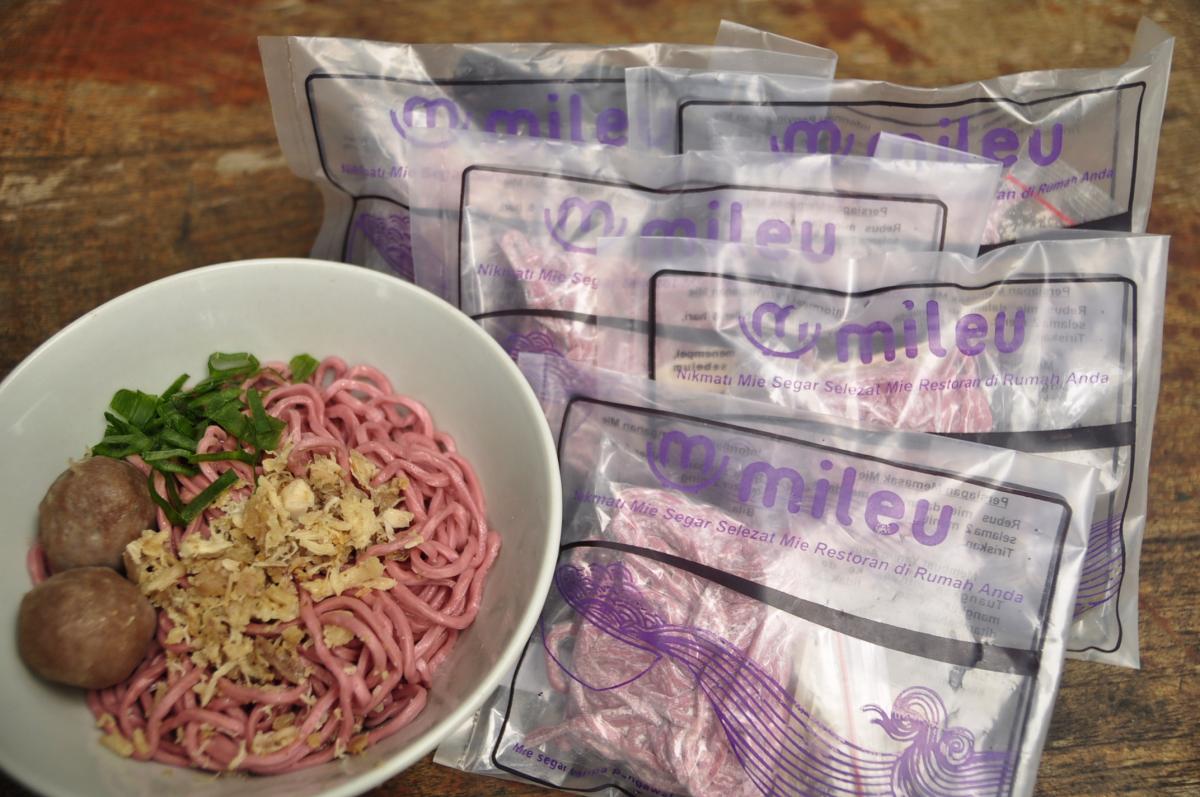 Beet adds natural color and nutrients to these noodles
What do the noodles consist of?
Our noodles consist of healthy ingredients as below:
Green noodles consist of vegetables, pepper, eggs, and flour. We sell these for Rp.30.000 - per kg. The purple noodles consist of beet, salt, pepper, eggs, and flour. We sell these for Rp.25.000 - per kg. The egg noodles consist of eggs, salt, pepper, and flour, and they sell for Rp.20.000 - per kg.
How long do the noodles stay fresh for consumption?
Because we only use natural and homemade ingredients without additives, our noodles only last for five to six days if stored in the refrigerator or chiller (below 8oC), and they last for two weeks if stored in the freezer (below -18oC). Because of this short expiry date, we are still figuring out how to get into and sell our noodles in the supermarket. While to get into the traditional market, our price is too high because fresh noodles in the market use mixed ingredients with additives to reduce costs. That's why, until now, we are only selling through our shop and website.
Do you employ new technology to produce noodles? Please tell us what you use.
No, we still use the traditional method to produce our noodles. We still make everything by hand, but we use the machine to cut the noodles. That machine is not big, but enough to make our job easier.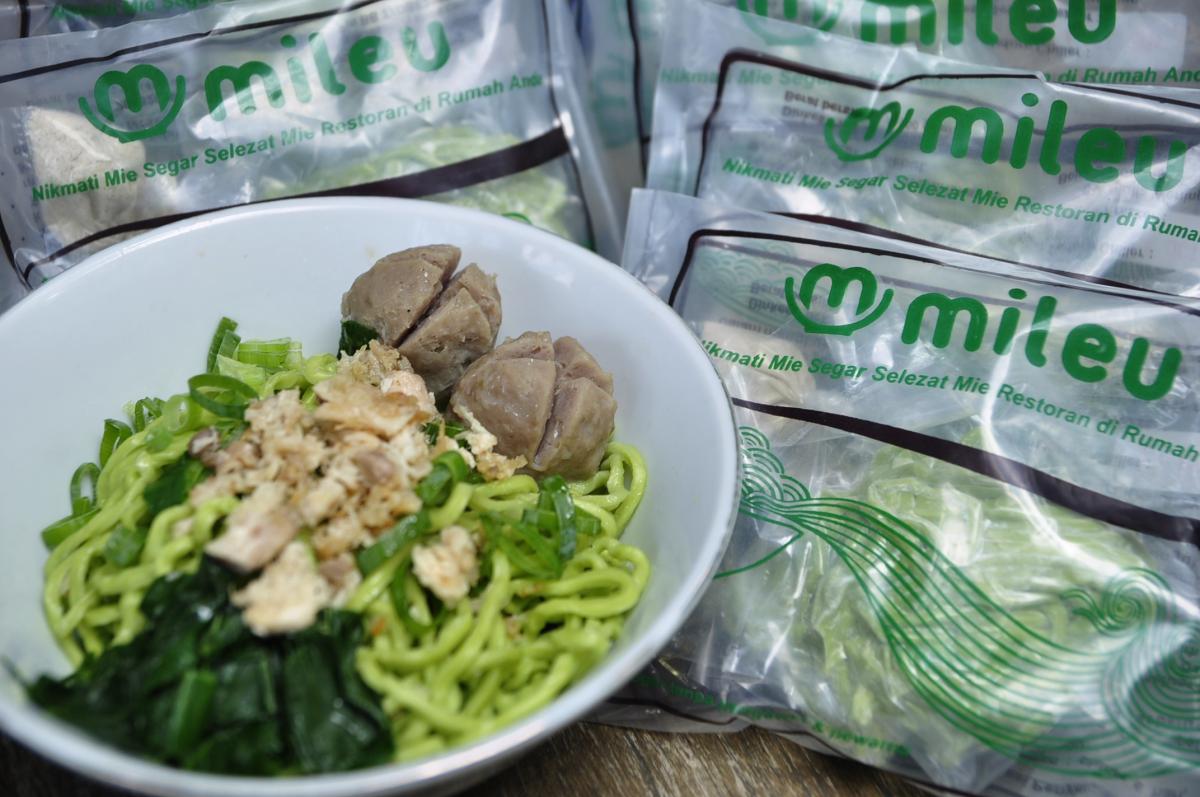 Green noodles are made with different vegetables and are sold with the garnishings
Can you share with us the process of making fresh noodles?
The process includes:
Choosing the right ingredients First, we choose only natural and 'real' ingredients. We only use 'real' flour without any additives. Our noodle ingredients are not like those in the market, which mostly contain additives to reduce costs. We prioritize healthy ingredients although the cost is higher, but we believe in our product quality and we can still compete in the market.
Mixing and proportion After choosing the ingredients, we mix and knead everything. We use the exact proportion of ingredients, as it should be. For example, we will not add much flour and reduce the eggs because it will affect the output and reduce our noodle quality. This mixing process aims to form the gluten and distribute the ingredients into a homogeneous dough.
Covering and waiting After the mixing, we have to cover, wait and let the dough rest for a while.
Rolling and cutting After the dough has risen, we roll and flatten the dough, then insert it into the machine that cuts the dough into long strips.
Cooking and storing The noodle is cooked, cut into portions and stored properly. It is now ready to be sold.
What is your production capacity and output for noodles?
We can produce up to 10 kg per hour per staff. We have three production staff. One day, we usually work for approximately five hours because we want to keep our working hours optimized for best output quality. So in one day, we can produce around 150 kg (10 kg x 3 staffs x 5 hours) of fresh noodles.
To whom do you usually market your products? Are you planning to export your products soon?
For now, we market and sell our products to end-consumers and restaurants/cafés. We also often deliver to customers in other cities, like Jakarta. We have no plans to export, but we might do it in the long term.
1source: www.bloomberg.com/news/articles/2015-05-20/bread-trumping-rice-makes-indonesia-top-wheat-buyer-after-egypt
Zip Boots Designer Shoes