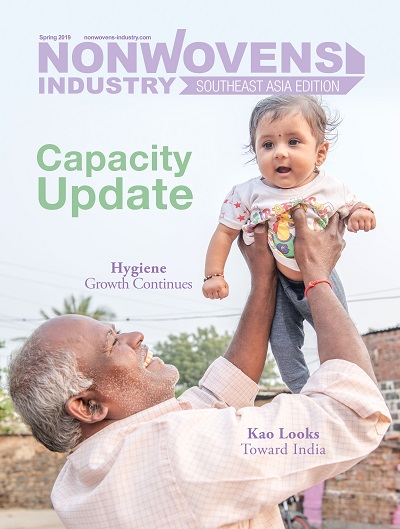 The online version is fully compatible with most web browsers. If you have questions about using the new online format, please contact digital-support@texterity.com.

AND NOW WE OFFER THE ABILITY TO DOWNLOAD YOUR ISSUE FOR OFFLINE READING - on your commute to work, while traveling for business, or at home relaxing.
This Month's Features:

Kao Discusses India Expansion — Made in Japan diapers being sold in India.

Blue Oceans in Southeast Asia: Growth in Disposable Hygiene — Improving living standards has boosted growth.

Southeast Asia Nonwoven Capacity and Demand Development — Growth is driven by favorable demographics, economic conditions, local and export market demand.

Year in Review: Top News in Chinese Disposable Hygiene Products Industry in 2018

Innovation and Differentiation, the Key Driver to Berry's Success — Investment continues to be heavy in Asia.

Unicharm Acquires Thai Diaper Maker — Deal to buy DSGCL Group adds lower-priced brands in Southeast Asia.
Air Zoom Pegasus EM