Luthi Machinery Company Inc. (Stand AU19)
Tuna filling machine
The Luthi CRSP tuna filler is among Luthi Machinery Company Inc.' can filling machines. It can automatically meter, form and fill pre-cooked tuna loins, chunks or flakes into cans. The stainless steel machine provides precise fill weight control and maximum product yield. Other equipment from Luthi include a dicer for all kinds of meat and a rotary filler that can preform the product into a specific size and shape before canning. It also prevents overfilling.
Krones (Hall 3 BR01)
Total solutions for beverage manufacturers
Krones offers beverage manufacturers its holistic systems engineering in filling, packaging and process technology solutions for water, carbonated soft drinks, juice and milk production.
The modular Krones Solomodul labelling machine allows a combination of different labelling techniques for only one container. Different labelling systems can be employed in any combination on one machine. It requires little space because labelling stations not needed are replaced, and there is no need for a table plate. It is easily accessible for maintenance and change-over and operates via a swivel touch-screen.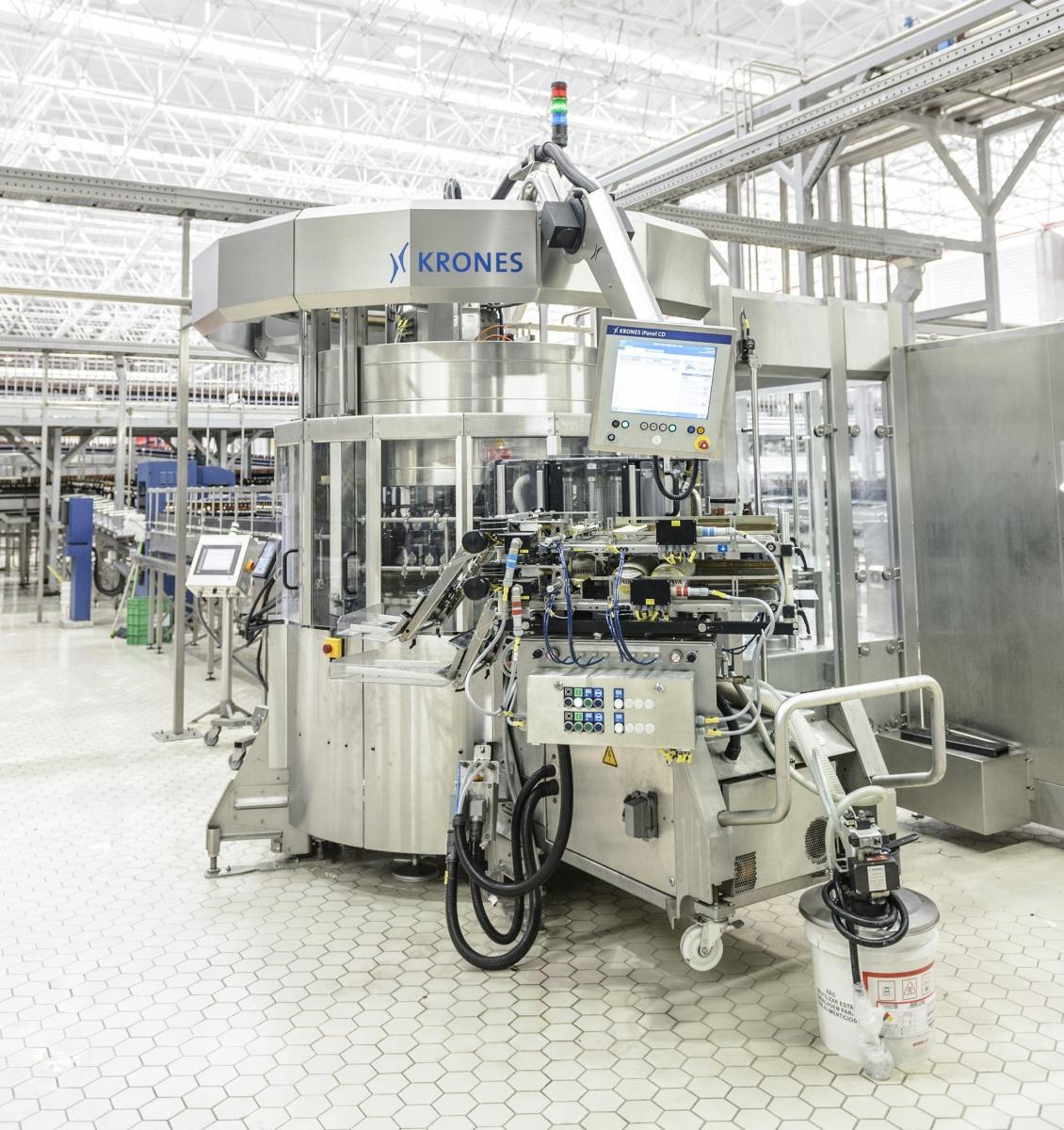 Krones Solomodul labelling machine
Also from Krones, the new Checkmat with DART 4.0 is a full-container inspection unit featuring the company's DART 4.0 inspection software. Among its functions is to monitor the fill level, closure, and label.
SPX Flow Technology Singapore Pte Ltd (Stand BC29)
Twin screw pump
SPX FLOW highlights the Universal TS pump, a positive displacement pumping technology from Waukesha Cherry-Burrel. Its screw rotors are made from Waukesha 88 non-galling alloy enabling tight internal clearances. The pump operates at higher flow rates with low inlet pressures allowing customers to specify smaller, less expensive, faster running units. Multiple process capability ranging from viscous products to running CIP.
Theegarten-Pactec GmbH & Co KG (Stand AZ31)
Packing for chewy candy
Theegarten-Pactec combines its U1-D-CW with a F3 stick packer which enable cutting and wrapping of products in fold wrap with simultaneous overwrapping in stick packs. This system packs products in fold wrap at up to 2,000 products/minute and overwraps them in multi-packs. Depending on the product, the machine can be synchronized either with a batch roller and rope sizing machine (toffees, hard and soft caramels) or an appropriate extruder and cooling tunnel (chewing gum, bubble-gum, chewy candy)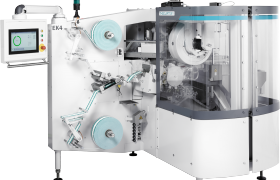 Theegarten-Pactec U1-D-CW
Urschel Asia Pacific Pte Ltd (Stand BE11)
Cutting technology
Foods such as meats, poultry, fruits, vegetables, and cheeses can be processed as well as many chemical and pharmaceutical products.
Continuous operation for uninterrupted production and easy cleanup and maintenance are just a few features of the Comitrol® line from Urshel. The Comitrol 3640A is designed for chopping, flake cutting, granulating, pureeing, and emulsifying applications. It comes with a screw feeder and is available in standard and high-speed versions. Great for coconut shredding, grinding fibrous products, rework of bakery products, chicken skins, nut granulation and pastes.
JBT International (Thailand) Ltd. (Stand BA21)
HPP systems
JBT Avure™ is a leading provider of High Pressure Processing (HPP) Systems, a cold pasteurisation technology that ensures food safety without heat or preservatives, maintaining fresh food characteristics such as flavor and nutritional value, while extending shelf life.
Thermo Fisher Scientific Pte Ltd (Stand BC39)
Multiscan Metal Detector
The detector identifies contaminants that are up to 70% smaller in volume than previous technologies (including the Thermo Scientific™ APEX 500 metal detector). By scanning up to five user-selectable frequencies running at a time, the Sentinel provides unmatched sensitivity and the highest probability of finding ferrous, non-ferrous, and stainless steel metal contaminants in challenging applications such as dairy, meat, poultry, bread, and other foods with high product effect.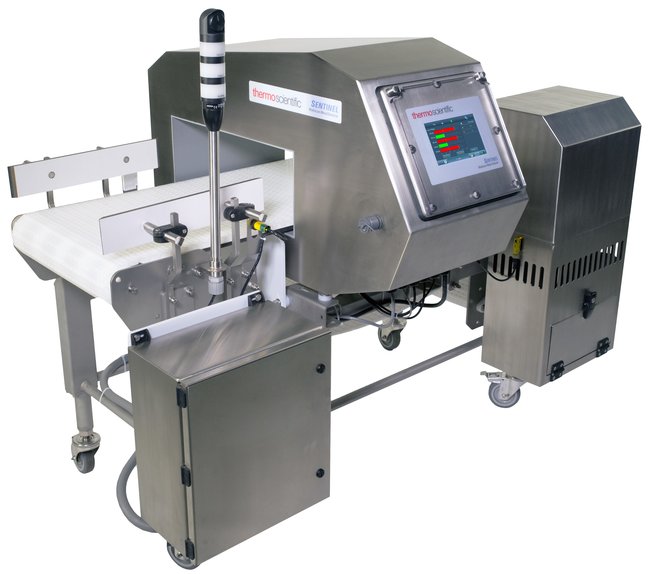 Thermo Scientific™ Sentinel™ Multiscan Metal Detector
KHS Asia Pte Ltd c/o KHS GmbH (Stand BX01)
Super light PET container
5 grams for 500 ml – with its Factor 100 half-litre PET bottle, KHS presents an extremely lightweight container. The lightest 0.5-liter PET bottle for still water known to KHS to date is adapted to suit its load. Find out how KHS technology can change your beverage packaging.
Sacmi Group Hall 98, No. 104
Caps and containers manufacturing solutions
THE Sacmi Group will present its cap and container manufacturing solutions, in the Italian Ucima display area. The company's compression technology, which has innovated global plastic cap manufacturing standards, will take centre stage.
CCM (continuous compression moulding) presses are equipped with COOL+ mould technology that operates at lower temperature than injection, hence enabling the lowest running costs on the market, according to Sacmi. The solution allows real-time management and monitoring of output quality, as the parameters for each cavity can be directly input by the operator.
Cap and cap-preform systems are designed together with customers, so production can evolve towards high-added-value items that combine excellent performance with low weight.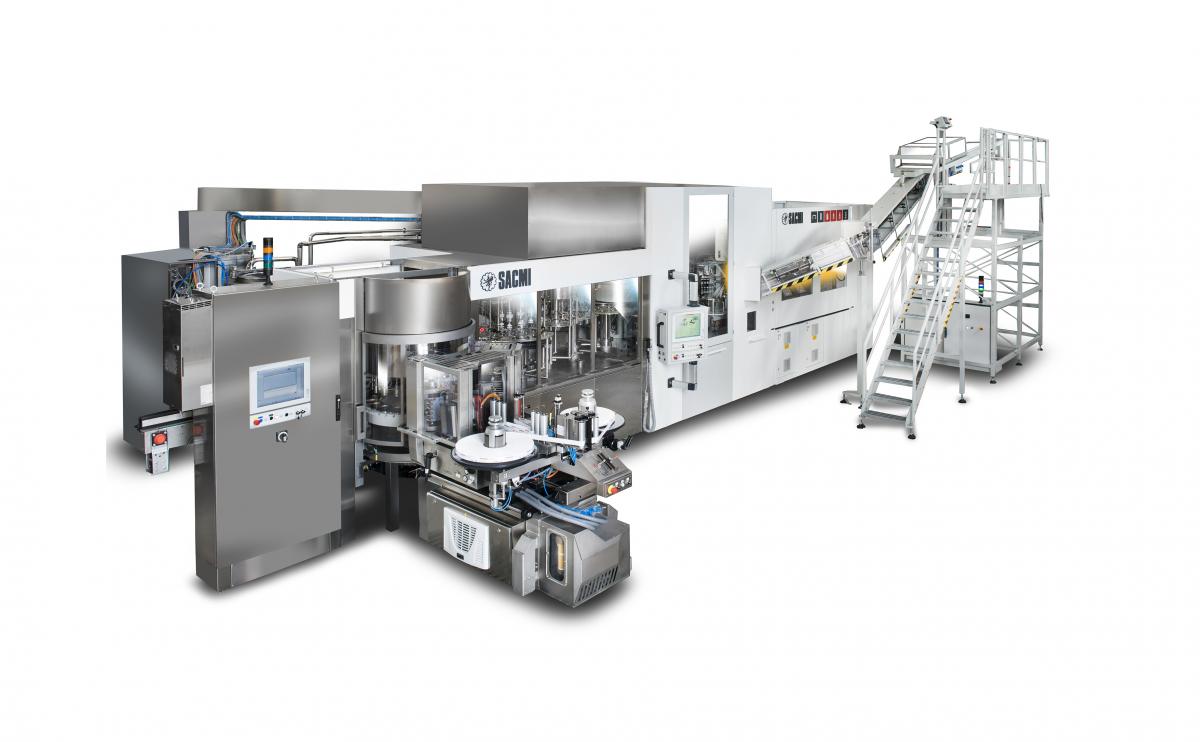 Sacmi Heroblock 1
Gebo Cermex (Stand BW01)
Cobotic palletizer
CoboAccess™_Pal is an advanced and modular cobotic palletizer that is easy to use and is overall an affordable palletizing solution that can be used in demanding environments. Benefits include: high level of safety, advanced and user-friendly experience; mobile and compact solution with plug & play features and multi-configuration cell layout.
Heat and Control (Stand BG11)
FastBack® conveyor systems
With slow-forward fast-back motion FastBack® conveyor systems safely convey even the most delicate products. FastBack® conveyors are easy cleaning and coatings remain on product. High drive accelerations deliver the benefits of horizontal motion conveying for products that previously could only be handled by vibratory conveyors.
Laz Step Ltd (Stand AX57)
PET cans
The LAZ Step Co., Ltd. is a leading manufacturer and exporter of the PET cans that come in the different designs, shapes, and patterns. We are also a manufacturer and distributor of the quality cans seamer. High quality and endurance with long useful life.