PROPAK Asia 2008 welcomes more new companies to the event this coming June than in any previous edition over the past decade. It's set not only for its largest ever participation and widest showcase of technology, products and services but also for its highest level of local and international visitors as businesses begin to expand and upgrade their production capacity as global manufacturing continues its shift to Asia.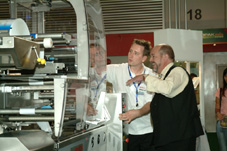 More than 40 countries will exhibit at ProPak Asia 2008 with national pavilions from Japan, Singapore, Korea, United Kingdom, Taiwan, Australia, China and a new pavilion from France. Join Asia's No. 1 international event for processing and packaging and meet regional investors, owners, managers, manufacturers, technical and marketing experts from beverage, brewing, confectionary, consumer goods, cosmetics, dairy, healthcare, pharmaceutical, seafood, general manufacturing sectors, etc. ProPak Asia 2008 will be held from June 11-14 at BITEC Bangna, Bangkok Thailand. Organized by Bangkok Exhibition Services Ltd. Pre-registration for visitor at www.propakasia.com.
Brandtec (S) Pte Ltd Stand D15
Brandtec (for Thailand, Singapore and Malaysia) and Techgen (for North Asia including China and Hong Kong) team has been appointed agent to represent ACMA GD range of new products in the packaging industry for beverages. For the first time in Thailand at this is show is ACMA's Jordy Pack Paper Bottle Packaging Concept.
Camsensor (Thailand) Co., Ltd. Stand H34
Camsensor develops innovative quality inspection systems for production control and process optimization including customized turnkey solutions for Beverage (cap inspections, label verifications, date code/batch code checking etc.); Canning (lamination application checks & checking the quality of the finished cans); Food (grading, seal checks, cut measurements to foreign matter detection); and Plastics on extruded, blow molded and related lines (PET inspection, dimension checking, foreign matter detection and seal inspection).
Ceisa Packaging Stand S21
Ceisa Packaging holds a leading position with printed shrink film packaging of the highest quality. The company's know-how in film extrusion, flexo printing and its innovation capacity makes Ceisa a trusted partner for big brand owners on beverages, food, cosmetic and pharmaceutical markets. Sales in 2007 stood €36 million with 70% from exports.
ConTech Engineering Stand R39
Contech Enterprises (Thailand) Co., Ltd are leaders in supplying the food industry with highly efficient materials handling equipment. Its products include spiral conveyors, curved belt conveyors, incline / decline conveyors, bucket elevators, belt conveyors, modular belt conveyors, package sorting system, and bulk bag filling machine.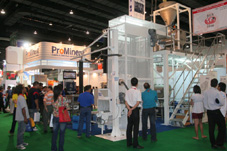 Imaje Siam Co., Ltd. Stand C21
Markem-Imaje, a wholly owned subsidiary of the New York-based Dover Group, is a trusted world manufacturer of product identification and traceability solutions, offering a full line of reliable and innovative inkjet, thermal transfer, laser, print and apply label systems and RFID-based systems.
Instrument Control Co., Ltd. Stand Z1
"APS" Shrink Packaging Machine will offer the high quality and best service for shrink-wrapping and shrink label in bundles.
Inter White Mark Co., Ltd. Stand Q31
Inter White specialize in designing and manufacturing a labeling machine under the "White Mark" brand. There're many standard labeling machines in the market but the company says buyers looking for flexible labeling machine that can be adapted to meet their needs won't bNike React Element 87