FPT is a Bangkok-based company operating throughout Southeast Asia and represents a large number of machinery manufacturers. It is a one-stop-shop for food processing equipment, from food prep right through to packaging.
Dinh Phoung Tan, general manager of FPT said their company has a large range of machines on offer including band saws, bowl cutters, check weighers, emulsifiers and sausage cutters, fish processing equipment, industrial kitchens, mixer & grinders, and more.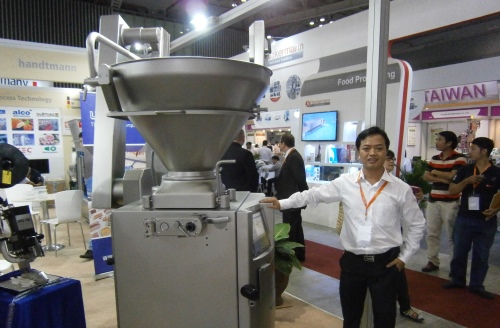 Dinh Phoung Tan, general manager of FPT
"We represent a large number of companies throughout the region such as K&G Wetter, Bizerba, INOTEC, Bilwinco, Baader, Sealpac, Handtman and Weber to name a few."
Mr Tan said the FPT are more than just a sales and service agent. "We're consultants that offer our clients the full solutions package. We assess our customers needs and provide them with the best equipment for their particular requirements, and support them throughout their operations from raw material to packaging, offering a fast and reliable after sales service."
FPT has had a representative office here in Viet Nam since 2006 but this year they will expand our operations here to enable us to provide an even better service Mr Tan said.
Dinh Phoung Tan, General manager
FPT Food Processing Technology Co.
general.manager.vn@fpt-asia.com